By Abdul Saleh
Shares of Digital River (NASDAQ:DRIV) have climbed approximately 8% since our last update on the company on April 15. Yesterday, DRIV was up nearly 3% and the company is presenting at a sell-side firm research conference in San Francisco, CA.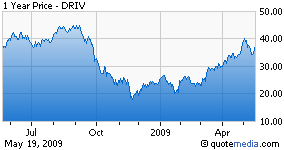 The company's Q1 results beat our/consensus estimates by a decent margin. The upside was driven mainly by a ramp in the Consumer Electronic (CE) segment and new client wins, both of which offset the effect of current global economic downtrend. However, Q2 guidance fell short of our non-GAAP estimates, while revenues are expected slightly higher than our current expectation.

We were expecting the company to report $95 million in revenue (guidance is at $96 million) with non-GAAP EPS of $0.44 (guidance is at $0.41). Higher capex and lower margins from the new CE customers are likely to dampen bottom-line performance in Q2. Nevertheless, DRIV shares have continued their upward momentum, likely reflecting 2H performance from both the CE and Software segments.

Increased adoption of e-commerce by CE and software vendors were the main drivers for Q1 revenue ramp, and the trend may likely continue in Q2. However, we think that margins may come under some pressure from the initial ramp of new customers, as well as the fact the company may have reached a plateau in its growth in the CE segment.

At the same time, DRIV should be able to add new CE customers given the current weakness among the large CE retailers and the apparent absence of any channel conflict with retailers. Such growth may come at the expense of lower margins, at least in the near-term.