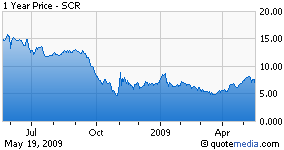 Simcere Pharmaceutical Group (NYSE: SCR) disappointed investors with its Q1 financial report. The company announced revenues of $64.8 million, a 12% increase from the year earlier, but $5 million less than the average analyst forecast. Net income was $7.1 million, a 57% decrease from 2008. At 12 cents per ADS, it missed expectations by 5 cents.

At the same time, Simcere said it signed an agreement to acquire 35% of Shanghai Celgen Bio-Pharmaceutical Co., Ltd. for 140 million RMB ($20.6 million). 30 million RMB of the purchase price will repay debt, and Simcere will receive all of its money back if Shanghai Celgen's major biosimilar drug, an etanercept, is not approved by the SFDA within 24 months.

Etanercept, marketed as Enbrel by Amgen (NSDQ: AMGN) and Wyeth (NYSE: WYE), is a TNF inhibitor given to patients with autoimmune diseases such as arthritis.

Shanghai Celgen focuses on research and production of therapeutic antibodies. Certification is pending on its antibody manufacturing facility in Shanghai. The Celgen investment is the second deal that Simcere has made recently in the antibody sector. It signed a collaboration agreement in December 2008 with Epitomics, Inc. to develop and produce monoclonal antibodies to treat multiple tumors.

In terms of Q1's results, Jinsheng Ren, Chairman and CEO of Simcere said sales of edaravone injection products, the company's biggest selling product, continued to grow, but revenues from Endu, its novel cancer drug, were "a challenge." Compared to the year earlier period, Endu revenues dropped 43% to 36.5 million RMB ($5.3 million). That was 8.4% of Simcere's total revenues.

Edaravone injection products produced 159.6 million RMB ($23.4 million) in the first quarter of 2009, representing 36.5% of all sales and a 5% increase. Other first-to-market products, Jiebaishu, a nedaplatin product, Sinofuan, a 5-FU sustained release implant for the treatment of cancer, and Anxin, a biapenem injection for the treatment of serious infections launched in the fourth quarter of 2008, generated 32.8 million RMB ($4.8 million) of sales.

Revenue from other branded generic products totaled 207.7 million RMB ($30.4 million) in the quarter, up 20% and representing 48% of all revenues.

Gross margin for the first quarter of 2009 was 82.5%, compared to 83.2% for the corresponding period in 2008. However, costs were up in all major categories: R&D, Sales marketing and distribution, and G&A. As a result, net income dropped to 48.2 million RMB ($7.1 million) from 112.1 million RMB ($16.5 million) in 2008.

Simcere reported it had cash of $120.8 million at the end of the quarter.

Simcere's share dropped $1.27 (17%) to $6.41 in the aftermath of the earnings announcement. It now has a market capitalization of $399 million.

Disclosure: none.