Almost three weeks ago, I penned an article that I thought Microsoft (NASDAQ:MSFT) was ready to make a move upward. At the time, the shares were under $30 but had just crossed over their 200 day moving average for the first time since the fourth quarter of 2012. Since then the stock has indeed moved up to $33 a share. However, I believe the shares are in the middle of a breakout and still have further to climb. Some of the main reasons I believe this to be so are the following:
The stock just hit a five year high and Mr. Softie is starting to get more positive play on financial outlets like CNBC.
Apple's (NASDAQ:AAPL) recently announced massive $60B stock repurchase plan and 15% dividend hike has moved its shares up substantially. It has also heightened speculation and pressure for Microsoft to do something with its approximate $70B cash/short-term marketable securities hoard. At a minimum I would expect a significant dividend payout raise by the end of summer.
Microsoft has made some nice progress on some of its businesses outside of its core Office and Windows software.
Windows Azure software and related programs have surpassed $1 billion in annual sales for the first time. Revenue is up 48% Y/Y and now has about 20% of the market. Gartner estimates that sales of infrastructure services like Azure will surge by an average of 38 percent annually to $30.6 billion by 2017 from $6.17 billion last year. Microsoft has about 20% of the market currently but is gaining share.
Microsoft 365, another "cloud" offering, is also making progress and recently hit a $1B annual run rate.
Its new Xbox console will be announced in late May. It is the first new platform in a space Microsoft is the market leader in within years.
Between Apple's stock buyback inspired surge and the Procter & Gamble's (NYSE:PG) recent slide after a disappointing revenue forecast, the technology sector is showing legs and easily outperforming the overall market and crushing Consumer Staples; which until recently was a market leader (See Chart). Look for this outperformance to continue.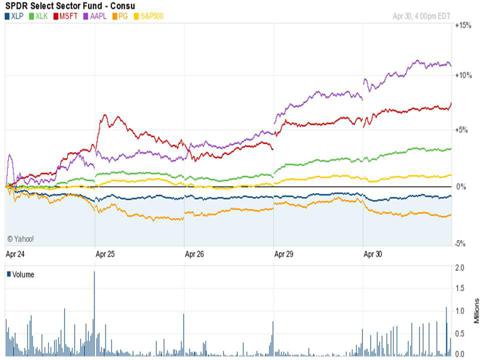 4 quick other reasons to see value in MSFT at $33 a share:
The shares yield 2.8% and should pay over 3% after the next dividend hike projected this summer.
Even after its recent move, MSFT is selling near the bottom of its five year valuation range based on P/E, P/CF, P/S and P/B.
If its $70B of net cash is accounted for, MSFT sells at less than 8x forward earnings.
The company produces approximately $8B of operating cash flow a quarter, has one of four AAA rated balance sheets in the S&P 500 and is growing revenues near 8% annually.
Disclosure: I am long AAPL, MSFT. I wrote this article myself, and it expresses my own opinions. I am not receiving compensation for it (other than from Seeking Alpha). I have no business relationship with any company whose stock is mentioned in this article.