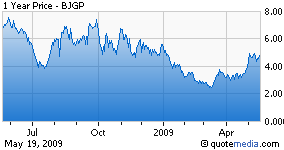 BMP Sunstone Corporation (NSDQ: BJGP) reported its revenues more than doubled in Q1, rising from $18.1 million last year to $39.3 million in 2009. The company closed its acquisition of Sunstone Pharma in mid-February last year, a deal that transformed BMP Sunstone from a distribution company into a business that combines distribution with drug manufacturing.

Profits have traditionally been a problem for BMP, given the low margins of the distribution industry. In Q1, the company reported $3 million in non-GAAP net income, but a GAAP loss of $2 million. The GAAP number included several non-cash items, including stock-based compensation, early extinguishment of debt, amortization of acquisitions, and a gain on the derivative value of convertible notes.

BMP Sunstone reiterated its guidance for 2009 financial results. It expects revenue to grow at least 35% to $150 to $160 million, EBITDA of $16 million to $18 million, and non-GAAP net income of $9 million to $11 million.

BMP Sunstone bought Sunstone in a two-part transaction in 2008. For 49% of the company, BMP paid $32 million in cash. It exchanged 8 million shares of stock for the remaining 51%. At the time the acquisition was announced, the shares were worth $93 million or $11.57 per share. Today, BMP is trading hands for less than half that amount – $4.60. At the time, BMP predicted Sunstone would produce $60 million in revenue during 2007 and $11 million in net income. It now seems to be operating at a $100 million annual run rate.

Sunstone also added distribution capability in the OTC market. It manufactures the Hao Wawa (Good Baby) brand for children's healthcare products and Kang Fu Te (Comfort) products for women's healthcare.

BMP said its Sunstone division contributed $24 million of revenue in Q1. Income from drug distribution was up 80% to $13.4 million, and revenue from licensed products was 13% higher at $1.4 million.

Non-GAAP net income was $3.0 million, or $0.07 per diluted share, based on 40.8 million diluted shares. On a GAAP basis, BMP Sunstone reported a net loss of $2.0 million or ($0.05) per share.

The company ended the quarter with $21.2 million of cash and notes receivable of an additional $18.8 million, totaling $40.0 million. The notes receivables, which represent the settlement of trade receivable balances, are guaranteed by established banks in China and have maturities of six months or less.

BMP will spend 2009 working on continuing to rationalize the acquisitions it has made in the past 18 months. It expects each of its businesses to be profitable this year.

BMP was trading two cents lower after the announcement at $4.78 per share. The company has a market capitalization of $195 million.

Disclosure: none.