By Tracey Ryniec

Estimates are sinking on Maidenform Brands Inc. (NYSE:MFB) ahead of its first quarter earnings report on May 8 after it warned in March that 2013 would be a "transitional" year. This intimate apparel maker is now a Zacks Rank #5 (Strong Sell).
Maidenform Brands makes intimate apparel products, including bras, panties and shapewear, under many well known brands including Maidenform, Control It!, Lilyette, Self Expressions and Sweet Nothings, among others.
Maidenform has been riding the hot trend in shapewear for years but reliance on that one hot product finally caught up with the company in 2012 as it saw increased competition in the shapewear category from both department and chain stores. The secret is out and there little no barrier to entry for competitors.
In March, the company reported that full year fiscal 2012 sales declined 1% to $600.3 million.
2013 a Transitional Year
The outlook for 2013 doesn't look that much better. The company isn't expecting a turnaround until 2014.
"2013 will be a transition year for us as we take additional and more substantial steps to invest in our iconic brand, processes and infrastructure," said Maurice Reznik, CEO.
"Additionally, we will be pruning underperforming businesses and slow moving products, while improving gross margins and carefully investing in infrastructure," he added.
2013 Estimates Decline
Not surprisingly, the analysts have turned bearish on Maidenform for 2013. 2 estimates have been lowered for 2013 in the last 60 days.
The 2013 Zacks Consensus has fallen to $1.24 from $1.62 in the last 2 months. Earnings are expected to fall 14.5% compared to fiscal 2012.
Shares sold off after the warning in March.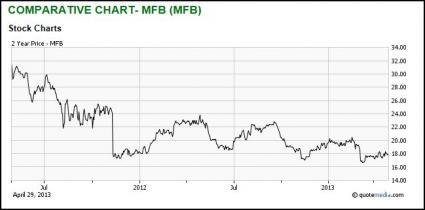 But even with the sell-off, they're still trading with a forward P/E of 14. That's not exactly dirt cheap.
If you're interested in investing in the intimate apparel space, you might want to consider Hanesbrand Inc. (NYSE:HBI). It just recently beat the Zacks Consensus for the first quarter by a penny. It is a Zacks Rank #2 (Buy).

MAIDENFORM BRND (MFB): Free Stock Analysis Report (email registration required)