Markets are forward-looking. However, as a practical matter, investors must extrapolate from the past. The problem with that approach is that past performance is no guarantee of future results. This awkward state of affairs tends to generate excessively passionate opinions about what the future holds. In this article, we'll attempt to take a more moderate, data-driven approach to the question of Apple's (NASDAQ:AAPL) 2013 prospects.
A Note On the Data: Apple adopted the FASVB's amended accounting principles on a retrospective basis during the first quarter of 2010. The chart values have been adjusted accordingly. Also note that the iPod was released in Q1/02, but Apple declared unit sales and revenues beginning with Q4/02. The first three quarters are, therefore, based on reconstructed values.
Margins aren't plummeting, they're regressing to the mean. Note the sharp drop off in Gross and Operating margin in Q1/01? That's a plummet. The nonchalant downward drift you see from Q1/2012-Q1 2013? That's regression to the mean.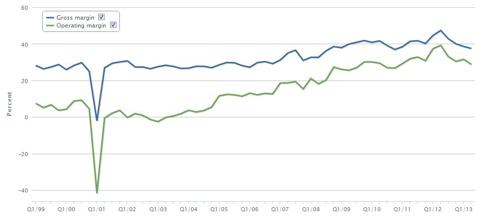 The value of Apple's brand continues to be ignored by investors. Intangible value ("good will") is always difficult to quantify: Estimates for the value of Apple's brand run the gamut, from $76.57 billion (Interbrand) to $87.1 billion (Forbes) to $183 billion (Millward Brown). Whatever the true figure is, it's not $0. Apple was "re-elected" the World's Most Valuable Brand in 2013, according to a survey by UK-based Brand Finance. That's $58.8 billion higher than Samsung (OTC:SSNLF), $35.17 billion higher than Google (NASDAQ:GOOG), and $53.1 billion higher than Coca-Cola (NYSE:KO).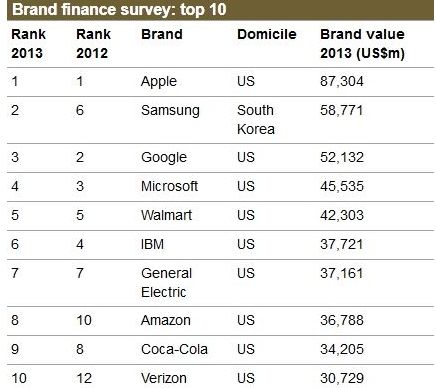 Despite a consumer trend towards austerity, Apple has premium brand behavior that mimics most luxury brands rather than a technology brand and has created millions of fans that are hugely loyal to the brand. Of course, innovation has also been an important driver of brand loyalty, particularly in the last few years where Apple stepped up its new product launches and competitors like Samsung have also started innovating. While innovation remains incredibly important, fans of Apple don't expect to see frequent large scale innovations... -- Robin Headlee, VP at Millward Brown Optimor

If that's the case, then many bearish analysts are attacking a straw man. Consumers don't require annual revolutions to buy Apple any more than motorists require the reinvention of the V6 engine to buy Porsche.
Hello, I'm a Mac. I'm assuming when analysts refer to "The Death of the PC," they're making a distinction between PCs and Macs. Q1 Mac sales were actually up year-over-year, while Q2 sales were (predictably) flat.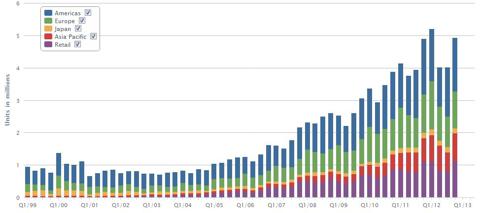 Apple's cash hoard is still rising. By 2015, Apple's cash hoard will exceed Microsoft's (NASDAQ:MSFT) market cap. Think about that one for a moment. If AAPL's valuation declines to $250 per share by 2014, the company will be worth less -- pre-tax -- than its treasure hoard.

According to a survey of 1,713 North American consumers conducted in March 2013 by 451 Research's ChangeWave, 19% of respondents showed interest in an iWatch (14% said they were somewhat likely to buy such a device, while 5% said they'd be very likely). Those numbers mirror two other hit Apple products, the then-unnamed iPad (2010) and the Intel-based iMac (2005), both huge hits.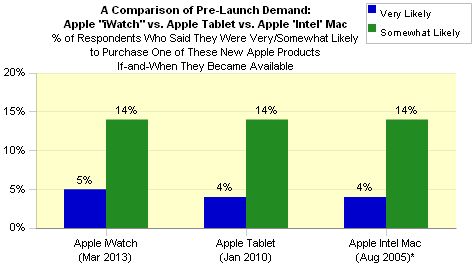 Source: 451 Research
Main Street still loves its iStuff. The survey results also indicate that Apple's iOS is still a "black hole" that users pay to get lost in. Apple's customers continue to be the most satisfied smart phone owners on the planet.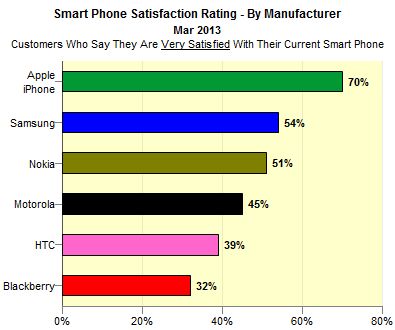 Conclusion
In my last installment of this Visual Guided Tour of Apple, I cautioned bears that:
...Tim Cook has every incentive to get the stock up in the near term and virtually unlimited funds to conduct a shock and awe buyback campaign. The high probability outcome in such an event is that Tim Cook can stay long AAPL longer than short sellers can stay solvent.
Of course, we all know what happened next.
Nevertheless, there are still plenty of analysts out there who insist that up is really down and vice-versa, if you only look at it a certain way. I disagree. I think that up is still up and down is still down, and -- all else equal -- the largest share buyback in corporate history and a 15% dividend hike is accretive to shareholder value.
Disclosure: I have no positions in any stocks mentioned, and no plans to initiate any positions within the next 72 hours. I wrote this article myself, and it expresses my own opinions. I am not receiving compensation for it (other than from Seeking Alpha). I have no business relationship with any company whose stock is mentioned in this article.