Altria (MO) is the clear leader of the U.S. tobacco Industry. Its flagship brand, Marlboro, has held the leading position in the US cigarette market for approximately 30 years. Since acquiring the U.S. Smokeless Tobacco Company in 2009, the Altria group has also held the largest market share in the small but growing smokeless tobacco market. Altria generated earnings of $4.18 billion on $24.68 billion in revenues in 2012. Free cash flow was $3.77 billion in 2012, and has consistently tracked earnings over the last five years.
Although tobacco use will likely continue to decline as fewer young people start smoking, the addictive nature of the product means an accelerated decline is extremely unlikely. Consumers who quit must do so slowly, and often by substituting other nicotine products. Altria has demonstrated an ability to maintain high market share and consistently generate high returns on capital. Furthermore, given management's record of stock buybacks and dividend increases, supplemented by strategic acquisitions in related industries, shareholders can reasonably expect to continue reaping the benefits of Altria's success into the foreseeable future.
Altria's key competitors include Reynolds American (RAI) and Lorillard(NYSE:LO). Altria has generated an average annual ROIC of 27% since 2009, compared to 17% for Reynolds (going back to 2008 yields an ROIC figure heavily influenced by large balances cash held in the wake of the Altria-PMI spinoff). ROIC measurements for Lorillard are distorted by several years of negative invested capital. Lorillard's recent quarterly results and ability to operate with so little invested capital are a topic for further examination. Its not clear that Lorillard has been efficiently deploying its cash in recent years. Unfortunately it is clear that it has lowered margins as its gained market share
| | | | |
| --- | --- | --- | --- |
| | Altria | Reynolds American | Lorillard |
| EV/ FCF | 21.8 | 18.9 | 15.7 |
| P/E | 16.9 | 17.7 | 13.8 |
| Dividend Yield | 4.9% | 5.0% | 5.1% |
| EBIT Interest Coverage | 5.7 | 9.5 | 12 |
| Annual Revenue growth 2008-2012 | 4.9% | -1.2% | 9.5% |
| Annual EBIT Growth 2008-2012 | 7.2% | -1.4% | 5.8% |
| Annual Growth in Net Income Available to Common 2008-2012 | 6.2% | -1.0% | 4.4% |
(Ratios based on most recent fiscal year, growth rates are CAGR)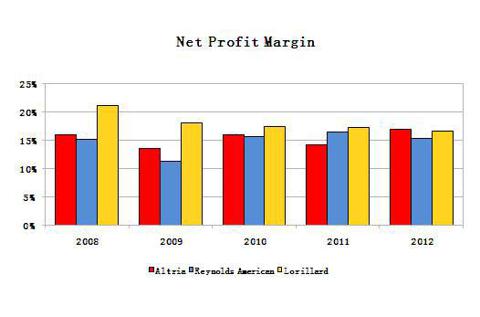 Based on comparables, Altria does have a richer valuation than its closest peers. However it is important to understand this valuation in the context of its competitive position. Altria is the only one among its peers that has been able to maintain both market share and margins.
Cigarettes
Smokeable tobacco products accounted for ~90% of Altria's net revenue, and ~86% of its EBIT in 2012. For cigarettes, it has maintained a 50% share of the gradually declining retail market. Marlboro alone holds a 42% retail market share. Reynolds American has maintained a market share of approximately 30% during this time, mainly through the Camel brand. Lorillard has actually grown its volume and market share in recent years, from 10% in 2005 to 14% in 2013. Lorillard focuses on the niche menthol market, and as shown above, its revenue has grown faster than net income, indicating decreased margins.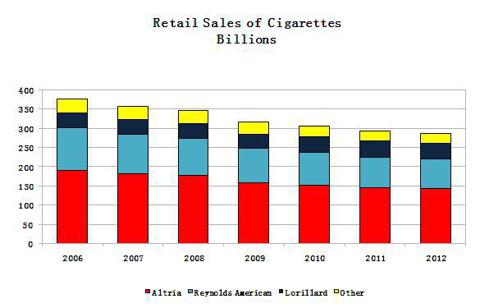 (Market share data from SymphonyIRI Group as cited in company annual reports)
Although consumers have the option of switching brands, retail market data indicates that consumers have chosen to switch away from key brands to any of the alternative down market brands.
Litigation and legislation in some ways make it difficult for a new brand or company to gain traction. Legal costs are enormous and tie up working capital. Advertising on TV and radio has been forbidden since 1971, and recent legislation has granted the FDA sweeping powers to restrict packaging and promotional activities. On the other hand, the Master Settlement Agreement has forced major tobacco companies to pay large sums each year, while smaller and/foreign tobacco companies have less of a burden, and therefore a cost advantage. Yet as shown in as shown in the chart above, the incumbent tobacco companies have successfully maintained market share.
Smokeless Tobacco
The use of moist smokeless tobacco ("moist snuff") products has been growing in the U.S, partially due to consumers switching from cigarettes to smokeless tobacco in response to widespread restrictions on smoking. Smokeless tobacco products tend to have higher margins. Altria's acquisition of USSTC appears to be an example of good capital allocation by management.
Smokeless tobacco accounted for ~7% of Altria's revenue, and ~13% of its EBIT in FY 2012. Through its USSTC subsidiary, Altria had a 55% retail market share by volume in 2012. Its key brands are Copenhagen and Skoal. Reynolds American had a 32% market share, primarily through its Grizzly and Kodiak brands.
E-Cigarettes
Cigarettes have changed very little since the invention of the flip top box in 1954, but it's possible that E-cigarettes may disrupt the industry. According to media estimates E-cigarettes account for less than 1% of the U.S. Cigarette market by value. Lorillard was an early entrant to this market with the acquisition of Blu Ecigs and currently has a 40% retail share, but e-cigarettes still account for less than 4% of its revenue as of the most recent quarter. Reynolds has a subsidiary that sells vapor cigarettes, and Altria has announced plans to enter this market this summer. It's too early to tell if e-cigarettes will permanently alter consumption habits. However, it is clear that the established tobacco companies have significant cash flow and brand portfolios to compete in this space if necessary.
Disclosure: I am long MO. I wrote this article myself, and it expresses my own opinions. I am not receiving compensation for it (other than from Seeking Alpha). I have no business relationship with any company whose stock is mentioned in this article.