IBM (NYSE:IBM), as with any tech stock, is constantly subject to a stream of speculation about its future - whether or not it can continue to grow? Is it being left behind? Is it popular enough? (Popularity seems to be a huge factor in stock selection nowadays, as many good companies are falling by the wayside in favor of more popular stocks such as Apple, Facebook and Netflix.)
The point is, despite its lack of popularity, IBM could be the best investment you will ever make.
To show why here are eight simple charts and one table detailing the financial situation of IBM and the numbers speak for themselves.
Changing with the times
Many commentators have hinted that IBM is falling behind the times as the old giant is left trailing in the dust by its smaller competitors. In fact, the opposite is true.
IBM has been in existence in one form or another since the beginning of the last century and it has obviously never been just a hardware company. These two charts highlight IBM's changing sources of revenue just over the past 19 years.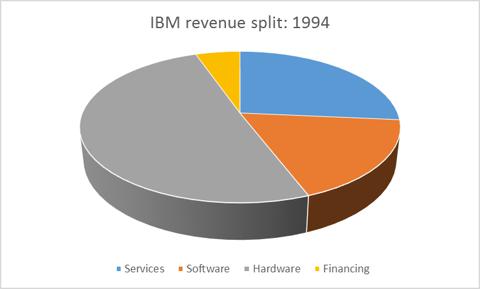 In 1994 most of IBM's revenues came from the sale of hardware. However, with hardware sales declining worldwide and competition increasing IBM has evolved into a primarily services based company.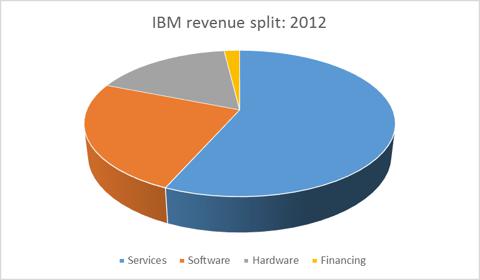 The company has evolved and now makes most of its income from services as competition in the hardware market increases.
Indeed, Big Blue is no longer just a hardware of software company. The fastest growing market in tech right now is data analysis and IBM is not being left behind.
IBM has acquired 54 smaller data analysis companies since 2005 and forecasts that by 2015 the company will generate $20 billion a year from the analysis of data alone, which will constitute roughly 20% of the company's current revenue.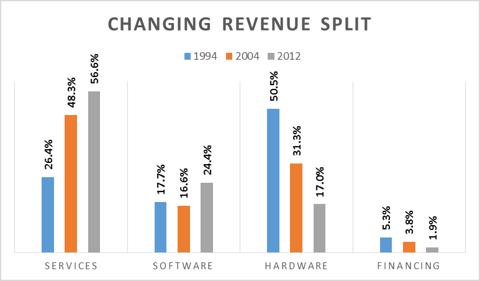 This chart further highlights the company's changing with the times. Revenues from services now account for 56.6% of IBM's revenue, up from 26.4% during 1994. Revenue from software now accounts for 24.4% of revenues, up from 17.7% in 1994 and revenues from hardware sales have fallen and now only account for 17% of the company's revenue, down from 50.5% during 1994.
The switch to a services company has resulted in growing margins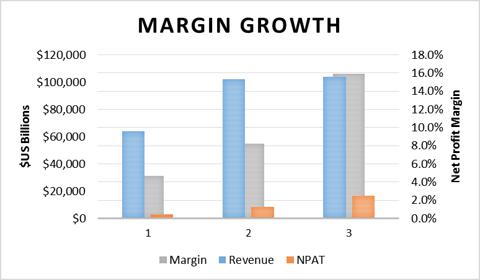 Margin Growth through the past 19 yrs, where period 1 = 1994 and period 3 = 2012
IBM's net profit after tax margins have expanded from 5% in 1994 to 16% as of last year. Furthermore, while revenues only grew 73% during the 19-year period, IBM's expanding margins and improving efficiencies have resulted in a staggering 453% rise in the company's net profit after tax during the same period.
Increasing net income has led greater free cash flows, cash generation and shareholder returns

IBM has some of the best shareholder returns in the S&P 500, with the company returning up to 101% of its net income to shareholders at some point during the last five years. As a percentage of the total overall capital returned to shareholders, the company's dividend payout is not much, but the share repurchase programs are really driving shareholder returns.
The mixture of buybacks and improving efficiencies has meant that earnings per share growth has far outstripped revenue growth over the past ten years.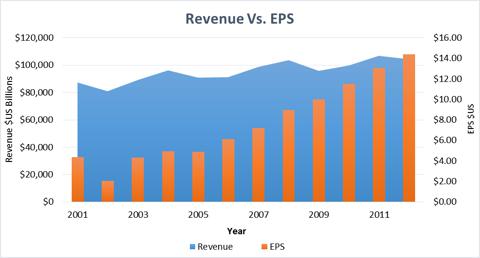 And dividends just keep rising in line with EPS growth.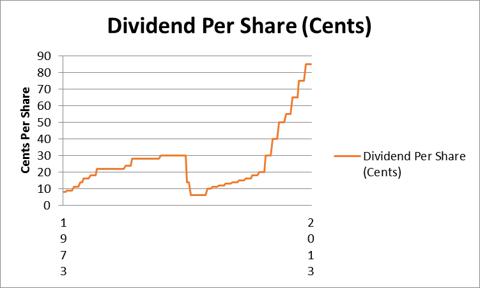 While they remain well funded.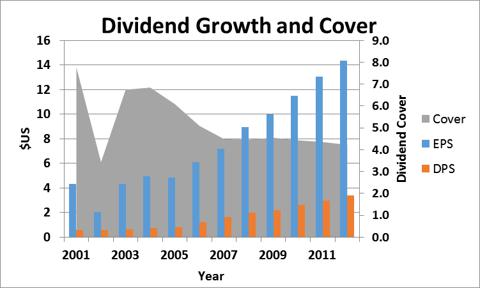 Dividend payouts have been covered on average 4.5x by EPS during the past 11 years. Although the company currently only yields 1.7% - this dividend is very secure.
Meanwhile the balance sheet is solid
| | | | | |
| --- | --- | --- | --- | --- |
| $US | 2009 | 2010 | 2011 | 2012 |
| Net Debt (Billions) | $11.80 | $16.50 | $18.90 | $22.20 |
| EBITDA (Billions) | $23.50 | $24.90 | $26.20 | $27.00 |
| Net Debt to EBITDA | 0.50 | 0.66 | 0.72 | 0.82 |
| Quick Ratio | 1.29 | 1.12 | 1.15 | 1.08 |
| Current Ratio | 1.36 | 1.18 | 1.21 | 1.13 |
| Interest Costs (Billions) | $0.40 | $0.37 | $0.52 | $0.57 |
| Interest Cover | 58.8 | 67.3 | 50.4 | 47.4 |
IBM's net debt is less that 1x yearly EBITDA and the company has quick and current ratios of slightly more than one.
That said, in my opinion this could be the company's only downfall as I believe that a company should have a quick ratio of around 2 - in order to have the ability to be able to withstand sudden financial shocks.
Additionally, debt is rising but with interest costs covered more than 47x by earnings this is no real issue.
Conclusion
In reality, there is no need to add further explanation - the charts speak for themselves.
IBM is not an old dog that is being left behind by newer competitors. The company is changing with the times, moving slowly from a hardware company to a software and services company. Meanwhile, IBM is not running out of money, the company is producing a healthy and growing profit margin that is being used intelligently to buy back stock and offer well funded dividends to shareholders.
If I was looking for trouble, I could highlight the company's growing debt and poor current liquidity ratios. However, while the company is returning most of its profit to shareholders it continues to expand and diversify for the future - the reason for its deteriorating net debt position. IBM is using debt to position itself for the future and grow revenues, which will ultimately lead to increasing shareholder returns.
Overall, IBM is giving shareholders fantastic returns, offering a strong well covered dividend and buyback program that is reducing the issued share capital enough to significantly improve shareholder returns.
A solid long term buy-and-forget investment for the future.
Disclosure: I have no positions in any stocks mentioned, and no plans to initiate any positions within the next 72 hours. I wrote this article myself, and it expresses my own opinions. I am not receiving compensation for it (other than from Seeking Alpha). I have no business relationship with any company whose stock is mentioned in this article.