The first four months of the trading year are now behind us, and the "big three" of U.S. market indices (the Dow, S&P 500, and Nasdaq) are all now up more than 10% year to date. Below is an updated look at our key ETF matrix, which shows the recent performance of all asset classes.
As shown, the Dow, S&P 500, and Nasdaq 100 all finished up more than 1.85% in April, with the Nasdaq 100 (NASDAQ:QQQ) up the most at 2.54%. Large caps outperformed mid-caps and small caps in April, and small caps actually finished in the red for the month. Since the start of the year, mid-caps have been the best, however.
We've seen a shift in sector performance over the last week. As shown, Consumer Staples and Health Care, which had been outperforming significantly, both declined this week, while recent underperformers like Technology, Energy, and Materials have bounced the most. For the year, Utilities -- yes, Utilities -- has posted the biggest gain at +18.64%.
International markets have seen a huge bounce over the last week, with countries like China, Canada, Germany, and Russia all gaining more than 4%. With the exception of Japan, however, the U.S. is still outperforming the rest of the world when looking at year-to-date performance. Commodities also saw big gains in the last week of April, but aside from natural gas, they were all down for the full month.
Finally, while fixed-income ETFs struggled earlier in the year, they have turned it around of late and are all now in the green for 2013.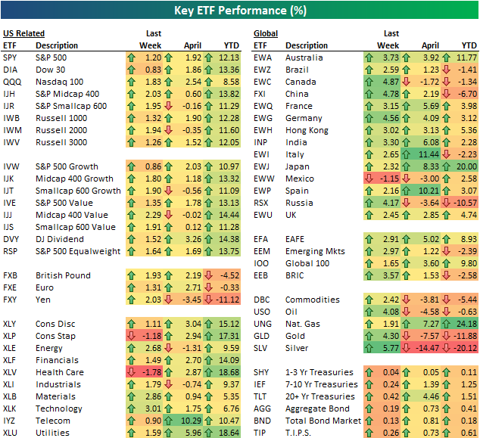 For those interested, below is a list of the 50 best-performing Russell 3,000 stocks year to date. As shown, Keryx Biopharma (NASDAQ:KERX) is up the most at +211.07%. The next biggest gainer is Coronado Biosciences (CNDO) at 149.45%, followed by SunPower (NASDAQ:SPWR), Supervalu (NYSE:SVU), and Astex Pharma (NASDAQ:ASTX). Other notables on the list of this year's big winners include Netflix (NASDAQ:NFLX), Best Buy (NYSE:BBY), Zillow (NASDAQ:Z), and Trulia (TRLA).