The Consumer Discretionary sector is one of the more intuitive sectors, with earnings driven by consumer spending. The consumer-led nature of this recession has driven discretionary stocks south, with households cutting spending and increasing savings rates (to 3.6%). The companies that have fared the best over the 18 months have been those with strong balance sheets and large market caps that offer less discretionary product lines.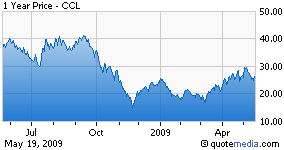 Sub-sectors that have performed especially well are discount restaurants, discount retailers and education services. Subsectors hardest hit, on the other hand, include specialty stores, automotives, publishing, and gaming. Some of these sub-sectors, particularly automotive and publishing, have inherently flawed business models whose recover-ability is questionable. Others have been pulled down by their ultra-discretionary product lines as consumers cut big ticket items.
Left in between are companies that offer products discretionary in nature but without the big-ticket price tag. These companies were heavily discounted as investors sold out of anything discretionary in a flight to safety. When looking at stocks for an economic recovery, these companies offer the best opportunities to take advantage of any upside on their beat up valuations. The natural sub-sector choices would be department stores, casual dining and apparel retail. However, since the market rally at the beginning of March, valuations have run away for most of these companies.
One sub-sector poised to take advantage of an economic recovery is cruise lines. While offering a bigger-ticket product line than those mentioned above, cruise lines benefit as a cheaper alternative to other vacation destinations and maintain attractive valuation levels. Carnival Corporation (NYSE:CCL) has outperformed the index by 10% since March lows, demonstrating its upside potential, but has not seen the +60% appreciation of most of the casual dining and apparel retailers.
Carnival Corporation is the world's largest owner and operator of cruise ships. It holds 50% market share in the cruise industry. Revenues are 60% North American, 34% European and 6% from Asian/South American.
Carnival reported Q1FY09 earnings of $0.25/share, beating the census by $0.06. The upside to expectations was driven by expense control and better than expected yield declines. Guidance for 2009 was reported with much more visibility, based on more stable booking trends and lower cancellations. Likewise, management's estimates were based on fuel costs of $287/ton for Q2FY09, well above analyst consensus of ~$275/ton. CCL's balance sheet is in great shape, with available liquidity of $4.2 billion, a debt/equity of 0.5x and no long term debt coming due until 2012 ($3 bil). CCL currently trades at a P/E of ~12x, with a historical 5-year average of ~16x.
From a longer term perspective, CCL operates in an industry with high barriers to entry and is a natural beneficiary of the baby boom retirement. Likewise, Carnival is domiciled in Panama City and therefore not subject to U.S. tax code (Section 883 exemption). With the future of U.S. corporate tax rates unknown (but more than likely headed much higher), its tax status will play a major role in earnings.
Carnival is poised to jump given a sustained economic recovery. However, it is important to approach any discretionary investment with caution. Given the very real possibility we are in the midst of a bear market rally, CCL has significant downside risks. The unexpected drop in March retail sales reminded the market the consumer continues to suffer. Likewise, the investment banks' recent earnings releases demonstrated the credit market continues to struggle, all of the commercial banking, credit-card, and mortgage businesses posting major losses. That being said, a long-term time horizon on this investment is likely to pay generous dividends.
The rest of this free research report "Stocks For An Economic Recovery" which includes commentary on all sectors is available for download at the following link.
- Adam Brown
Disclosure: None.