Fuqi International Inc. (OTCPK:FUQI) is a Shenzhen, China based manufacturer that, through its subsidiaries, designs, develops, promotes, and sells of high quality gold, platinum, karat gold, diamond and palladium precious stone jewelry in China. These products include rings, bracelets, necklaces, earrings, pendants, gold coins and gold bars (very cool!) that are sold primarily to national and provincial distributors.
As you can see there is nothing complicated with FUQI's business. It is a simple company to understand, and simple is beautiful, if you ask me. I have not checked yet, but I believe last year I took a look at FUQI as I mentioned it being a great stock to be long in a rising market. Sadly, or not, depending on who you are (wink, wink), the market rollover hard and had the worst decline in a short amount of time since 1929.
This ended any chance of any of us holding FUQI. There was nothing for me to do until the stock returned to my radar. I did not think it would only take a year as the way the market was looking it seemed that it might never come back (sarcasm but it was almost true in March). However, after 4/29/09 when the stock broke out of a flat base off the lows on very strong volume and a 13.6% move, it was obvious FUQI was back. By 5/4/09 I was extremely impressed with the way it took out the 200 day moving average and decided to do some research on the company and see how it was doing now.
That research was almost pointless as FUQI then cracked hard on 5/12/09, killing any chance it have of me paying attention to it. Since then FUQI has been on fire with a 71% gain in three stock market session. Is that extended? Yes. Is the stock now expensive? No and we will get to that later. First, let's look at why this stock is a great long for mutual funds. Growth in fund ownership hasn't been that wonderful as it has gone from 11 to 17 to staying at 17 to then losing one to 16. I would assume, after looking at the past three days that we will be higher than 17 the next reporting period.
The most appealing data point for FUQI is the EPS and sales growth rate. EPS has grown 133%, 225%, 60%, 244%, 257%, 138%, 181%, and 45% the past eight quarters. Sales, during that time, grew 9%, 90%, 122%, 177%, 154%, 158%, 135%, and 41%. These current numbers are great but most professional money managers operate like I do. They are not only looking at the current earnings which are very important but they want to see YOY EPS estimates. Those funds that own 7% of this stock, I am sure, are looking at this with drool coming down the mouth as 2009 and 2010 are for EPS estimates of 24% and 21% respectively. The numbers that FUQI throws out, and the action of the stock the past two months, indicate that it was like FUQI never knew that a bear market existed.
Other key fundamentals data include that FUQI had 0% debt-to-shareholder equity, a strong 24% return-on-equity, $1.30 cash flow to $.45 in the most recent March 09 quarter, and an EPS growth rate of 51%.With such strong fundamentals like this, there is no wonder that management still owns 53% of the shares outstanding. Shorts better watch out also as the stock has a 17% short interest and will take 2.3 days of non-stop covering to squeeze all the bears out. In the stock market you should never short a stock in an uptrend and in the past four days this stock has probably squeezed to death a lot of shorts as people continue to play the pick the top game. While some play that I will focus on my trusty fundamentals and technicals.
To confirm the numbers to the overall market, I went to Daily Graphs from Investor's Business Daily and see that the EPS is the best it can get at 99, the RS is at 95, the group RS is a very strong 95some of the top stocks besides FUQI include NILE, SIG, TIF, and FOSL, the SMR (sales, profit margin, and ROE) is a top A, the ACC/DIS rating is an A+, the Composite rating is a 99, the Timeliness rating if a B, the Earnings Stability is 28 (1 is best, 99 worst), and the only low spot is the Sponsorship rating with a D. The sponsorship rating is a D based on the past 12 months but all growth mutual funds will have low ratings during the past 12 months due to the vicious bear market.
The last thing I want to look at is the P/E ratio as value investors always tell me that they don't want to go long this-or-that stock due to a high P/E ratio. However IBD has proven that the biggest winners start their runs with a "high" P/E ratio. Sometimes though you get a beautiful chart near a breakout pivot point and to your good fortune that also has a low P/E ratio. Consider it a gift from the market that we have a huge growth stock with a strong chart and strong fundamentals at a reasonable price. The current P/E ratio is 6 which is well into the lower range of the five-year 2-26 range.
FUQI started off well enough in late 2007 to 2008 but by the time September came around it pulled off a fake-out breakout and thus lost 70% in six months. I thought that it was pretty much over for FUQI but when the market started to rally so did FUQI. Then at the end of March to now the stock has started to take off with strong accumulation, very strong TSV (blue line, middle window), an extremely strong RS line (white line, bottom window) and moneystream line (yellow line, bottom window). With BOP going max green yesterday from green and MACD trending higher making new highs holding above the zero line.
I guess it is OK to go long here, as long as you have a tight cut loss. I, on the other hand, need FUQI to start creating a handle pattern or another base here. It could break out today and that would be fine with me as long as it pulls back to the pivot point area or the 50/200 day moving average. I prefer a five days to five weeks of a base/handle formation before going long as I just can not justify chasing the move. Right now, I think 70% in four days is a bit too much and hopefully I will see a handle form on max-green BOP so I can get long the next breakout or bounce.
If this stock does base sideways for a while and I go long, I assume the 50 day moving average will be very close to my entry. Therefore, if the stock does not move higher immediately, I will cut my loss quickly and watch for another chance to get long.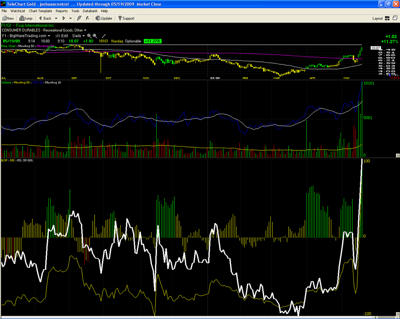 Disclosure: at the time of publication Joshua did not have any positions in FUQI, NILE, SIG, FOSL, or TIF.