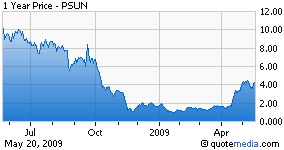 Pacific Sunwear of California (NASDAQ:PSUN) is expected to report Q1 earnings after the market close on Thursday, May 21 with a conference call scheduled for 4:45 pm ET.
Guidance
Analysts are looking for a loss of (29c) on revenue of $214.48M. The consensus range is (31c)-(20c) for EPS, and revenue of $202.82M-$249.44M, according to First Call. In March, Pacific Sunwear forecast Q1 EPS (31c)-(26c) on a same-store sales decline in the negative low-20% range.
Analyst Views
In a May 6 note to clients, Caris said spending on apparel for teens and children is expected to suffer less than apparel spending on adults. The firm said retailers' inventories should be closer in line to sales and planned promotions should help support healthier margins. The brokerage said that as retailers are getting better prepared to weather the storm and appeal to value-minded consumers, there is the potential for upside to sales and earnings expectations in 2H09.