Bloomberg reported CNBC said (yeah, I know):
May 19 (Bloomberg) -- Bank of America today made a secondary stock offering priced at $10 a share, CNBC reported citing a person familiar with the situation.

CNBC could not confirm the volume of the offering, which is about 10 percent below the bank's close of $11.25 in New York Stock Exchange composite trading.
Shortly after the close there was chatter that a huge clean-up block order was being shopped and nobody wanted it.
Well here's the chart of trading in BAC today: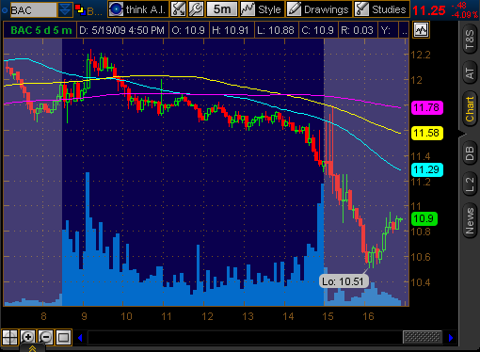 From this chart it is clear that "someone" (or a handful of someones) knew of this offering before the market closed.
The volume that started showing up at 2:00 PM - to the downside - was VERY significant and the selling picked up bigtime going into the bell.
This sort of information leak and trading on it before it is disclosed is illegal.
What's even worse is that an hour after this news "broke" Bank of America still hasn't issued a press release on the matter.
We saw this sort of "favored garbage" all the time in the 90s. As a consequence Regulation FD, for "fair disclosure", was passed. It mandates that you cannot issue information that is material to your stock price to only a few select people - you have to give it to everyone at the same time, and the most common way you do this is to request a halt on your stock from the NYSE, issue the press release, then have the NYSE lift the halt.
This way nobody can get either long or short in front of your announcement and nobody gets to profit unfairly (or get screwed unfairly) as a consequence of whatever it is you need to announce.
Banks are not immune from this regulation.
People need to start going to prison for this BS. There are real investors who are harmed by this intentional and outrageous gaming in the markets, sometimes very significantly. This issue is at a 20% discount to the trading price earlier today and the dilution will hit EPS forever.
Oh, and it gets better. What happened Tuesday?
LONDON (MarketWatch) -- Bank of America was upgraded to buy from neutral and added to the conviction buy list at Goldman Sachs, which says the stock overhang should start to abate and that the bank may earn 25 cents a share during the second quarter, well above consensus estimates of a penny a share. "Our optimism is based on another solid mortgage and capital markets quarter, given observable activity levels since March," the broker said.
The stock overhang should start to abate?
I want to know who ran the book for this secondary and further, I want to know if Goldman was one of the firms selling into this.
What I do know, because I have a real-time squawk feed with commentary, is that Goldman was very quietly selling S&P futures in the back of the pit this afternoon.
The SEC needs to start issuing subpoenas NOW. This has gone on now for more than two years, dating back to the 2007 "surprise" discount rate cut, the "short ban" on financials and more. It is abundantly clear from a simple examination of the price and volume immediately in front of these announcements that someone is being given the information before the rest of the market gets it and they are trading on it, and that is against the law.
Period.
I have said that you can't buy or own any financial-related stock at present as an investor. This sort of BS is why - you will be traded against by people with inside information who will take every opportunity to destroy your investment while profiting from your loss, and they will do so using information that is not available to you, the average person, until well after their trade against your position has been put on - whether those acts are legal or not.
WHERE ARE THE DAMN COPS?
PS: BAC will probably be up Thursday. That doesn't change a thing - Reg FD is not there so that a handful of "special folks" can profit on opportunities you don't get to take advantage of.
Disclosure: No financial firm positions; with this sort of blatant, unpunished lawlessness your IQ would have to be in the single digits to invest in any of these firms.