This article was written last year evaluating International Business Machines Corporation's (NYSE:IBM) prospects as a dividend growth stock. With the company increasing its dividend for the 18th consecutive year today, it is time to recheck the story. Let us get into the details.
History: As mentioned in the original article linked above, IBM has been paying dividends for close to 100 years, according to its website. The dividend has been increased every year since 1995.
New Dividend and Yield: The new annual dividend of $3.80 per share gives the stock a yield of almost 2%, which is well below the level of other technology giants like Apple (NASDAQ:AAPL), Microsoft (NASDAQ:MSFT), and Intel (NASDAQ:INTC). The new dividend will be paid to shareholders on June 10, 2013 to shareholders on record as on May 10th.
Dividend Growth: With the new dividend, the 5 year average dividend growth has dropped to about 14% from the 16% at the time of the original article linked above.
Payout Ratio: One of the main reasons the current yield is still less than 2% is the company's low payout ratio. At an annual dividend of $3.80 per share, the payout ratio works out to a paltry 26%, leaving plenty of room for future increases. A low payout ratio can at times been seen as being unfriendly to shareholders, but IBM's history of buybacks and dividend growth defeats that perception.
Buybacks: Speaking of buybacks, IBM also announced an additional $5 billion buyback along with the dividend increase. Talk about a double whammy! IBM's buyback is almost legendary and as the chart below shows, the outstanding share count has gone from 2 billion to almost 1 billion. Needless to say, this has had a magical impact on the share price as mentioned in this well written article, which recommended that Apple follow IBM's steps in rewarding shareholders through buybacks. Sure enough, Apple announced one of the biggest buybacks a week later.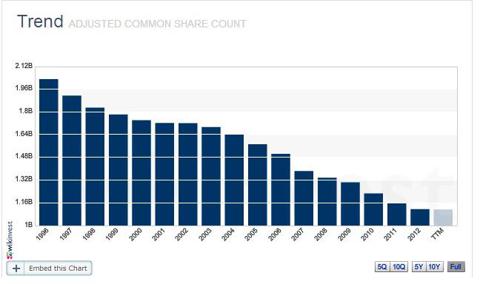 (Source)
Extrapolation: The table below assumes an annual dividend increase of 10% over the next 10 years, and it is easy to see the power of compounding, with the yield on cost almost tripling. The low payout ratio plus IBM's expected earnings make the annual 10% increase seem plausible.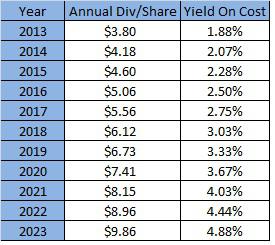 Conclusion: The original article linked above concluded that IBM was likely to lag behind Intel and Microsoft when it comes to pure income, mainly because of the difference in current yields. We still stick to that opinion from purely an income perspective. But given IBM's buybacks, dividend growth, expected double digit earnings growth, and shareholder friendliness, this stock does warrant investors' attention, if not a place in the portfolio already. And the public support of the best investor in history doesn't hurt, either.
Disclosure: I am long AAPL, INTC. I wrote this article myself, and it expresses my own opinions. I am not receiving compensation for it (other than from Seeking Alpha). I have no business relationship with any company whose stock is mentioned in this article.