Even discounting the Easter effect, the airline market stabilized in April after a six-month freefall, says CreditSights. Year-on-Year domestic and Atlantic capacity reductions bottomed, but load factor perked up smartly and Passenger Revenue per Available Seat Mile declines halted.
While the summer demand picture remains cloudy, it is now not a bottomless pit.
The six-month decline in PRASM screeched to a halt (at least for one month).
The key was a significant uptick in load factors as Y-o-Y demand declines narrowed more than capacity cuts.
While just one data point so far, the major risk of a demand vacuum now has its first boundary.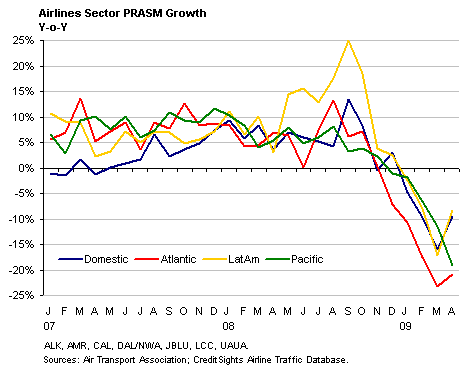 CreditSights continues to overweight the airline industry. For details see:US Airlines Apr 09 Traffic Review: Stabilization.