The New York Times' (NYT) blog Dealbook has an interesting note about the latest study attempting to quantify the advice CNBC's Jim Cramer dispenses nightly on his show. Cramer is inarguably the biggest star on business television and he has become even more recognizable after the well-documented debate he had with Comedy Central's John Stewart.
The heart of the debate was that Cramer recommended buying Bear Stearns just weeks prior to the investment bank's demise. As we stated at the time, Cramer is not a personal financial advisor, he is an entertainer, and anyone who dishes out as many stock picks as he does on a nightly basis could look like a fool or a genius if you only select certain picks to suit a predetermined conclusion.
The study out of Northeastern University tries to give a clearer view of how a portfolio of his recommendations would have done. Their basic methodology is as follows:
"Mr. Bolster and Mr. Trahan created a hypothetical Cramer portfolio this way: Each time he recommended a stock on his show, $1 worth of that stock was acquired at the closing price the day after the show was broadcast. (The closing price better reflected what retail investors would pay if they tried to buy the stocks he mentioned.) If Mr. Cramer later made a sell recommendation on that stock, it was sold from the imaginary portfolio."
The results of the study of Cramer's picks from mid-2005 through the end of 2007 showed that Cramer's picks performed at annualized rate of 12.1% compared to the S&P 500's return of 7.35%. This is especially impressive because the stocks are bought at the next day's closing price, which would not take into account the "Cramer effect" that is often seen when small or mid-cap stocks mentioned on Mad Money get a nice bounce the next day, presumably from a rush of retail investors.
Even big stocks sometimes feel the "Cramer effect" as Freeport McMoran (FCX) had its largest one-day gain ever the day after Cramer spent ten minutes discussing why he is bullish on the stock. It was a $25 stock at that point and rose 11% the next day; there was no other news on the stock.
The study also used a more complex model for evaluation, and in that case; the results were much closer to the benchmark return. There is a clear short coming to the study though, in that it does not reach into the meltdown of 2008.
Cramer is incentivized to grab ratings and to discuss the most popular stocks and stories, and because of this, it would seem reasonable that he talks about stocks with higher than normal volatility and beta. The basic case of the study though is certainly a nice out-performance, but this study is only part of the picture. The study does not take any of his picks since the market turmoil began in 2008, and it is quite possible that Cramer under-performed the market in the past year. It is entirely possible that he simply has been aggressive on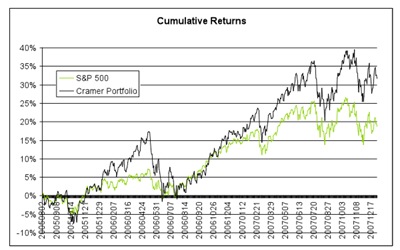 riskier stocks, which is a winning strategy in bull markets and obviously would not be in bear markets. This is all assumption though, because the study does not go far enough into the current market to give a full picture of his recent performance. Either way, this is at least a better perspective than the much ballyhooed 2006 study from Northwestern Kellogg Business School which showed Cramer's picks did not fair well over an 11 week period.
It is well known that Cramer was an accomplished hedge fund manager and an all-together pretty bright guy. That is in the past though, and Cramer is an entertainer now and he is one of the few people that has the ability to literally move the market. The booyah-heads that follow Cramer have made him into something larger than himself, and that means we will always be fascinated with the evidence behind his guru stock-picking prowess.
Original post: Cramer's New Report Card: He Passed