Markets recently reacted well to GDP growth numbers - over the last year, real GDP increased by 2%. Looked at over the past 5 years, however, the annual increase in real GDP is a miserable 0.7%.
Are the recent numbers implying a trend upward? The graph below shows a sliding window of Trailing-Twelve-Month (TTM) GDP growth (using averaged numbers over a period of 12 months).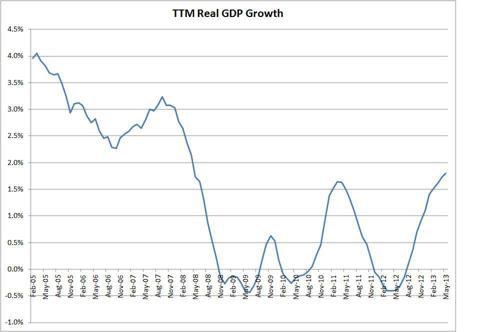 You can see that there have been rising peaks recently, which when smoothed out do show a steady recovery, which correlates with steadily better unemployment rates, improved housing market, etc. in the U.S.
What if we look back through modern history? The graph below shows trailing-5-year real GDP growth (annual %).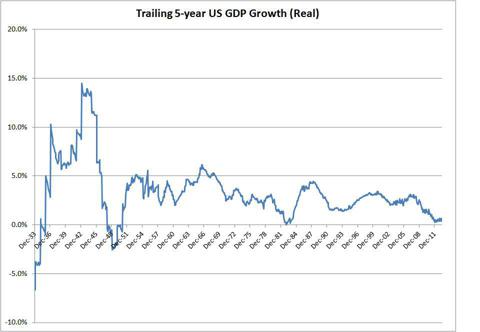 Something very interesting about this graph is that the past 5 years have been about as bad as they have ever been - in fact, the last time 5-year GDP growth was this low was February 1983! That was the start of a massive bull market - the forward 5-year return for the S&P 500 was 16% per year!
For those who will say interest rates dropped to help that return, I won't disagree, although if you look at long treasury rates back then, they only dropped from ~10% to ~8%, so it is hard to see that as the major factor.
Going farther back, the last time things were this bad was near January 1951. For 5 years after that, the S&P 500 returned 25% per year.
The challenge with analysis like this is that there is very limited data despite 60 years seeming like a long time. However, intuition tells me that when growth has been this poor, the bears drive prices to attractive levels with all their doom and gloom talk (and incidentally, drive prices of fear assets like gold (NYSEARCA:GLD) to lofty heights as well!). If these low GDP growth rates correlate with pessimism, and John Templeton was right that buying "at the point of maximum pessimism" is ideal, then now should be a great time to be investing in U.S. equities - either through stocks or through general market ETFs like SPY.
For more on why I am bullish on U.S. equities, see the case I make here: seekingalpha.com/article/1354181-the-bull-case-for-u-s-equities-in-2013.
Disclosure: I am long SPY. I wrote this article myself, and it expresses my own opinions. I am not receiving compensation for it (other than from Seeking Alpha). I have no business relationship with any company whose stock is mentioned in this article.