One of the strongest performing banking and insurance stocks in Europe is KBC (OTCPK:KBCSY). The Belgium-based retail bank saw its share price surging with 200% since January 2012, even with twice offering additional shares to institutional investors. Lowest stock price in 2012 was €9.1 ($11.83), today investors are paying €30 ($39).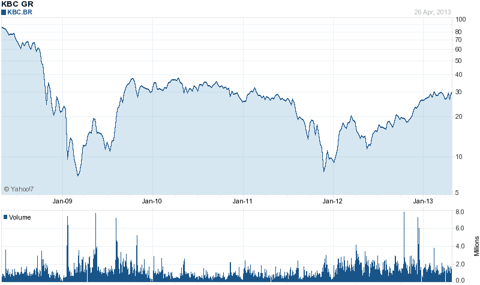 KBC in 2012
KBC reported very good results over 2012. In the official report KBC stated:
Net income under IFRS was €600 ($780) million (€1.44 ($1.87) per share);
Increase in sales of life insurance by 44%;
Underlying results rose from €1.1 ($1.43) billion (2011) to €1.5 ($1.95) billion;
Tier-1 solvency ratio at 13.8% (Basel II);
Impairment on Ireland still considerable.
During 2012, KBC paid off the crisis loans from the Belgian Government. In order to raise money, KBC offered twice an amount of shares to institutional investors: in October 2012 18.2 million shares for € 350 ($455) million (app. € 19.23 ($25 per share) and in December 58.8 million shares for €1.25 ($1.625) billion (app. 21.25 ($27.62) per share).
KBC is doing just fine
KBC is doing fine. Unlike most European banks, KBC has no great exposure to countries like Spain and Italy. The only problem country for KBC is Ireland. It's not quite clear to what amount, but KBC itself uses the word "considerable". Now Ireland is, unlike the other PIIGS-countries, making good progress on healing their economy but the wounds were pretty deep and it may take many years before the Irish economy will recover.
Further on, KBC earns its money mainly in homeland Belgium and a couple of East-European countries: Czech Republic, Hungary, Slovakia and Bulgaria.
Even the LTRO-loans (Long Term Refinance Operations) from the ECB of €8.3 ($10.8) billion are scheduled to pay back early 2013.
So, apart from Ireland, KBC looks pretty stable. Credit agency Standard & Poor's agreed on that by upgrading the outlook for KBC in December 2012 from stable to positive. Quite extraordinary for a European bank. In 2012, KBC took impairments of €2.5 ($3.25) billion.
The shares look quite expensive at the moment, but the profitability of the company will quickly rise in the coming years while on the one hand, expensive crisis loans have been repaid, and on the other hand impairments on bad assets will decrease.
KBC Ancora

For the long term investor, there's a very nice discount to be made: KBC is19.7% owned by a holding company called KBC Ancora. Now this company's only possession is 82.216.380 shares in KBC, financed with a loan of € 630 ($819) million. With a share price of €30 ($39) for KBC, Ancora is worth (82.2 million * 30) €2.46 ($3.20) billion. If we subtract the loan of € 630 million net worth is € 1.816 ($2.36) billion. Outstanding shares of Ancora: 78.3 million. This means a theoretical value of €23.45 ($30.49) per share.
I specifically state 'for the long term' because I don't think the undervaluation will disappear within a couple of months. However, in the long run, when dividends start coming in, real value must be recognized by financial investors.
The shares of KBC Ancora (KBCA.BR) are momentarily trading around €14.5 ($18.85), which means a theoretical undervaluation of 38%.
Of course investing is not that simple. The biggest threat to Ancora is that the interest on the €630 million loan cannot be paid. The only source of income for Ancora is the dividend from KBC. Luckily, over 2012 KBC announced to pay a €1 ($1.3) dividend per share again. Moreover, the ECB will keep interest rates low for a considerably long time. If Ireland manages to get the economy going KBC could be a bright spot amongst its European peers. And with KBC Ancora the entry level for smart investors will be 40% lower.
Disclosure: I have no positions in any stocks mentioned, and no plans to initiate any positions within the next 72 hours. I wrote this article myself, and it expresses my own opinions. I am not receiving compensation for it (other than from Seeking Alpha). I have no business relationship with any company whose stock is mentioned in this article.