On April 18, Freeport-McMoRan Copper & Gold, Inc. (NYSE:FCX) reported Q1 2013 earnings of $0.68 per share. A lack of share buybacks means that both per share earnings and net income fell just over 15% year on year. With gold at a 2 year low and copper similarly depressed, it's a wonder that net income didn't fall further.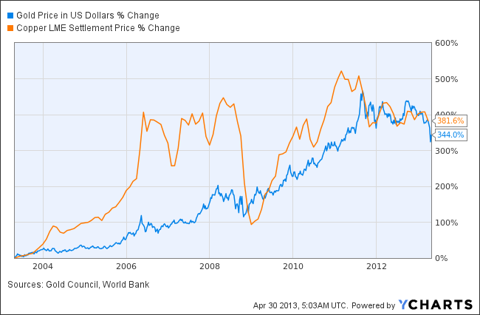 About a month and a half ago, I posted a fairly popular comparison of, what seemed at the time, extremely undervalued mining companies. Almost instantly, the bottom fell out from under gold and they got a lot cheaper. I'd like to take a balanced look at Freeport's earnings history that might put the present depression of basic materials in context.
Freeport-McMoRan Copper & Gold, Inc 2006-2010 Source: YCharts

First of all the figures above need to be taken with a grain of salt. In 2007, Freeport completed the acquisition of Phelps Dodge Corporation. In 2008, Freeport posted a loss in net income of over $11 billion. The important thing to take away is that while gold was at or below its current prices -- not accounting for inflation -- Freeport managed to turn a profit. Not only did it turn a profit, but it paid dividends in total of $9.25 per share.
On a side note, it looks like during that five year period the company made a total of 21 dividend payments. Eight of those distributions were in 2006. If you can explain why the company was following such an unusual dividend schedule, please comment.
During the Q1 2003 earnings call, CFO Kathleen L. Quirk explained that Freeport issued $6.5 billion of notes bringing total long term debt up to $10.1 billion. The reason for taking on such a sizeable debt is the acquisition of Plains Exploration (NYSE:PXP) and McMoRan Exploration (NYSE:MMR). You can find my views of this acquisition, here.
If Freeport can repeat 2003-2012
My views on the Plains Exploration acquisition are less than positive, but it probably won't prove disastrous. That said, I would like to use the past decade's performance to project earnings forward 10 years. From 2003 through 2012, Freeport increased per share earnings from $0.485 to $3.19. That's an annual compounding rate of 20.7%. That's so good, I had to triple check my spreadsheet.
If they can repeat the success of the past ten years, 2022 per share earnings will come in at $20.98 per share, and dividend distributions will rise to $4.34 per share. At Freeport's P/E 10 ratio of 31.38 that's $658.35 per share.
Freeport's yearly dividend distributions rose from $0.36 in 2003, to $1.25 in 2012. That's a compounding annual growth rate of 13.26%. If dividends continue growing at that rate, in 2022 the company will distribute a total of $4.34 per share. At this rate, accumulated dividends for the 2013-2022 period will total $26.40, assuming they're not taxed or reinvested.
Adding the $26.40 in expected dividend distributions to the projected per share price of $658.40 gives us a total per share value of $684.09. If you purchase shares at Monday's closing price of $29.90 that's a compounding annual rate of 36.77%. That's so high, I'm afraid to say it out loud for fear of being committed to a mental institution.
A projection that doesn't belong in a straightjacket
A far more believable scenario is growth comparable to the 5 year period between 2006 and 2010 described above, and for simplicity's sake no increase in dividends. At a 6.63% compound annual growth rate, Freeport will post earnings of $6.06 per share. Multiply that by a market average P/E ratio of 12, and you have a price of $72.73 plus $12.50 per share in dividends. Shares purchased at Monday's closing price of $29.90 offer a compound annual growth rate of 11.04%, which is really not so bad.
As I mentioned in my last mining article, I'm not fully versed in the commodity markets. I know enough to confidently say nobody can accurately predict what will happen to the prices of gold and copper ten years into the future. If you know something about Freeport's operations that lead you to believe it will have a lousy decade, please share.
Disclosure: I have no positions in any stocks mentioned, and no plans to initiate any positions within the next 72 hours. I wrote this article myself, and it expresses my own opinions. I am not receiving compensation for it (other than from Seeking Alpha). I have no business relationship with any company whose stock is mentioned in this article.