Back in the summer of 2010 I listened to a Chesapeake Energy (NYSE:CHK) conference call where then CEO Aubrey McClendon laid out what he thought Chesapeake's various properties were worth.
While those estimates seemed to hold up through the McClendon era joint venture transactions, the numbers are now looking out of touch with reality.
With McClendon now gone from his post as Chesapeake CEO, having been politely shown the door following a shareholder revolt, the company has had a change of strategy.
The new strategy seems to involve reducing debt by selling off assets as quickly as possible.
I think the strategy is the right one (maybe the only one), but I have been surprised at the prices Chesapeake has been receiving in its asset sales. The valuations certainly don't match up with McClendon's estimates in 2010.
The last two asset sales in particular have to be catching shareholders by surprise.
Mississippi Lime Joint Venture With Sinopec
The first negative surprise was Chesapeake's asset sale involving the Mississippi Lime:
OKLAHOMA CITY--(BUSINESS WIRE)--Feb. 25, 2013-- Chesapeake Energy Corporation and Sinopec International Petroleum Exploration and Production Corporation (Sinopec) today announced the execution of an agreement which provides for Sinopec to purchase a 50% undivided interest in 850,000 of Chesapeake's net oil and natural gas leasehold acres in the Mississippi Lime play in northern Oklahoma (425,000 acres net to Sinopec). The total consideration for the transaction will be $1.02 billion in cash, of which approximately 93% will be received upon closing. Payment of the remaining proceeds will be subject to certain customary title contingencies. Production from these assets (including Mississippi Lime and other formations), net to Chesapeake's interest and prior to Sinopec's purchase, averaged approximately 34 thousand barrels of oil equivalent per day in the 2012 fourth quarter and, as of December 31, 2012, there was approximately 140 million barrels of oil equivalent of net proved reserves associated with the assets. All future exploration and development costs in the joint venture will be shared proportionately between the parties with no drilling carries involved.
In the slide below from Chesapeake's June 2012 presentation the company claimed that its Mississippi Lime acreage is worth $7,000 to $8,000 per acre.
Chesapeake sold 425,000 acres to Sinopec for $1.02 billion. That is $2,352 per acre which is less than one third the value that Chesapeake had suggested the property is worth just a few months prior.
But it is even worse than that, because the acreage also carried with it a significant amount of production and booked reserves. Sinopec's (NYSE:SHI) half of the acreage brought it 17,000 boe/day of production and 70 million barrels of proved reserves. Chesapeake's presentations historically have pointed to the valuation of non-producing land that had not had much capital invested in it.
In other words, I would have expected Chesapeake's Mississippi Lime acreage to garner $7,000 to $8,000 per acre without any production.
The Mississippi Lime production sold was 54% liquids, and if you assume that it is worth $50,000 per flowing barrel that would suggest the production from the acreage alone was worth $850 million. That is only $150 million short of the entire price Sinopec is paying.
That means that the undeveloped portion of the acreage in the Sinopec deal received a price that is a fraction of the $7,000 to $8,000 Chesapeake had suggested in its June 2012 presentation.
Sale Of 163,000 Acres of Marcellus Shale To Southwestern (NYSE:SWN)
Chesapeake's most recent asset sale only hit the radar because it was announced by the acquiring party Southwestern Energy, perhaps Chesapeake didn't think the deal worth bragging about:
Southwestern Energy Company (SWN) today announced that it has signed a definitive purchase agreement to acquire natural gas properties located in Pennsylvania prospective for the Marcellus Shale from Chesapeake Energy Corporation (CHK) and its partners for approximately $93 million, subject to closing conditions.

"2013 is already proving to be an exciting year for Southwestern Energy," stated Steve Mueller, President and Chief Executive Officer of Southwestern Energy. "This acquisition of approximately 162,000 net acres is near our existing position and provides Southwestern with even greater exposure to a world-class resource where we can further showcase our operational strengths. The key acreage is located in Susquehanna, Wyoming, Tioga and Sullivan counties. Current net production from these properties is approximately 2 MMcf per day from 17 gross wells (1.2 net wells). Upon closing of this transaction, our acreage position of approximately 337,000 net acres in the Marcellus strengthens our ability to provide future double-digit production and reserve growth."
The price per acre for the deal is an underwhelming $572 ($93 million / 163,000). In fact Chesapeake is actually selling this acreage for less than it paid for it way back in the years 2006 to 2009 before the Marcellus was at any noteworthy stage of development.
The April 2009 Chesapeake Investor Presentation slide below shows Chesapeake's average cost per acre in the Marcellus to be $610 per acre.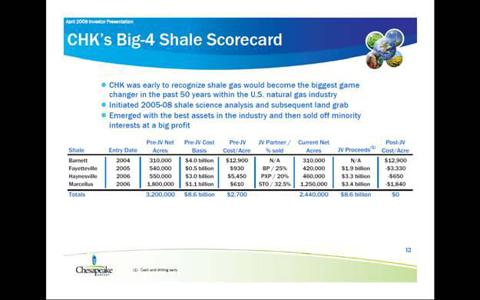 And this sale is a far cry from the price that Chesapeake was able to get from Statoil (NYSE:STO) back in the middle of the financial panic in November 2008 in a Marcellus Joint Venture transaction. Even in those dark days of late 2008 Chesapeake was able to get ($3.4 billion / 600,000 acres) = $5,666 per acre out of Statoil (see details in the Chesapeake April 2009 slide below).
I know all acreage isn't created equally, but to go from over $5,000 per acre to $500 per acre is pretty astonishing. For people who were using a valuation model that incorporated a "per acre" sum of the parts approach, Chesapeake is quickly looking a lot less appealing.
I know I was certainly guilty of looking at Chesapeake on a per acre basis. Back when McClendon was getting joint venture deals done that valuation approach seemed appropriate. All of the Joint Ventures back then supported the per acre values.
I don't know if the industry has changed the way it values these resource plays, if the acreage Chesapeake is selling now is the worst of the lot or if Chesapeake is just that desperate.
It is likely a combination of the three.
Disclosure: I have no positions in any stocks mentioned, and no plans to initiate any positions within the next 72 hours. I wrote this article myself, and it expresses my own opinions. I am not receiving compensation for it (other than from Seeking Alpha). I have no business relationship with any company whose stock is mentioned in this article.