In the aftermath of the stress tests, capital-raising among the banks has become stylish again. Heaven help their investors. This is just the sort of environment that brings out the worst in both managements and their investment bankers, which is saying something. Shareholders of certain companies are apt to get clobbered.
But in the hijinx to come, nothing will likely match the abuse that Western Alliance Bancorp (NYSE:WAL) and its banker, Keefe, Bruyette, & Woods, have already heaped on Western's hapless shareholders.
Last week, you may have seen, Western closed a $190 million equity offering. In getting that deal done, KBW and Western availed themselves of every trick in the book, in my opinion. Misleading disclosure by management? Check! An unnecessarily large dilutive equity offering? Check! Whorish rating changes? Check! I'm surprised they didn't go ahead and hire burglars to break into shareholders homes and rifle through their dressers.
By the time it was all done, Western holders were diluted by more than 40%, via an offering that raised capital the company (by its own account) didn't need, and that will likely serve no useful purpose. And, sure enough, two days after the deal was priced, KBW's research "analyst" saw fit to upgrade Western's stock to a buy. Such a coincidence!
Before I get into the details of this fiasco, let me say this is all par for the course for KBW. The company acts as if the Spitzer-era reforms of earlier this decade didn't happen. The firm seems to view the current environment as a once-in-a-couple-decades opportunity to con banks into doing unnecessary deals.
It is a one-two punch. First, raise way more money than the bank needs. Then get the bank to piddle it away on crazy, overpriced acquisitions. To show exactly how ravenous the company has become, it recently predicted that U.S. banks need to raise $1 trillion in new capital. For perspective, following the stress tests of the 19 biggest banks, the government ordered 10 of the banks to raise just $75 billion.
For further perspective, a similar estimate by Sandler O'Neill, a banking specialist that actually has integrity, put the figure at roughly $100 billion for all U.S. banks.
In any event, let's walk through the timeline of this deal, to appreciate just how misbegotten it was:
March 3: Western Alliance posts an investor presentation on its website. On Slide 4, it lists 11 reasons it believes Western Alliance is attractively positioned. Here's Point 4: "Strong capital position." And point 10: "Raised common twice, plus TARP."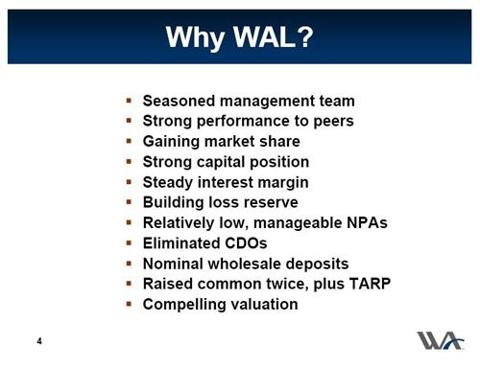 Click to enlarge
Later on, in Slide 22, titled "Substantial Loss Absorption Capacity," management illustrates via an example the high level of excess capital it believes it has, even assuming loan losses continue at the high level they did in the fourth quarter of 2008.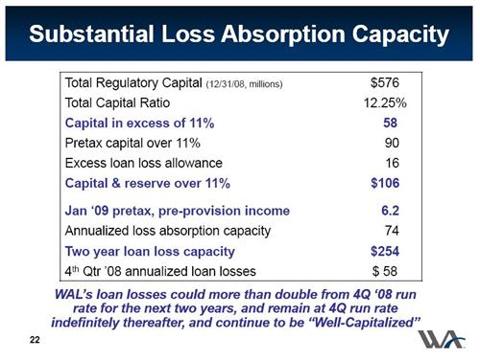 Click to enlarge

After viewing the slide deck, investors would be forgiven for believing that Western had neither the need nor desire to go to the capital markets any time soon.
April 24. Western Alliance announces a first quarter loss of 23 cents per share. Results were in line with consensus expectations, and down from a 35-cent loss in the prior quarter. The company didn't change its outlook for credit deterioration.
May 12. With its stock training at $8.06, Western Alliance announces a $150 million common stock offering. Lead manager: KBW.
Say, what happened to the well-capitalized bank management had been crowing about on its web site? The size of the deal was just $150 million, but at the time it was announced, Western's market cap was around $250 million.
I believe management blatantly misled investors with its comments about capital prior to the deal. Further, I believe the company is out of its mind to raise so much capital at such a depressed valuation. (Western's book value when the offering was announced was just $7.22 per share.)
May 13. Investors not happy! Western's stock drops by 23% the day after the offering was announced. It closes at $6.24, or 86% of book value.
May 14. Western twists the knife. It upsizes the deal by 28% (presumably on the advice of KBW), to $192 million from $150 million (assuming green shoe) even though the stock has tumbled by 23%. The timing of the deal, its original size, its revised size, and its pricing all demonstrate that Western's management team has zero concern for interests of common shareholders. Or maybe it once did, but KBW talked management out of it. All KBW seems to care about, based on how it handled this transaction, is closing as big a deal as it can.
May 18. The piece de resistance. With the deal done and all SEC restrictions passed, KBW analyst Brian Klock upgrades Western Alliance to "outperform" from "market perform," and declares, "we believe this capital raise gives WAL cushion capital to absorb potential stress case losses and excess capital of $65 to $92 million (with shoe)."
Translation: Klock thinks Western will need around $100 million of the capital raise to absorb future losses. But the company just raised $192 million, which means that the remaining $92 million is in excess of what would be needed an already extreme stress-case! It only exists at all, presumably, to generate fees for KBW. Why Western's management would raise so much new equity (at below book value, remember) is beyond me.
Klock then lists three reasons for the Western's capital raise: 1) Organic growth, 2) For use in a possible regulatory-assisted transactions, and 3) M&A.
If you're selling stock at 86% of book to fund prospective, still-unidentified deals, they'd better be pretty attractive. Which, of course, they will not be. If management had been doing its job, it would have stabilized its credit quality, then gone out and raised offensive capital at a premium to book value. Instead, the board and management got things entirely backwards, and bludgeoned its shareholders in the process.
The rest of KBW's recommendation is a combination of ex post facto rationalization and data mining. "While we expect net operating losses in the next 3 quarters," Klock wrote, "now that WAL has significantly bolstered its TCE base as a result we believe the shares can be valued on a DCF basis, as well as a normalized earnings basis."
He must be joking. Western could have been valued on a discounted cash flow basis and normalized-earnings basis before the deal was done. Some investors were already valuing it that way. The only thing that had changed was that Western had written KBW a nice, fat check.
Anyway, based on its "new" valuation technique, KBW raised its price target for Western by $1.50, to $7.50, or 125% of the company's new, pro forma tangible book value (which went down after the deal was priced, remember). The logic seems to be that since Western now has excess capital, it should be worth 125% of tangible book, rather than 90%, which was KBW's former target multiple. It wasn't as if Western didn't have capital-raising options when KBW had a target of 90% of tangible book!
That $7.50 price target is also 7.5 times the company's normalized earnings estimate. How convenient. I wonder what KBW's normalized earnings estimate for Western was before Western diluted its prior shareholders by over 40%!
Both Western Alliance management and KBW have acted disgracefully throughout this whole process, in my view. For its part, Western management did the opposite of acting in shareholders best interest, by raising as much equity as it did, and at such a severe discount to book value. Management also (in my view) misled investors about the company's capital strength.
The bankers at KBW, meanwhile, proved yet again that they are, in my opinion, old-style Wall Street whores. The firm's "research" is nothing but a tool to help the firm lure in new deals. KBW's latest marketing strategy, meanwhile, apparently begins and ends with trying to scare bank managements into raising as much capital as they can as fast as they can, whether they need it or not, as long as the "window is open." This is of course not in the long-term interests of KBW's clients, but it lines the bankers' pockets nicely.
There's going to more abuse of bank shareholders, I fear, now that the credit and equity markets are loosening at last. The people at KBW can't help themselves. But other bankers can. Managements and investment banks would do shareholders a huge favor if they soberly try to figure out how much (if any) new capital they really do need, rather than just mindlessly bellying up to the trough.