Market Recap:
The market made a heroic comeback after the Chicago PMI came in at a six-year low and showed contraction, while Consumer Confidence rose to a five-year high. The market had to decide what is more important - manufacturing or confidence in consumers. In the end, confidence appears to have won as the market rallied from early losses. Also helping was the Case-Shiller Index, which rose at its fastest-pace in seven years.
The market was also helped by better success in key blue chip names like Apple (NASDAQ:AAPL) and Google (NASDAQ:GOOG), which buoyed early losses, as money appears to be rotating back into technology after a weaker April for them. The market ended April with a gain as it prepares for three important days for the market (discussed below). The Dow Jones (NYSEARCA:DIA) rose 21 points while the S&P 500 (NYSEARCA:SPY) rose four points.
Stocks To Trade:
Today, we are looking at bullish positions in IBM (NYSE:IBM) and Norfolk Southern (NYSE:NSC) along with a bearish position in DR Horton (NYSE:DHI).
IBM was one of our top picks for 2013. We believed, at the beginning of the year, that the company had plenty of upside as it went through a cyclically strong period for server sales as well as rising margins from its move into cloud networks and software. The company was on a roll to start the year, but it got derailed after its last report. Here are some comments for why we liked IBM for 2013:
The company should see cyclical strength with the upgrade of Power 7+ processors. Additionally, the flat growth in 2012 should allow for some very solid comparative rates. Additionally, the recent missteps of Dell (NASDAQ:DELL) and Hewlett-Packard (NYSE:HPQ) compared to the continued success of IBM show a strong, unique business model that can continue to thrive in changing market environments and spending trends. The company's last major cycle of server shipments was in early 2010 with the Power 7 servers. The upgrade to the 7+ will increase a new spending cycle that we do not believe is appropriately priced into the stock. The company's current PE sits at 13.5, which shows very strong value.
The last quarter for IBM showed weakness due to an earnings miss. The company highlighted that a drop in the yen hurt Japanese as well as other issues. The hardest hit sector for the quarter was hardware, but the company's business has shifted in the last several years to software and business services (cloud networking and consulting). The company saw software sales flat, while services dropped 4%. The company admitted that it failed to close key deals in the quarter as well.
At the same time, the pullback has provided an opportunity. PE is just under 14 and future PE is just under 11. Price/sales are just over 2. All value indicators are very solid for the company and show a great place to buy. Moving forward, we believe that Q2 will return to normalcy as the company will lock down a lot of the deals expected in Q1. Today, the company announced a key $5B share buyback plan along with 12% dividend increase to 0.95. While the yield is still below 2%, we believe that the long-term increase in dividends, solid cash flow, and value all show a company that is a great buy.
Big blue is presenting a great opportunity right now, and we believe the time to get into IBM is now. Enter on a break of 203 with targets at 210 and 220.
Trade: IBM, Long
Entry: Above $203
Targets: $210 and $220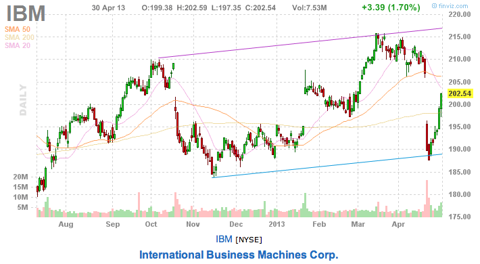 Another stock we like right now is Norfolk Southern. The rail company just reported a very promising quarter, has solid momentum, and we believe rails will see a strong rebound in coal for the rest of the year. In its latest quarter, NSC reported a 10% increase in earnings despite a more than 15% drop-off in coal revenues. The company, though , still saw a 3% increase in volumes. Railroads have had a tough time due to the fact that coal has continued to decline in its use for electricity, as natural gas has been cheap. Some utilities have switched to natural gas over coal due to natural gas price declines. Yet, coal seems to have stabilized in pricing as a bottom may be in for the energy source, as there is a certain level of demand for coal due to utilities needing it to produce electricity. Coal prices have actually increased over the last two months. The increase in transports is occurring because coal is potentially bottoming out. Along with that bottoming, other traffic volumes are increasing - automotive and lumber.
Auto sales have been very solid to start the year, while lumber has been benefiting from a better housing industry. New home sales have been on the rise already this year. The annualized rate for March was up about 18% over the prior year, which means more lumber is being shipped. Auto sales are increasing strongly as well. Sales have been over 15M for six straight months. Additionally, NSC noted that it was positive on the outlook of the company moving forward from here. Right now, the American economy is on a slow incline, and we believe that a great way to play that recovery is through NSC.
A great way to play NSC is using a bull put spread. We like the 72.50/70 bull put spread for NSC that offers 17% potential right now as a great way to start a position. If NSC declines, you can enter NSC at 72.50. Otherwise, we can make 17% holding this spread for just over 50 days.
Trade: NSC, Jun22, 72.50/70 Bull Put Spread
Buy Point: 0.35
Max Gain: 17%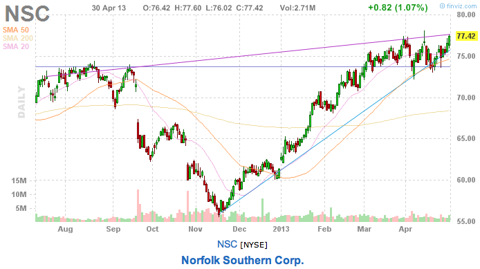 One stock we are not a fan of right now is DR Horton. We do not believe that DHI has considerable downside, but we are more worried that the company does not have a ton of upside with a future PE at over 16, meaning that a lot of future earnings gains are already priced into the stock. Here are some of our thoughts from our latest report:
Contrary to the progress the housing market made over 2012 the first three months of 2013 have not been as optimistic. While in many areas the demand for housing is there, Jerry Howard, CEO of the National Association of Home Builders explains the problem, "The home builders themselves are worried about their ability to provide the housing in a lot of instances". Why this worry? There is an overall lack of land, labor, and credit that are preventing homes to be built. Costs of materials, especially lumber, which have skyrocketed, are frustrating small and mid-sized builders that cannot keep up with these elevated prices. DHI finds itself in a market that is still not fully recovered and now has to battle rising material prices. Even though they have performed well during 2012 there is not enough opportunity for DHI to out perform the market.

We believe that DHI has a fairly light economic moat. They are an established homebuilder that offers an array of single-family homes and attached homes in many areas around the country. One aspect of the company that does open their consumer base is that when the demand is there DHI has been able to go from being a primarily entry-level builder to working with move-up buyers. Expanding their market will provide more opportunity but as stated before this does make an economic moat, and overall we believe that DHI has a light economic moat.
For DHI, the company's latest earnings were very solid, beating expectations of 0.19 with a 0.32 reading. The company also beat revenue expectations of $1.4B vs. $1.3B. The company's backlog increased over 50% as well. It was a solid quarter, but we believe that the earnings have now been priced into the company. Increased pricing for stocks and better demand is definitely solid, but we worry about the continued lack of employment growth to support this growing market. Housing demand is strong again, but with unemployment where it is and that rate only looking better as more individuals are dropping their search for employment, we worry about names that have gotten ahead of themselves. The secular housing recovery can definitely continue, but we like names like Toll Brother (NYSE:TOL) and Hovnanian (NYSE:HOV) better with exposure to luxury and apartments. Be careful with entry-level and first-time move up buyers, as they would be the first to show any signs of the housing recovery slowing.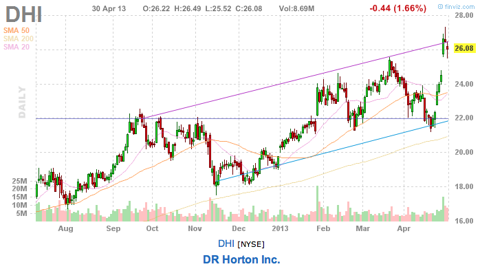 Market Outlook:
The next three days in the market will be extremely busy. We start today with ADP Employment Change and FOMC rate decision. ADP will be the first look at employment for April, and it is imperative that these results look solid in order to see a rise in the market. The Fed decision is not expected to change, but the conversation around QE will be the key to the market. If QE shows any signs of being stopped, the market will see a sizeable correction. Thursday, the market will get a very important ECB rate decision. The rate may be cut, which would provide a catalyst to European markets. Finally, we get the Nonfarm Payrolls report on Friday, which will be the market moment. If those results do not beat expectations, we would see two months of a lack of solid job growth. Look for the market to continue to react to news mostly with a tinge to push higher.
Charts courtesy of finviz.com.
Disclosure: I have no positions in any stocks mentioned, and no plans to initiate any positions within the next 72 hours.
Business relationship disclosure: The Oxen Group is a team of analysts. This article was written by David Ristau, one of our writers. We did not receive compensation for this article (other than from Seeking Alpha), and we have no business relationship with any company whose stock is mentioned in this article.