Cliffs Natural Resources (NYSE:CLF) has recently reported its first quarter earnings. The company reported net income attributable to Cliff's common shareholders of $97 million, or $0.66 per diluted share. This result is 75% lower than the result in the first quarter of 2012. Investors reacted positively on the news. On the day of the earnings release, CLF rose 15%. The stock is still down 45% year-to-date.
There were several positive points in the report and the earnings call that I want to emphasize. Debt is a problem for CLF, and the company recognizes it. The company has made a $847.1 million repayment of term loan in the first quarter. This helped to lower debt from $4.1 billion to $3.4 billion. The company used a public offering of common shares to finance the debt repayment. This was not good for the stock price and presents the main risk for shareholders. Currently, there were 159.5 million common shares issued, 153 million of them are outstanding. The problem is that 400 million shares are authorized for issue. You can see that, in theory, CLF can issue 240.5 million more shares. I do not think the company is going to do that, because it would ruin the stock. However, CLF is free to issue smaller amounts to deal with the debt. This is certainly negative for the stock price.
The next bright spot is cost management. CLF operates in four major segments: U.S. Iron Ore, Eastern Canadian Iron Ore, Asia Pacific Iron Ore and North American coal. The company states that in comparison with the first quarter of 2012, cash cost per ton has dropped 1.5% in the U.S. Iron Ore segment, due to lower maintenance expenses. Cash cost per ton has dropped 4.4% in the Eastern Canadian Iron Ore segment due to lower transshipping costs and lower contractor spending. North American Coal segment has also seen a decline in the cash cost per ton. It has decremented by 6% due to lower maintenance and employment-related expenses. The only business segment that experienced a rise in the cash cost was Asia Pacific Iron Ore. Higher mining and logistic costs drove costs up 1.7%. In the current environment that is hard for all resource companies, cost cutting should be the main operational focus.
Iron ore benchmark prices have reached the levels of the first quarter of 2012. Average iron ore price for the first quarter of this year was $148, up 3.5% from the first quarter of 2012. Although the situation in the world economy continues to stay challenged, there are some bright spots on the domestic markets. Pending Home Sales have been rising for more than a year now.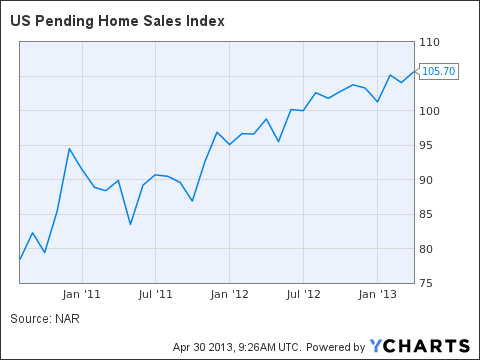 US Pending Home Sales Index data by YCharts
CLF has an attractive forward P/E of 10.76. However, it is important to mention that analyst estimates often change. During the last 90 days, EPS expectations for CLF for the years 2013 and 2014 have dropped 43% and 51% accordingly (analyst estimates sourced from Yahoo! Finance).
CLF pays dividends. At current prices, the dividend yield is 2.87%. The stock has been very volatile during the last few months, so I do not consider it a dividend play. CLF is a risky stock, but a very interesting one. The main problems of the company are debt level and iron ore prices. However, CLF is attractive based on the valuation metrics. I think that CLF is a buy in the $20-$22 range. I remind readers that CLF may be very volatile in the short-term and it does not suit all investors.
Disclosure: I have no positions in any stocks mentioned, but may initiate a long position in CLF over the next 72 hours. I wrote this article myself, and it expresses my own opinions. I am not receiving compensation for it (other than from Seeking Alpha). I have no business relationship with any company whose stock is mentioned in this article.