Since the beginning of May, the gasoline futures market has been in backwardation. 'Backwardation' is the term used to describe when near-month futures contracts trade above far month contracts. The implication for the gasoline market is that near month demand is stronger than supply, a bullish signal for gasoline. In fact, since the beginning of May, the July RBOB futures contract is up 18%.
RBOB – July 2009 vs. August 2009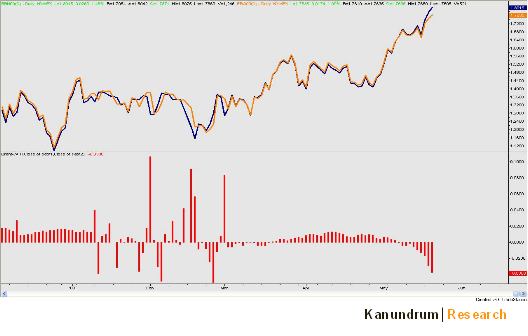 This chart depicts the change from contango to backwardation in the gasoline market. The backwardation began on May 7 and has recently begun to widen.
RBOB – July 2009 vs. July 2010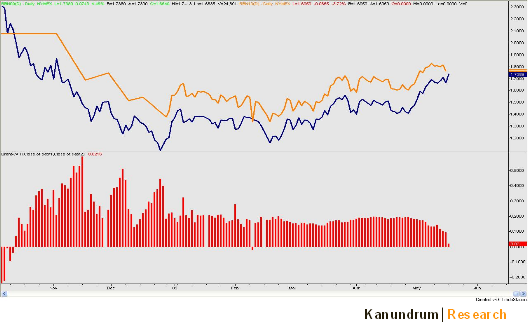 Furthermore the longer end of the gasoline futures curve is beginning to trend toward backwardation. Each of these developments is bullish for gasoline as it suggests the demand for gas is above supply in the short term.
We are playing the bullish gasoline theme via the United States Gasoline Fund (NYSEARCA:UGA). This is from the same fund family that manages the United States Oil fund (NYSEARCA:USO). We have written about the losses being realized in USO as a result of the contango. By virtue of the fact that gasoline is in backwardation, UGA does not suffer from the drawbacks of negative roll yield. In fact the fund benefits from the roll into cheaper contracts.
Gasoline stocks are near the low end of the average range: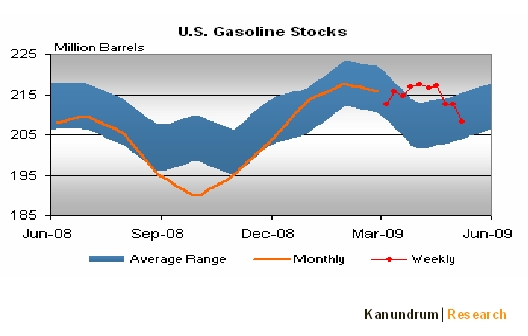 This is likely the result of the contango in the crude oil markets. As more crude has been diverted to storage to take advantage of the super-contango, fewer barrels are heading to refineries.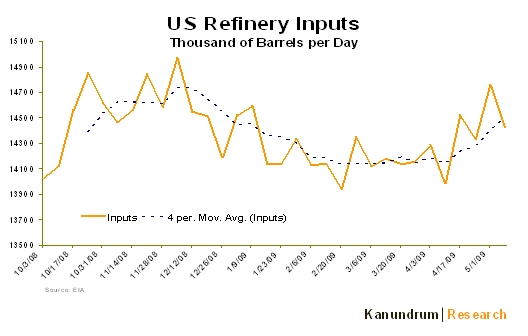 The most recent data from the Energy Information Administration (EIA) supports this view. Refinery inputs have dropped below the 4 week moving average, and despite climbing in April, they did not reach the highs seen last November. The natural result of declining refinery inputs is declining gasoline production.
The EIA reports that reformulated gasoline production is tracking below the pace of 2008. With the summer driving season fast approaching the net impact is higher gasoline prices.
Disclosure: I am long UGA.