This week Suncor (NYSE:SU) made some existing shareholders very happy when it announced the following:
Strategy Update

Capital discipline is a key enabler of Suncor's strategy. The company allocates its capital according to a clear set of priorities. It is committed to ensuring sustainable and reliable operations, investing in profitable growth and delivering strong returns to shareholders through dividends and share repurchases. Suncor continued to return cash to shareholders through dividends per common share of $0.13 and share repurchases of $405 million in the first quarter of 2013.

Aligned with the company's strategic objectives and the strength of its business model to deliver consistent and improving financial results, subsequent to the quarter, Suncor's Board of Directors approved a 54% increase to the company's quarterly dividend to $0.20 per common share beginning in the second quarter of 2013. The company also received regulatory approval to purchase for cancellation up to an additional $2 billion worth of its common shares, commencing May 2, 2013 and ending September 19, 2013.
That big increase makes the dividend $0.80 per share which at the current share price of $31 is a decent 2.5%. Additionally of course Suncor is going to repurchase $2 billion of its common shares which for a company with a market capitalization of $47 billion amounts to another 4.2% being returned to shareholders. If you add the two together the (dividend plus share repurchase) the total return of capital to shareholders at the current share price is 6.7%.
That is pretty attractive, especially for a company that is growing.
What is really interesting is how quickly that return of capital has grown on an annual basis over the last five years.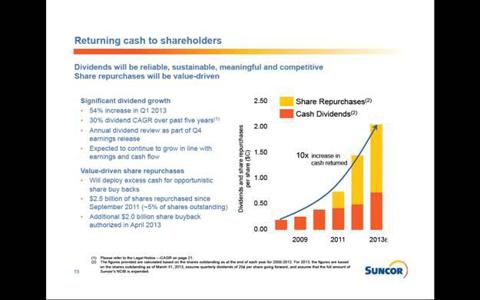 Since 2008 the amount of capital (dividend plus repurchase) being returned to shareholders by Suncor has increased tenfold from $0.20 per share to $2.00 per share.
That increase in return of capital must be a beautiful thing for longtime shareholders.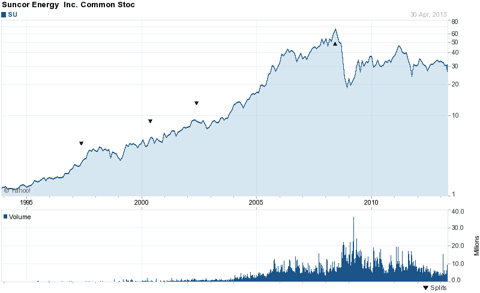 Wouldn't it be great to be a Suncor shareholder who bought shares in 2000 for $5 per share? If you had invested $10,000 in the year 2000 the following would now be true:
With the share price increase from $5 to $31 that original $10,000 would be worth $62,000 (and that excludes all dividends collected)
- You would today be receiving dividends of $1,600 per year which is a 16% annual yield on your original investment
The really encouraging thing is that the growth in production that has so richly rewarded shareholders still has a long way to run. Who said long-term buy and hold investing is dead?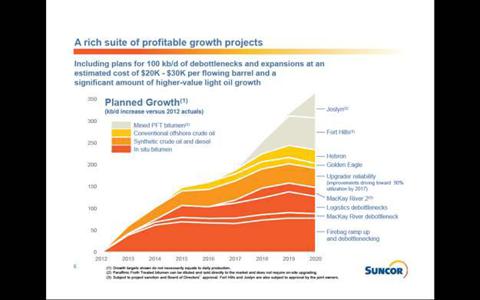 From roughly 550,000 barrels per day of production today, Suncor looks to add another 350,000 barrels per day by 2020. And while the company is doing that it is going to be paying its dividend and repurchasing shares.
It is growth on all fronts. Production, cash flow, dividends and share repurchases. Over time that is a potent combination for driving a share price higher.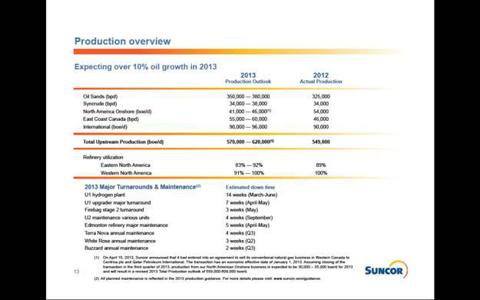 The thing I like about Suncor is that it doesn't have to go out and find new oil reserves in order to create this growth. There is no exploration risk.
If anything there is a pretty likely chance that there will be technological improvements in oil sands development that increase the amount of oil that can be produced and expedite how quickly it can be done.
I think of the Suncor valuation like this:
· You buy 550,000 barrels a day of production at a very reasonable multiple of EBITA
· Growth in that production is virtually assured
· Technological improvements are likely to increase the amount of oil Suncor can develop and make it more economical
· The price of oil is likely to increase the value of production and reserves over the long run
· 7 billion barrels of 2P reserves against a 47 billion enterprise value is around $6.70 per barrel
· 20 billion barrels of contingent reserves that could move into the 2P category over time
Despite pipeline concerns in Canada and surging American unconventional oil production in the United States I'm still very bullish on oil prices over the long term. For me, that makes Suncor at the current valuation with its very predictable future growth pretty attractive.
If you aren't bullish on oil prices, or at least think they will stay where they are then Suncor likely isn't for you. $50 oil and oil sands production just don't mix.
Suncor's most recent financial data can be found here.
Disclosure: I have no positions in any stocks mentioned, and no plans to initiate any positions within the next 72 hours. I wrote this article myself, and it expresses my own opinions. I am not receiving compensation for it (other than from Seeking Alpha). I have no business relationship with any company whose stock is mentioned in this article.