When considering Facebook's (NASDAQ:FB) stock price, the biggest question is whether it deserves the enormous PE ratio the market has given it. Disregarding the year ended 2012 where an anomalous tax situation arose and considering the next financial year, Facebook has a PE of around 100.
Large PE ratios are of course predicated on an assumption of spectacular profit growth in future years. A PE ratio of around 100 roughly implies that a company's profits will double year on year for three years into the future if the stock price stayed the same.
Facebook, being a one product company, is consequently an easy company to model. Therefore, it is a straight forward exercise to examine whether a case can be made for Facebook's extraordinary valuation.
Firstly let's examine revenue. The key driver of Facebook's revenue is user numbers. Below is a chart of user numbers by quarter by region.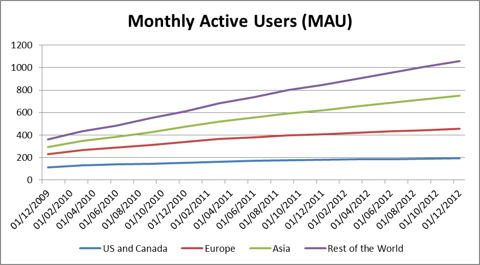 Source:Facebook Annual Report 2012
From the above data, it is clear that in Europe and North America, still the most important regions in terms of spending per consumer, user numbers are reaching a plateau. In Asia and Rest of the World, the growth still appears strong. However, when converting the raw numbers to a growth rate, the overall picture is clearer.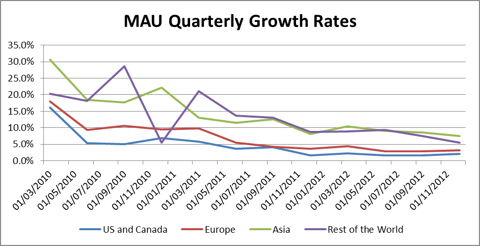 Quarterly growth in Europe and North America is down to 2 or 3% and Asia and Rest of the World is still strong (6% quarterly growth is still pretty good) but has fallen dramatically. Given that Social Media is no longer new and there are so many rivals in the developing markets, within a year or so user numbers will probably plateau in those regions as well. In addition, in China, one third of the world's population, Facebook is effectively banned.
So in order to increase revenue, Facebook will increasingly need to increase its Average Revenue Per User. Facebook's revenue can be divided into Desktop and Mobile. Desktop revenue which is 77% of Facebook's revenue is likely to only have moderate quarterly growth of around 10% annually. Mobile revenue is currently only 23% of Facebook's overall revenue but is experiencing strong growth of around 40% annually as Facebook learns how to monetize Mobile Revenue. Overall Facebook's revenue growth this year will be good but not spectacular.
Next we consider expenditure. During 2012 Facebook expenditure trebled overall. Faced with limited potential growth in user numbers, and confronted by an explosion of rival offerings and services that could deplete its user base, Facebook will have to increase expenditure continually for the foreseeable future.
Facebook has to increase potential revenue streams by introducing more and more functionality to existing Apps and its website, and by developing and acquiring additional Apps and integrating them into the Facebook ecosystem. In addition, it has to support an increasingly fractured development platform as it has to support different versions of browsers as well as multiple versions of the iOS and Android platforms, and now Windows 8. This is creating huge demand for research and development resources within the company.
However, whilst often introduced by Facebook with much fanfare, many of the latest product innovations disappear without having a significant impact on user numbers or spending. It is becoming increasingly apparent that Facebook is experiencing diminishing returns from adding development resources. Consider the table below which looks at revenue numbers and research and development expenditure, and then compares the ratio of the percentage increase in revenue each year over the % increase in research and development expenditure:
| | | | | | |
| --- | --- | --- | --- | --- | --- |
| | 2012 | 2011 | 2010 | 2009 | 2008 |
| Revenue | 5,089 | 3,711 | 1,974 | 777 | 272 |
| R&D | 1,399 | 388 | 144 | 87 | 47 |
| | | | | | |
| Revenue % y/y | 37% | 188% | 254% | 286% | |
| R&D % y/y | 261% | 269% | 166% | 185% | |
| | | | | | |
| Revenue % / R&D % | 14% | 70% | 153% | 154% | |
Source:Facebook Annual Report 2012
In early years, a doubling of research and development expenditure led to tripling in revenue. More recently almost a quadrupling of expenditure has led to only a 37% increase in revenue. The ratio has shrunk from 150% to 14%. This seems strong evidence that Facebook is coming up against a wall as it tries to extract more revenue from a user base that is no longer growing and is being fragmented across multiple different apps, platforms and browsers.
Facebook's huge pile of cash will be helpful in acquiring other services and products that may breathe life into what is becoming somewhat of an old dog of social media but those that are worth acquiring will be extremely expensive in today's market. It is likely that in order to expand its revenues, Facebook will have to consider industries where it has no experience.
To sum up, it is inconceivable that Facebook will remain at its current price. Even though its profit will be growing at a healthy rate for the next year at least, there is no justification for a PE value of 100 times future earnings. A price of around 15 by the end of the year seems likely.
Disclosure: I have no positions in any stocks mentioned, and no plans to initiate any positions within the next 72 hours. I wrote this article myself, and it expresses my own opinions. I am not receiving compensation for it (other than from Seeking Alpha). I have no business relationship with any company whose stock is mentioned in this article.