Introduction
In an earlier article on the gold industry's total mining costs, I discussed one of the most important metrics to analyze the gold industry: the actual cost of mining an ounce of gold, which can help an investor figure out whether it is time to buy GLD and/or the gold miners. In that article, I used the FY2012 financials to calculate the combined results of publicly traded gold companies and come up with a true all-in industry cost of production to mine each ounce of gold.
In this analysis, we will calculate the true costs of production of Agnico-Eagle (NYSE:AEM), a mid-tier producer with mines in Canada, Mexico and Finland. Also, the company is led by Mr. Sean Boyd, one of my personal favorite CEOs in the mining industry.
The Industry's Current Calculations Underestimate Costs of Production
Before we go into the methodology we use to calculate gold costs, it is important to give an understanding to investors why the current "cash cost" calculations are incorrect and give a skewed picture of gold costs.
Publicly traded gold companies offer investors a quick non-GAAP formula to give investors a glimpse at their costs per ounce called "cash costs." This measure may vary slightly from company to company (it is non-GAAP after all), but it is generally their "mining costs" (cost to operate their mines, process the ore, pay miners, etc.) divided by the amount of gold equivalent ounces produced.
But unfortunately this measure is misleading, and selectively reports some costs while ignoring a good amount of other costs, which ultimately ends up under-reporting the true cost of mining gold. We are not the only ones to criticize the industry over this, and many investors and funds are also calling for improvements to these measures. Some miners have begun to offer a new measure of costs called the "all-in sustaining cash costs," which includes additional costs used to mine the commodity.
This measure is an improvement on "cash costs" and tends to be significantly higher, but it still does not accurately reflect the cost it takes to mine an ounce of gold. The reason is that it usually does not include any costs associated with discovery, the expansion of reserves, or expenditures related to operating sites, which are deemed expansionary in nature. Simply put, it is all costs related to running existing operations with the goal of never expanding reserves or making any discoveries on new or existing properties. This is an inappropriate measure, because any mining company needs to expand or maintain its reserves to survive, which is a very real cost of doing business in the mining industry. Investors should not be primarily interested in the costs it takes to sustain a mine, but rather the costs it takes to sustain a mining company. That is why costs related to the expansion of reserves should be included in the estimated cost of producing an ounce of gold.
Finally, the measure does not include financing charges (interest paid on existing debt) or taxes. These also are costs associated with the production of gold, and any company that does not pay its interest or taxes will not be in business for very long, thus they should also be included in the calculated production costs.
Calculating the True Mining Cost of Gold - Our Methodology
To calculate the true costs to mine each ounce of gold, we use the total costs reported for the quarter (revenues minus net income before taxes) and then we add taxes to come up with total costs. Finally, we remove gains/losses on derivatives and gains/losses on extraordinary investments, since these really have nothing to do with running and sustaining the company.
Then we calculate the number of gold-equivalent ounces produced by converting all by-product metals (such as silver, copper, zinc, etc) into gold by dividing the gold price by the price of the by-product. For example, if gold is trading at $1650 and silver $30, then every 55 ounces of silver would convert into one gold-equivalent ounce. We like using the average LBMA cost for the reporting quarter or year. Finally, when doing year-over-year comparisons, we use the same conversion ratio even if the price of the byproduct was different in the different quarter. The reason we do this is because this allows an even comparison when determining the cost of production; we do not want one quarter's jump in copper prices to affect a year-over-year comparison in gold prices.
The final thing that we have to deal with is write-downs. Most silver and gold companies report write-downs from time to time, which can add significant costs to a particular quarter or year. An argument can be made that write-downs are very real costs associated to the loss of investment on a property or mine and should be included in the cost calculations. For our calculations, we do not include write-downs, though we do provide the cost of production with write-downs included so that investors can compare.
One thing to note is that if we remove derivatives and write-downs, we also have to remove the associated taxes from our calculations (usually write-downs involve tax benefits so they artificially lower taxes). There is no exact way to do this, so we just use a flat 30% tax rate and deduct the appropriate amount from the tax benefit (or charge) that the company received from the write-down or derivative. Not perfect, but it does do the job.
True Costs of Production for AEM
Let us use this methodology to take a look at AEM's results and come up with the true cost figures for each ounce of AEM's production. When applying our methodology for the most recent quarter and FY2012, we standardized the equivalent ounce conversion to use the average LBMA price for FY2012, which results in a silver ratio of 52.7:1, copper ratio of 480:1, and a zinc ratio of 1957:1. We like to be precise, but realistically minor changes in these ratios have little impact on the total average price; investors can use whatever ratios they feel most appropriately represent the by-product conversion.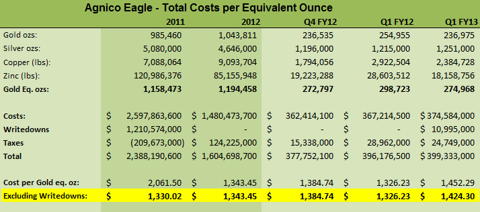 AEM's costs continue to rise on both a year-over-year and quarter-over-quarter basis. The Q1FY13 costs of $1424 per ounce were 7% higher from the year earlier period, and 3% higher than the previous quarter. Though these costs are rising, they are pretty in-line with AEM's current standing as a mid-to-higher cost gold miner and are a bit higher than competitor Barrick Gold (Q1FY13 true all-in costs of $1215).
Gold production of 236,975 ounces was similar to fourth quarter production, and it keeps AEM on target to achieve the lower end of its 970,000-1,010,000 total 2013 gold production guidance. Base metal production was down on a year-over-year basis, but the quarter-over-quarter comparison shows that copper production picked up from the fourth quarter, while zinc production dropped.
Finally, investors should note that AEM plans to bring two more mines into production in late 2013 and early 2014, which should boost production numbers assuming there is not a significant drop in current production. Though production numbers should increase, investors should also remember that there will probably be higher costs associated with the startup of these mines, and it will be interesting to see if this new production will be at lower true costs than current production.
Conclusion
The rise in AEM's true all-in costs was a bit of a disappointment, but it was not a complete surprise, based on AEM's previous true costs figures. It is much more relevant for investors to wait and see what the true all-in costs will be for AEM's two future mines. If AEM management can keep these costs lower than the current average costs, then this would be a positive for the stock. Otherwise, AEM's higher cost structure leaves very little profit at current gold prices for investors, and the company will struggle to earn returns for shareholders.
For GLD investors, AEM's report is notable, because it shows that costs to produce gold continue to rise on a year-over-year (7%) and quarter-over-quarter basis (3%). Additionally, gold production did not rise for AEM, which means that rising costs are only leading to flat gold production, which is a positive for investors who hold GLD and physical gold. Rising costs and lower production numbers continue to provide investors a compelling case to own gold, and we believe that those who accumulate gold will do very well when gold sentiment turns positive.
Disclosure: I am long SGOL, PSLV, SIVR, GG. I wrote this article myself, and it expresses my own opinions. I am not receiving compensation for it (other than from Seeking Alpha). I have no business relationship with any company whose stock is mentioned in this article.