In a previous article, I had mentioned IBM's business prospects as being dim in the short-term, yet I expect their stock to return 8-10% on average for the next few years at the very least. In this note, I explore why I expect IBM stock to continue to generate consistent returns year-over-year despite sluggish topline growth.
EPS and Free Cash flows:
You can get a sense of where IBM's priorities lie right at the top of their most recent 10K:
"Despite the volatility of the information technology (IT) industry over the past decade, IBM has consistently delivered strong performance, with a steady track record of sustained earnings per share growth and cash generation."
And over and over again in the annual reports and webcasts, the message they're sending to shareholders is loud and clear - measure IBM by EPS and free cash flows. (Left unsaid is, don't focus too much on the top line)
That is why all these articles about private/public clouds or IBM selling fewer boxes miss the point (and I discuss the IBM business in my previous note). When you get to IBM's scale and a management team that is extremely focused on maximizing value for their shareholders, you have enough levers at your disposal to manage EPS, cash flows and returns to stockholders.
Levers to manage EPS:
1. Margin management:
A 1% change in net margin is over 1 billion dollars at current revenue levels. Even if revenues stay flat or sluggish, I can see margins improving ever so slightly as they have done in the past to ensure that earnings keep growing.
(Units in millions)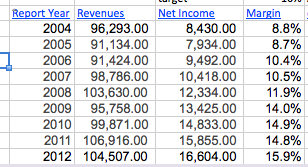 source: 10K
In the last 8 years, they have steadily improved margins, despite revenues being relatively flat. The main driver for margin improvement has been the steady increase of software products usage, which typically have much higher margins than the services segment. Other potential avenues include opex categories like R&D and SG&A, which can be pulled back marginally, if need be.
2. Buy that stock back!
Buying back shares, reducing share count

Over $60 billion USD worth of stock was bought back in the last 5 years. Reducing share count helps increase the EPS number and also other measures like ROE.
These two levers help IBM drive EPS growth. It doesn't matter if revenues are up, down or flat, IBM is committed to increasing earnings per share.
An attempt at forecasting:
So if IBM were to continue to increase earnings and reduce shares, we can see them returning 8 to 10% a year.

As long as the market continues to assign a relatively steady earnings multiple to IBM, the share price will continue to grow at a steady pace year-over-year.
Where's the cash coming from?
So the next question that comes to mind with rising stock prices, which require more cash to buyback and a sluggish topline - where is IBM getting all this cash to return to shareholders?
Levers to manage cash:
Acquisitions:
IBM spends anywhere from 1 billion to 5 billion USD per year on acquisitions. This gives them ample room to dial down M&A if free cash flows are running low.
In millions USD

That's a 5-year average of 3.7 billion USD
Dividends paid out:
IBM has consistently increased the dividend payout over the last few years and not doing so would certainly spook the market. However, even a slight change in the dividend growth rate gives them enough room to generate meaningful cash to buy back more stock.

Debt levels:
If all else fails, they will borrow money to buyback shares as they did in 2010 and 2011. With interest levels at record low levels, they aren't afraid of increasing leverage.



Global financing receivables:
These are internal receivables, which give IBM yet another mechanism to adjust operating cash flows when computing free cash flow.

Bottom line:
IBM as a business faces strong headwinds and will struggle to grow topline in the short-term. However, a shareholder friendly and savvy management team that excels at operations and capital allocation will continue to create value for shareholders.
As long as the broader market continues to assign a relatively range bound earnings multiple (say between 13 and 15 times earnings) I would expect the stock to continue to grow at 8-10% annually on average. IBM has the capacity to ride out the lean years and any spikes in revenue are likely to help them reset their debt and cash levels and continue to play the game again.
Disclosure: I have no positions in any stocks mentioned, and no plans to initiate any positions within the next 72 hours. I wrote this article myself, and it expresses my own opinions. I am not receiving compensation for it. I have no business relationship with any company whose stock is mentioned in this article.