After disappointing investors in March by terminating a Phase 2/3 clinical trial of an anti-psychotic drug candidate for the treatment of schizophrenia, BioLineRx (NASDAQ: BLRX) bounced back in April, posting positive Phase 2a results with an oral treatment for inflammatory bowel disease (IBD).
"BioLineRx is not a binary company, but has a broad and rich pipeline in different therapeutic areas, which helps us mitigate the risk of being overly dependent on any one or two drugs development programs," CFO and COO Philip Serlin says in an interview with BioTuesdays.com.
"Specifically, we have seven clinical-stage assets as well as several preclinical assets some of which are ready to enter the clinic," he adds.
Founded in 2003 by Teva Pharmaceuticals and a number of leaders in Israeli life sciences, BioLineRx's business model is based on acquiring molecules, mainly from academic institutions, and developing them to proof-of-concept in humans. The final stage includes partnering with pharmaceutical companies for advanced clinical development and commercialization.
In a research report this month, Roth Capital analyst Bert Hazlett said BioLineRx's business model is designed to better capture and deliver to shareholders the material economics derived from establishing proof-of-concept with therapeutics.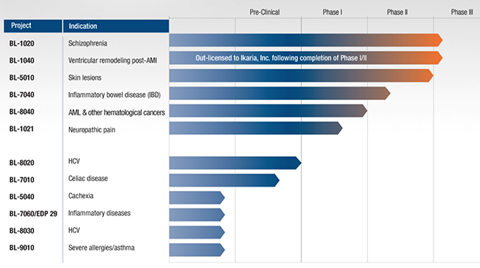 Current BioLineRx Pipeline
Aegis Capital analyst Rajhuram Salvaraju said BioLineRx has one of the most catalyst-rich programs over the next 12 months of any small-cap biopharmaceutical company. Citing a number of upcoming clinical programs in acute myeloid leukemia (AML), hepatitis C and cardiology, he suggested that "investors should be initiating positions in BioLineRx ahead of these catalysts."
BL-7040 - Ulcerative Colitis (a form of "IBD")
Earlier this month, the company said its BL-7040 oral drug was safe and effective for treating ulcerative colitis, a form of IBD. The primary clinical endpoint in the study - a reduction in the Mayo score between baseline and completion of treatment - was achieved. And 50% of patients completing treatment also met certain secondary endpoints.
Based on historical data, current steroidal or biological treatment regimens for IBD have yielded clinical response rates of between 30% and 70% in studies with significantly long treatment periods.
"The results of our five-week, proof-of-concept study suggest positive efficacy for BL-7040," says CEO Kinneret Savitsky. "A number of experts in the IBD field who have reviewed the results of our study all agree that these are very encouraging and positive results, and that the reduction in rectal bleeding is particularly impressive."
In addition to evaluating the most advantageous ways to proceed with BL-7040, she says the company also plans to accelerate discussions with potential co-development and licensing partners.
Mr. Hazlett figures that as an oral therapy for IBD, BL-7040 could achieve deal terms along the lines of BL-1040, which BioLineRx licensed globally to closely-held Ikaria of Hampton, N.J., for a total deal value of $282-million (upfront and milestone payments), plus royalties of 11% to 15%. "Given the unmet clinical need in IBD, an ulcerative colitis indication could achieve annual revenue exceeding $500-million, with modest additional off-label activity assumed in additional IBD use."
Mr. Serlin says BioLineRx has multiple milestones coming up in the next 12-to-18 months and $28-million in cash to fund its operations and product development plans into the first half of 2015.
BL-1040 - Acute Myocardial Infarction "AMI" (Heart Attack)
BioLineRx's BL-1040 represents a potential breakthrough approach to supporting cardiac tissue damaged following acute myocardial infarction (AMI), commonly known as a heart attack. Injected as a liquid, BL-1040 becomes a gel on contact with damaged cardiac tissue. This gel forms a scaffold that supports the injured tissue during recovery, enabling improved cardiac function. After six weeks, the gel turns back into a liquid and is washed out through the kidneys.
BL-1040 has been classified as a device by the FDA. Under the licensing deal with Ikaria, BioLineRx has already received $17 million to-date and is in line to receive another $265 million in additional payments for regulatory, development and commercial milestones.
Ikaria is currently enrolling some 300 patients at multiple sites around the world, including a number of sites in the U.S., in a pivotal trial for CE Mark registration in Europe. The trial is slated for completion in 2014.
Mr. Serlin says Ikaria is also planning to conduct a second pivotal trial for approval of BL-1040 in the U.S. The trial is expected to enroll more than 1,000 patients. "We believe BL-1040 represents an annual market opportunity of $1-billion," he adds.
BL-8040 - Relapsed or Refractory AML (a type of Leukemia)
Earlier this month, BioLineRx received regulatory approval in the U.S. to begin a Phase 2a clinical trial for its BL-8040 drug candidate in up to 50 patients with relapsed or refractory AML. The study is expected to begin in the second quarter, with preliminary results slated for the end of 2013 and full top-line data in mid-2014. In addition to safety and tolerability, the Phase 2a study will also enable investigators to evaluate the capabilities of BL-8040 to mobilize cancer cells from the bone marrow to the peripheral blood, and induce their cell death.
AML is one of the most common types of leukemia in adults, yet mortality rates continue to be high relative to other types of leukemia. Treatment options for patients with relapsed or refractory AML are very limited, and in many cases, only palliative care is offered.
"This program is generating a lot of enthusiasm from our clinical research partners and we are very pleased that several renowned and respected investigators will be leading our study in the U.S. and Israel," Mr. Serlin says, noting that BL-8040 has novel CXCR4 receptor binding characteristics. CXCR4 is involved in tumor progression, growth of new blood vessels in the tumor, metastasis and cell survival. CXCR4 is over-expressed in more than 70% of human cancers and its expression often correlates with disease severity.
"We are honored to collaborate with BioLineRx on this exciting project," says Dr. Gautam Borthakur, the principal investigator of the trial at the MD Anderson Cancer Center in Houston, Texas. "BL-8040 has a unique mechanism of action and has shown very promising pre-clinical and clinical results. Specifically, in pre-clinical studies, BL-8040 showed a CXCR4-dependent, preferential anti-tumor effect against human-derived AML cells. Therefore, we are very pleased to be able to offer this novel therapeutic opportunity to our patients, particularly since AML is still such a big unmet medical need."
BL-8020 - Hepatitis C Virus "HCV"
In March, BioLineRx received approval from the French regulatory authorities to begin a Phase 1/2 trial for BL-8020, an interferon-free oral treatment for the hepatitis C virus (HCV). The study will evaluate the efficacy, safety and tolerability of BL-8020 in HCV-infected patients, who have previously failed or relapsed following treatment with the standard of care. Interim results are expected by the end of 2013, with full results in the first half of 2014.
Dr. Savitsky says BL-8020 has a unique mechanism of action, which inhibits HCV-induced autophagy in host cells, making it different from other currently used anti-HCV agents. Autophagy is a mechanism whereby cells degrade damaged or unnecessary cellular components, including invading viruses. HCV, however, has found a way to avoid this mechanism in order to replicate inside the cell. By inhibiting this mechanism, BL-8020 has the potential to reduce the ability of HCV to replicate, she adds.
In preclinical studies, BL-8020, when combined with other anti-HCV agents, also had a synergistic effect. This could increase the potency of a drug combination through lower dosages and reduce the side-effects often associated with anti-HCV drugs. In addition, BL-8020 may reduce the duration of treatment, which is currently up to 48 weeks.
"The use of two drugs acting by different mechanisms is also likely to be beneficial for patients who have developed resistance to current treatments and is an effective strategy used against other viruses such as HIV," says Dr. Savitsky. "Based on BL-8020's preclinical results, its unique mechanism of action and synergistic effect, we have high hopes for this drug, especially when combined with other available hepatitis C drugs."
According to a 2011 report by Decision Resources, about 180 million people worldwide are chronically infected with HCV. HCV infection also is the leading cause of liver transplantation and a risk factor for liver cancer. The global hepatitis market was estimated at $6 billion in 2011 and is forecast to grow to $20 billion by the end of the decade.
BL-5010 - Benign Skin Lesions
BioLineRx also has developed a novel formulation for the non-surgical removal of benign skin lesions. Known as BL-5010, it has been classified as a medical device in Europe. BL-5010 is applied topically to the lesion for a few minutes and causes the lesion to gradually dry out and fall off in one-to-four weeks.
Mr. Serlin says the company is gearing up to begin a pivotal CE Mark registration trial for BL-5010 in the second half this year. "Even though in our business model, we don't conduct pivotal trials, this is a small study and not an expensive proposition for us to get CE Mark. At that point, we'll look for a distribution partner," he adds.
Pre-clinical Pipeline
In its preclinical pipeline, BioLineRx hopes to begin a Phase 1 study by the end of 2013 for BL-7010 for the treatment of celiac disease. "We also have a new antibody treatment for severe and persistent asthma that targets and links together two immunological modulators," he says. "The project has raised a lot of interest from multiple companies."
Conclusion
BioLineRx's recent bounce back can be clearly attributed to the many advantages of the company's business model, which is based on a broad pipeline with a number of compounds, at different stages of development, and for multiple indications.
Disclosure: I have no positions in any stocks mentioned, and no plans to initiate any positions within the next 72 hours. I wrote this article myself, and it expresses my own opinions. I am not receiving compensation for it. I have no business relationship with any company whose stock is mentioned in this article.