One of the great things about investing today is the wide variety of investment alternatives available. With stock valuations looking full, if not a bit overstretched recently, many investors looking to deploy cash would probably be wise to consider unconventional alternatives to standard investments.
This article is about investing in physical assets like shares in individual oil and gas wells, iron mines, pipelines, and processing facilities. These investments can be in the form of equity investments (stocks), debt investments (bonds), or direct equity ownership. Today, I'm going to focus on stocks and new methods of direct investment.
Most investors are probably familiar with the concept of buying equity in an asset through a partnership type structure like an MLP. Stocks like CVR Refining (NYSE:CVRR), SunCoke Energy Partners (NYSE:SXCP), KinderMorgan Partners (NYSE:KMP), Boardwalk Pipeline Partners (NYSE:BWP), and many others offer high yields for investors backed by the assets owned by these entities. (These pay about 5-8% in most cases, though CVRR has indicated it will pay ~17% starting next year.) However, these assets generally share a couple of major risks. It's worth taking a minute to talk about these risks before we discuss the returns investors get to compensate them for these risks.
First, most of these physical asset type partnerships are heavily reliant on the market for a particular commodity. For example, SunCoke Energy Partners is a partnership which owns two Coke making operations in Ohio. We aren't referring to Coke as in Coca Cola (NYSE:KO), but coke which is used as a reducing agent in iron ore smelting. SunCoke is clearly highly dependent on the market for steel, and if prices for coke fall, there is very little the company can do to maintain its dividend. The same principle holds true for investors in oil and gas assets like San Juan Basin Trust (NYSE:SJT) and VOC Energy Trust (NYSE:VOC). These investors were hit by both the general fall in the price of gas and oil, and by asset specific problems.
These asset specific problems, like disappointing results from new well drilling, are indicative of the second major risk facing investors in this class of assets. San Juan, for example, hasn't paid any dividends for the last two months after asset production costs exceeded estimates. This is probably a function of increased drilling by the firm in an effort to boost production after disappointing production this past fall.
These risks are often offset by spectacular yields though. For example, Mesabi Trust (NYSE:MSB) owns the mineral rights to an iron mine in Minnesota (the Mesabi iron range), which is operated by Cliffs Natural Resources (NYSE:CLF). Cliffs is facing some trouble currently, and its issues have translated over to MSB's stock price which has fallen dramatically over the last year (though not as much as Cliff's stock). To compensate investors however, MSB offers roughly an 11% yield.
The key question for investors, of course, is will this yield be maintained? Given that MSB's assets appear to be some of the lowest marginal cost production assets owned by Cliff's, it seems likely that investors will continue to collect a reasonable dividend going forward, and that any cut in dividend would ultimately be reversed within a few years at the most. Certainly the trust has some risks, but is it twice as risky as the trusts and partnerships paying 5-6%? And if not, why is the yield so high? Of course no one can say for sure, but one reason for the trust's high yield might be that investors are simply overlooking MSB right now. MSB has a market cap of about $270mm, and it usually trades less than 100K shares a day. With these kinds of volumes, most ETFs and institutional investors won't be interested, leaving the company largely to retail investors.
Now don't misunderstand me here; MSB may or may not be a profitable investment going forward, and even if it is profitable, it may have too much risk for many individual investors. Recommending one specific firm isn't the point here. Instead, it's simply worth noting that there are many assets in this area which don't get much attention and yet have tantalizingly high yields. Given amount of money which has flowed into equities in the last few years and the valuations placed on many more conventional stocks, these overlooked assets may be worth a second glance by investors looking for income.
Indeed there are even some ETFs and ETNs that offer exposure to these assets, although they do tend to focus on the bigger and better known names.
That brings me to my second point. For investors with a high degree of risk tolerance and a willingness to do extensive investment research, there are now opportunities to directly invest in ownership interests in various income producing physical assets. While there are lots of ways to directly invest in physical property such as through certain realtors, perhaps the most convenient is with online auctions.
There are a few online companies today which auction off mineral rights and royalty interests in already active oil and gas wells, mines, etc. (Please note: I have no affiliation with any of these sites, and my only experience with them comes from having bought several of these properties, so I am reluctant to recommend any one specifically, but I do discuss my general experiences on my blog here.)
Properties auction on these sites generally sell for final prices implying yields of 10-20% if production and output prices stay constant. Of course, since the investor is buying an interest in a single property, there is significantly increased risk, but the partial interests in some properties do sell for as little as a few thousand dollars, so some diversification is possible. These assets are usually locked into long term leases with production companies already, so investors don't need to worry about being able to actually find a producer interested in the property. However, investors still need to review production history and local geology of the properties carefully in order to determine if production output is sustainable. This often starts with reviewing production history charts like the one below, but also includes a lot more work as well.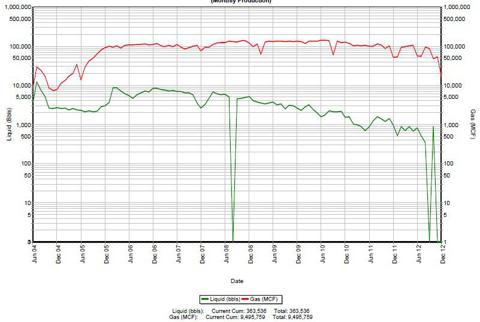 In summary, while obviously physical asset investments aren't for everyone, they can offer significant yield premiums to those investors who are willing and able to do some extra research. Novice investors probably want to stick with simple MLP investments or ETFs holding MLPs, but more experienced investors can benefit from doing some work investigating small, low volume equities, and direct investments in physical assets.
Disclosure: I am long CVRR, KMP, BWP, MSB, YMLP. I wrote this article myself, and it expresses my own opinions. I am not receiving compensation for it (other than from Seeking Alpha). I have no business relationship with any company whose stock is mentioned in this article.