Tomorrow we will look into gold and some of the names which have our attention and throw out one of those names which we think has the possibility to at least be a home run stock. We think it is time to start to vet speculative names as we are noticing an uptick in interest in the tiny exploration names we follow. They have been hit extraordinarily hard over the past month or two, fitting in with historical trends we are accustomed to, but we see a lot more value having been created this year due to the downturn in gold specifically and commodities generally in conjunction with the traditional start to their summer selloffs.
Commodity prices this morning are as follows:
Gold: $1470.00/ounce, down by $2.10/ounce
Silver: $24.07/ounce, down by $0.115/ounce
Oil: $92.27/barrel, down by $1.19/barrel
RBOB Gas: $2.7645/gallon, down by $0.0375/gallon
Natural Gas: $4.375/MMbtu, up by $0.032/MMbtu
Chart of the Day:
This chart really highlights how a rising tide can lift all boats. Yes the US Natural Gas ETF is tied to natural gas, but many times it has bucked the trend and performed poorly versus the underlying commodity and chased off many investors because of this. Contango and backwardation matter here, sometimes more so than the performance of natural gas. Right now though, it is natural gas leading the charge higher and it is taking one of the worst natural gas speculating vehicles of the past few years along for the ride.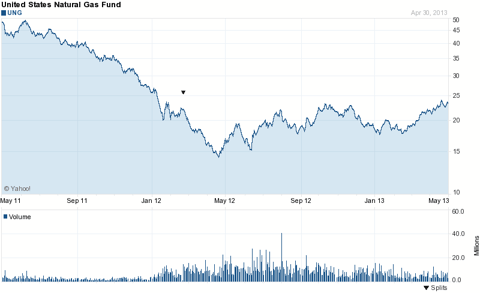 Chart courtesy of Yahoo Finance.
Oil & Natural Gas
The United States Natural Gas ETF (NYSEARCA:UNG) is near a 52-week high as the underlying commodity which backs the futures it holds is too. We are still not fans of the ETF, but investors are flocking to it in order to trade natural gas, as is obvious in the price of the units. If you want natural gas exposure focus on the companies which produce the stuff and you will do exponentially better, but as we always say please try to stay away from the poor performers and stick to the names with production in the cheap production basins where it has been possible to still make money even with the poor pricing environment over the past year. Yes, hedges did help with that but that is the best way we have learned to play rebounds in out of favor energy sources in our years in the industry. It has worked with oil, uranium and natural gas before, and it shall continue for as long as those sources are widely accepted.
Readers can add Suncor Energy (NYSE:SU) to the list of companies which have beaten on the bottom line and missed on the top. It is a common occurrence in the industrial and tech worlds, but something that we are seeing more and more in the oil and natural gas space as companies reign in capital expenditures and get a better handle on some of these expenses. We can forgive our oil and natural gas E&Ps because they are forced to hedge much of their production and are dealing with bottlenecks in the midstream area as these plays build up. Suncor is a bit of a different story, but one where we will gladly accept the good news and forgive the bad. This is a company which has a more complex means of gathering oil than others and therefore can offer insights into both the world of oil as well as mining (the essentially operate a mine). We like to read their conference calls if for nothing else than the valuable insights and information on costs provided. We would recommend taking a look at it (see transcript here).
Potash
As readers know, the bullish call on the entire potash industry last year was our worst sector wide call in the commodity space but luckily we were able to cut losses early and not have to endure dead money returns for the rest of the year. With the only winner having been Agrium (NYSE:AGU) it was one of those calls which failed to live up to our track record and something we took note of. Potash Corporation of Saskatchewan (NYSE:POT) does seem to have come back to life recently while Agrium has fallen back after the activist hedge funds were stifled, but we are not yet confident enough in this price action to say that Potash has resumed its leadership role within the industry. If the rumors of food shortages and tight supplies in China are in fact true, then we could see reason to move to the bullish side, but as it stands right now we are awaiting confirmation that the stock is entering a bullish cycle.
Our call last year was wrong. Sure traders could have made some money playing the channels, but the story as it pertains to readers is that we have gone nowhere over the past year, bottom line.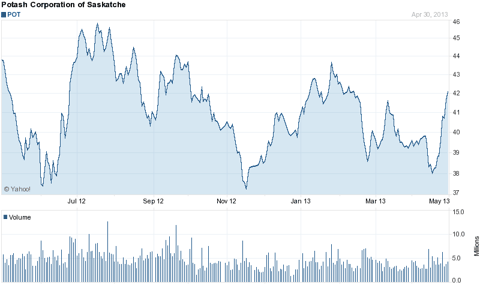 Chart courtesy of Yahoo Finance.
Rare Earths
We have been watching Molycorp (MCP) in much the same way as Potash, but for purposes of a short-term trade and nothing else. The shares have bounced back but did fail to take out the $6/share level yesterday as they came up just short with the high of the day being $5.96/share. The shares closed at $5.84/share after rising $0.25 (4.47%) on the session with volume registering at 6.9 million shares. These are solid moves higher on the back of solid volume so we are quite close to wanting to possibly enter a trade if we can get a handle on potential news flow and run out of alternative appealing ideas. Not to say readers must stay away, but that is where we stand at this point and although not quite bullish, we are impressed with the movement lately.
The 'lower lows and lower highs' pattern has been broken and if the resistance around $6/share is broken look for a trade towards the $6.50/share area. Use tight stops on this one.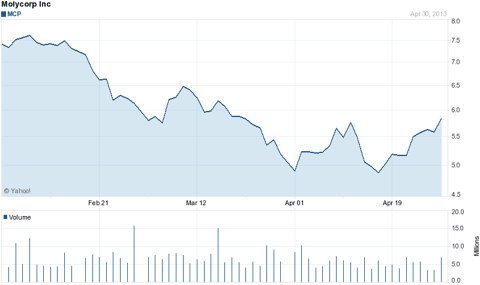 Chart courtesy of Yahoo Finance.
Coal
Much like the potash industry, coal usually has a name or two which grabs the banner and leads the way higher. It has been the blue chips which have given investors hope through all of this turmoil, as they have provided the best news as a whole and delivered results which have not been too far off of what the market anticipated. So when a name like Peabody Energy (BTU) falls to new 52-week lows we take notice. Likewise, when it bounces off of those lows, and strongly so, we pay attention in order to gauge where investor sentiment lies in regards to the industry as a whole. With this last move above $20/share we now think that maybe some short-term trading may be feasible in our favorite trading vehicles, so long as Peabody remains headed in the right direction. A pullback below the $20/share level would certainly change our thinking.
Disclosure: I have no positions in any stocks mentioned, and no plans to initiate any positions within the next 72 hours. I wrote this article myself, and it expresses my own opinions. I am not receiving compensation for it (other than from Seeking Alpha). I have no business relationship with any company whose stock is mentioned in this article.