Yesterday, I laid out what is going right for our economy & markets as part of a three part series named the "The Good, The Bad and The Ugly". Today, we will look at three major concerns investors should have right now domestically about growth in the economy and equities going forward into the summer: "The Bad".
Economy/Job Growth is tepid -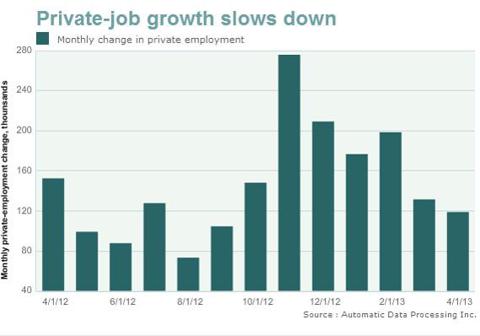 Revenue growth is non-existent -
More than halfway through earnings season and only 43.9% of S&P 500 companies have reported revenue figures ahead of analysts' expectations, according to figures compiled by Thomson Reuters.
That "beat rate" is on pace for the fifth lowest mark since the firm began compiling this data in 2002.
Overall sales results are down 0.3% from a year ago, on pace for only the second negative quarter since 2009.
It goes without saying that companies that are showing no revenue growth are going to be very reluctant to hire. In addition, with S&P margins are at all-time highs after numerous rounds of deep cost cutting, this will eventually cause a deceleration in earnings.
Weak recovery continues -
We can have arguments about the causes, but the facts are clear. 15 quarters after the recession officially ended, we have averaged tepid 2.1% average quarterly GDP growth since the end of the contraction. This compares with 4.4% average quarterly GDP growth coming out of the last 9 recessions and 5.3% average quarterly GDP growth for 15 quarters coming off that last deep contraction in 1982.
Given that we have the same players (Bernanke, President Obama, Congress) that we have had in place over the last few years; can an investor expect any different policies that could ignite economic & job growth in the year ahead? Given the recent fiasco around a paltry 4% cut in the FAA budget, thinking these parties can come together and make a "grand bargain" that could reassure business and investors that we are righting the ship seems far-fetched at best.
Given this state of affairs, investors should take a couple of actions. First be grateful. As bad as things are here economically, they are much worse in Europe and Japan. Second, allocate more to stocks that can still be counted on to deliver sales growth at reasonable valuations. Microsoft (NASDAQ:MSFT) which I profiled yesterday falls into this category. Cheap stocks with high yields like BP plc (NYSE:BP) also offer shelter in what looks like could be another second quarter swoon.
Tomorrow: "The Ugly"
Disclosure: I am long BP, MSFT. I wrote this article myself, and it expresses my own opinions. I am not receiving compensation for it (other than from Seeking Alpha). I have no business relationship with any company whose stock is mentioned in this article.