This article will discuss two stocks that have proven to be comeback kings thus far in 2013. In a previous article that I had published here on January 2, 2013, I discussed 5 stocks that I believed were good comeback bets for this year. Of those stocks, the two that I would like to revisit and discuss in this article are Best Buy (NYSE:BBY) and Hewlett-Packard (NYSE:HPQ). We will take a look at what the two stocks have done since the start of 2013, and also at potential catalysts to see if these companies' stock prices can continue their comebacks and increase in price further from here.
The first stock we will look at is Best Buy. Best Buy's stock price is surging today, April 30, 2013, and the stock reached an intraday high so far of $26.92, and that is a new 52 week high. The stock is rising because of the company's plans to sell its European joint venture stake in a deal valued at about $775 million. Today, Deutsche Bank also upped its rating on the company's stock to a buy. Best Buy currently pays a .68 per share annual dividend, giving it a dividend yield of 2.9%.
The following chart will show what Best Buy's stock has returned since December 28, 2012. It has produced an amazing return and has trounced the return of the S&P 500 index.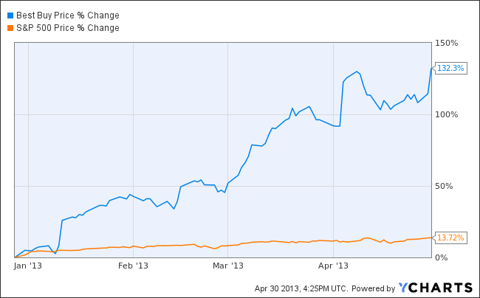 Let's take a look at what has contributed to this astounding return. As my article on December 28, 2012 discussed, the web site traffic for Best Buy's website was impressive on Black Friday. Holiday sales proved to be good for Best Buy, and its fourth quarter earnings for fiscal year 2013 came in at $1.64 per share, which beat the analysts expectations of $1.54 per share. On March 11, 2013, Piper Jaffray upgraded Best Buy's stock to overweight, citing strength in the company's overhaul plans. There were other upgrades by analysts in the month too, which helped contribute to a rise in the stock price. Richard Schulze withdrew his takeover bid for the company on March 1, 2013, and already in the short term, that has proven to be good for the stock, as the bid was around $17 per share for the most part, and the stock is currently trading at around $26 per share.
Going forward, here are the most important catalysts that I see for the company in order for it to continue to rise. The company's turnaround efforts must continue to work and gain momentum. Earnings must continue to meet or exceed analyst expectations, and the company must prove that the worries that Amazon (NASDAQ:AMZN) and other online retailers will take market share away were overestimated. If Best Buy can continue to have good results in its stores and increase its Internet sales by capitalizing on its strong web traffic and customer base, it has a good chance of rising significantly in the future. I believe the stock still has not fully recovered from decrease in stock price over the past few years, and that was in large part a result of worries that online retailers would take its market share.
The next stock we will look at in this article is Hewlett Packard. As of today (April 30, 2013), the stock is currently trading at $20.42 per share. It currently pays an annual dividend of .53 per share, giving it an annual yield of 2.6%.
The following chart tracks Hewlett Packard's stock price performance compared to the S&P 500 from December 28, 2012 through today.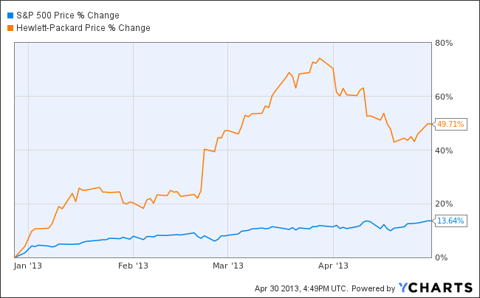 As the chart shows, Hewlett Packard has had a great run in stock price from the start of the year. While it has not produced as much of a return as Best Buy has, anyone who bought the stock on January 1, 2013 would most likely be very happy right now.
The stock price of Hewlett Packard has increased due to the following reason. Its first quarter earnings came in at .82, ahead of the consensus analyst estimate of .71. This news was reported on February 22, 2013 and it sent the stock price surging from a $16.99 close on February 21 to a price of $19.08 at the market close on the 22nd. Based on my analysis, this is the single largest factor that its performance this year can be contributed to. To go along with this, I believe this performance has eased investor concern that the company's profits were going to continue to decline at a rapid pace. Because of this performance, it looks like investors are starting to have faith in the company's turnaround efforts. In my opinion, Meg Whitman is a great CEO to lead this turnaround.
Potential catalysts for Hewlett Packard, which would help it continue its stock price increase this year, include the following. In this article, HP's new tablet is discussed. A large concern which, in my opinion, has hindered the performance of Hewlett Packard's stock, is that investors are worried that HP will be slow to catch up in the tablet market and that the PC market will suffer as people switch to tablets. In my opinion, it is nice to have a PC, and I believe that PCs still are an important part of technology. If Hewlett Packard can continue to enjoy its large market share in the PC market, and establish a strong position in the tablet market with this introduction, it will set its stock price up for a long, continued price rebound. Furthermore, it was announced that today, April 30, 2013, Hewlett Packard is set to enter the networking market to challenge Cisco (NASDAQ:CSCO). A successful entry into this market may prove to provide diversification from its core business and set the company up nicely with different streams of revenue.
Before deciding whether or not to invest in these companies, please make sure to conduct your own research and due diligence.
Disclosure: I have no positions in any stocks mentioned, and no plans to initiate any positions within the next 72 hours. I wrote this article myself, and it expresses my own opinions. I am not receiving compensation for it (other than from Seeking Alpha). I have no business relationship with any company whose stock is mentioned in this article.