About a week ago I wrote a post about finding a golden nugget in a conference call. Now, we are about to see a full fledged "gold rush" as investors and analysts start to appreciate what the US ITC ruling does for Tessera (NASDAQ:TSRA).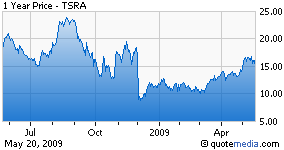 The US International Trade Commission issued a ruling after hours on May 20, 2009 that was a tremendous win for Tessera. As I predicted in myrecent Seeking Alpha article, this final determination confirmed that Tessera's '326 patent and '416 were valid. The Commission chose to overturn their own ALJ's initial determination that Tessera had not proven infringement. Now Tessera's patents have been judged valid and infringed and this ruling has far reaching implications.
The Commission chose to agree with their in house counsel in the Office of Unfair Import Investigations. They issued a strongly worded Limited Exclusion Order (LEO), and they also issued a cease and desist order and incorporated a 3.5% bond requirement during the presidential review period. The terminology used in the LEO forces the issue with all the accused parties.
From the order (bold is mine, PDF warning)….
The Commission has determined that the appropriate form of relief is (1) a limited exclusion order under 19 U.S.C. § 1337(d)(1) prohibiting the unlicensed entry of semiconductor chips with minimized chip package size and products incorporating these chips that infringe one or more of claims 1, 2, 6, 12, 16-19, 21, 24-26, and 29 of the '326 patent and claims 1-11, 14, 15, 19, and 22-24 of the '419 patent, and are manufactured abroad by or on behalf of, or imported by or on behalf of, Spansion, Qualcomm, ATI, Motorola, ST-NV, and Freescale; and (2) cease and desist orders directed to Motorola, Qualcomm, Freescale, and Spansion.
The Commission has further determined that the public interest factors enumerated in Section 337(d) and (f) (19 U.S.C. § 1337(d), (f)) do not preclude issuance of the limited exclusion order and the cease and desist orders. The Commission has determined that the bond for temporary importation during the period of Presidential review (19 U.S.C. § 1337(j)) shall be in the amount of 3.5% of the value of the imported articles that are subject to the order. The Commission's order was delivered to the President and the United States Trade Representative on the day of its issuance.
The terminology used by the ITC in this LEO is about as good as it gets. Look at the words......
are manufactured abroad by or on behalf of, or imported by or on behalf of, Spansion, Qualcomm, ATI, Motorola, ST-NV, and Freescale;
The wording "manufactured abroad or on behalf of" or "imported on or on behalf of" means that these companies won't be able to try an end run around the exclusion order. So, in my humble opinion, these companies will have to license soon.
Just last quarter, Amkor (NASDAQ:AMKR) settled with Tessera and paid $64 million in past production when they signed the license. Freescale, Qualcomm (NASDAQ:QCOM), Motorola (MOT), ATI, STMicro (NYSE:STM) and Spansion (SPSN) owe significant back payments for past production of infringing products, but this is a negotiating issue between Tessera and these companies.
Tessera now has significant negotiating leverage over these defendants. The infringing companies must now negotiate in good faith (which includes past production payments for all the years they infringed), or else they face losing an appeal and being in much worse position than they are in now.
Unfortunately for the infringers, the combination of a "cease and desist order" and a 3.5% bond (which they lose if they lose the appeal) is a disastrous scenario for them to fight. All these companies have no choice but to sign a license with Tessera.
Tessera may choose to allow some companies to pay minimal past production royalties in exchange for higher on-going royalties. But make no mistake, Tessera is now in the driver's seat in these negotiations. We should see several licenses signed in the next few weeks. In these types of negotiations, sometimes the early bird gets the worm.
For example, Tessera could place their settlement offer on the table and tell the infringers, "This is the offer. It is good for 1 week, and after that, the royalty rate goes up". The smart companies would take whatever reasonable deal they can get. The 3.5% bond these companies have to put up will also play a significant factor in forcing settlements.
Tessera's management is too classy and too conservative to start gloating and talking about the impact on revenues, but with past production payments, it would be easy for Tessera to have 2009 non GAAP net income of $7-9/share.
I could easily see 2010 having $6-9/share in earnings (even with no past production payments). Their ongoing litigation expenses should drop into the $15 million per year range going forward. Last year they spent $84 million in litigation, so this is a savings of about $70 million going forward.
With Tessera's business model, this drops straight to the bottom line and adds an additional 1.50/share in earnings. Also, remember, Tessera has $383 million dollars in the bank (about $8/share) and no debt.
In my humble opinion, we will see TSRA in the high 30s or low 40s in the very near future...and in the 50s or 60s later this year.