"The market always presents the patient investor with great opportunities." - Michael E.S. Gayed (my father)
I've been largely negative on the cyclical trade since the end of January when the deflation pulse began to beat given various intermarket trends which failed to confirm the reflation story. Stocks in the U.S. rallied to new highs since then, led by defensive sectors, as emerging markets and commodities (NYSEARCA:DBC) faltered and emerging markets (NYSEARCA:VWO) lagged. Entering May, much of the discussion is focused on selling due to what has traditionally been a weak period for risk assets. Given the duration and magnitude of the reflation disconnect, it is hard to argue with the idea.
However, this is somewhat of a difficult juncture. Consider that while intermarket analysis has indicated severe distortions within and across asset classes have been underway for a few months, the cyclical trade is also in many ways oversold. Take a look below at the price ratio of the Global X Copper Miners ETF (NYSEARCA:COPX) relative to the S&P 500 (NYSEARCA:SPY). As a reminder, a rising price ratio means the numerator/COPX is outperforming (up more/down less) the denominator/SPY. A falling ratio means the opposite.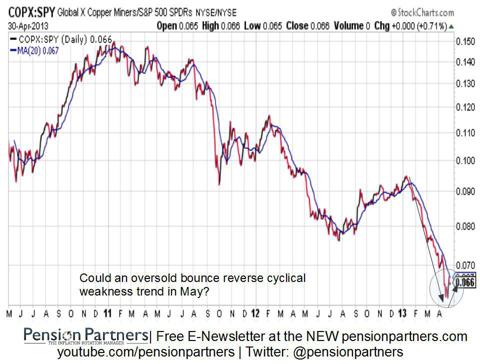 Commodities have been awful performers last year, taking out cost-push inflationary pressures from the marketplace, and within the equity side miners across the board have been quite poor. Notice the severe weakness in copper miners since mid-January. While the trend remains down, a very recent spurt of strength has taken place. Is this a "dead cat bounce" or a potential reversal in trend? The breakdown in relative performance has been so large that on a ratio basis the group is oversold, meaning that some leadership can kick in.
However, keep in mind that for leadership to occur in cyclicals, the trend must reverse with consistent strength. Some signs may be appearing, but the next few days could cause a reversal of that. If a washout is still to come, it means the next reflation period can result in a significant opportunity in copper miners and the "next fat pitch" of emerging markets. Patience, however, as my father said in the coming re-release of his 1990 book on "Intermarket Analysis and Investing" is key. Keep watching the behavior of cyclicals in the days ahead. I believe they will provide the tell for what happens next.
Disclosure: I have no positions in any stocks mentioned, and no plans to initiate any positions within the next 72 hours. I wrote this article myself, and it expresses my own opinions. I am not receiving compensation for it (other than from Seeking Alpha). I have no business relationship with any company whose stock is mentioned in this article.
Additional disclosure: This writing is for informational purposes only and does not constitute an offer to sell, a solicitation to buy, or a recommendation regarding any securities transaction, or as an offer to provide advisory or other services by Pension Partners, LLC in any jurisdiction in which such offer, solicitation, purchase or sale would be unlawful under the securities laws of such jurisdiction. The information contained in this writing should not be construed as financial or investment advice on any subject matter. Pension Partners, LLC expressly disclaims all liability in respect to actions taken based on any or all of the information on this writing.