We were disappointed that Lee Enterprises' (NYSE:LEE) progress in narrowing its revenue decline in FY 2012 and H1 2013 was not enough for Berkshire Hathaway (NYSE:BRK.B) to maintain its equity position in LEE. Berkshire has sold 3.1M of its 3.2M LEE shares it received when it acquired $85M of Lee's 2nd-Lien Term Loans in April 2012. Berkshire had made this investment in Lee Enterprises last year as part of his highly-publicized spate of investments in the newspaper industry. In addition to Berkshire's purchase of $85M of Lee's 2nd Lien debt from Goldman Sachs, it also purchased all but one of Media General's (NYSE:MEG) newspaper operations for $142M plus a few other community newspaper publications from other sellers. Berkshire also lent Media General $400M and received penny warrants for 4.65M shares of Media General's stock. Berkshire exercised its warrants in September 2012 and now owns 16.6% of Media General's stock.
We believe that the combination of Berkshire Hathaway reducing its stake in Lee Enterprises as well as the closing of the Manassas News & Messenger publication (one of the Media General papers) helped contribute to LEE's share price declining from an intra-day high of $1.75 before Lee released its CQ4 2012 earnings of $1.24 after Berkshire announced the reduction of its share ownership. Lee's share price drifted down to a low of $1.10 on December 26, 2012 but has steadily recovered to $1.33 as of April 24, 2013 thanks to Lee's stabilizing operating income. Although Berkshire Hathaway and Cannell Capital sold off a significant portion of their shares in CQ4 2012, Delta Partners and RBF LLC added to their position during that period and their purchases offset a portion of the shares sold by Berkshire and Cannell.
Lee's most recent quarterly results are continuing to show that the company is narrowing its revenue declines and it is stabilizing its free cash flows. Lee generated free cash flows from continuing operations of $9.8M in the Q2 2013 period ($40.6M in H1 2013), which was an increase from the $0.5M in Q2 2012 ($31.6M in H1 2012). Lee paid down $23.9M in its debt during the quarter due to the sale of The Garden Island for $2M and it also increased its liquid cash position by $1M. Although Lee has to pay a sharply higher weighted average interest expense rate due to its debt refinancing last year, it no longer has to pay any debt financing and reorganization expenses in order to survive as an organization.
We also agree with Lee's management that Lee's financial expense will begin to decline in the June 2013 quarter due to lower debt balances and cycling of interest rate changes. We remain hopeful that Lee would be able to execute the refinancing of its 2nd Lien Term Loans that carry a 15% interest expense coupon and a 2017 maturity but failure to execute such a deal would not have any additional negative impact on Lee as an investment opportunity. Although Lee would have to pay $3.5M in refinancing costs if it refinanced this debt between now and January 30, 2014, ($1.75M if refinanced between January 31, 2014, and January 30, 2015), we expect it to potentially reduce its interest expense by 2% if it can execute a deal. We expect Lee is still in discussions with its lenders about a potential deal to refinance its debt, however we are not predicting that a deal will take place.
We are expecting Lee to generate about $14M in free cash flows per quarter for Q3 2013 to Q4 2013 primarily due to the absence of additional mandatory debt financing and reorganization costs that were incurred in the comparable periods in 2012. This will result in Lee generating just under $70M in free cash flows during FY 2013, which will help enable Lee to potentially reduce the face value of its outstanding debt below $870M as of the end of the year. We were actually pleasantly surprised that Lee's capital expenditures increased year-over-year in Q2 2013 versus Q2 2012. Although the percentage growth was rather high (134%), we can acknowledge that at least Lee and its creditors are comfortable with Lee making proactive investments in its business. We've seen instances in business and government where the leadership skimps on maintenance, repairs, renovations and upgrades and it results in drastic expenses to replace capital assets.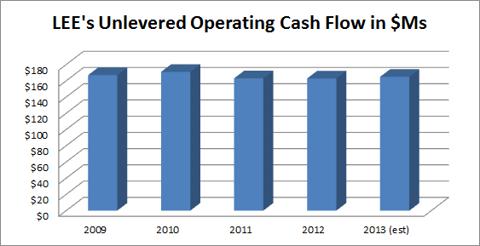 Source: Lee's 2012 Deutsche Bank Leveraged Finance Presentation and Our Estimates
Lee's adjusted revenue declined by 2.4% in Q2 2013 versus Q2 2012 and this was attributed to declines in its adjusted advertising revenues due to the weak economy. Operating Income increased by 10.3% as the revenue declines were offset by a 2.8% reduction in cash operating expenses and a $1.7M reduction in depreciation and amortization expenses. Lee's management expects its cash operating expenses to decline by 3.5%-4.5% in FY 2013. Interest Expense increased by $2.6M year-over-year, due to increased cost of debt associated with the bankruptcy reorganization; however this was partially offset by reduced debt financing costs. Compensation expenses decreased 6.2% due to a reduction in the average number of full-time equivalent employees of 8.2%. Newsprint and ink expense decreased 12.5% as a result of a reduction in newsprint volume of 10.5%. Other operating expenses increased 3.9%.
We are expecting Lee's EPS to have bottomed out as its interest expense rate is not likely to increase further and Lee is steadily paying off its outstanding debt. Gatehouse Media (OTC:GHSE) is the community newspaper leader serving the New England region. We can see that although Lee and Gatehouse engaged in debt-funded deals-from-hell around the 2005-2007 buyout boom and bust, at least Lee is making progress in reducing its debt, unlike Gatehouse.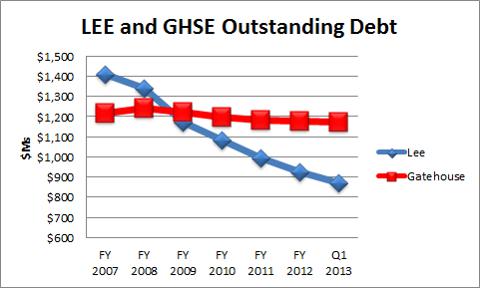 Source: Morningstar Direct
Lee is making steady, incremental progress in monetizing its digital properties. Lee's circulation revenue increased by 3.4% due to gains from paid content initiatives and a $.50 price increase on its flagship St. Louis Post-Dispatch newspaper publication that took place in Q1 2013. Lee's digital revenue in Q2 2013 was $15M but was flat on a year-over-year basis. The key driver of Lee's digital revenue performance was its mobile advertising revenue, which reached $1.4M in Q2 2013 and increased by 165% versus Q2 2012. This was achieved in addition to Lee's 150% increase in mobile advertising revenues in FY 2012. Combined print and digital advertising revenue decreased 5.3% to $106.5 million, with retail advertising down 2.7%, classified down 7% and national down 20.1%. Combined print and digital classified employment revenue decreased 3%, while automotive decreased 12.6%, real estate decreased 11% and other classified decreased 3.8%. Print advertising revenue on a stand-alone basis decreased 6.1%.
We were pleased to see that in Q1 2013, Lee was able to devote $9M of its $29M in debt principal repayments to its Pulitzer Notes. The interest rate on the Pulitzer Notes is currently 11.30% and will increase by 75bp on January 1, 2014, and January 1, 2015. Although this is less than the 15% 2nd-Lien Term Loans that are due in April 2017, this is higher than the 7.5% 1st-Lien Term Loans that are due on December 31, 2015, and which have a greater priority claim on cash flows. Lee had $100M in Pulitzer Notes outstanding as of Q1 2013 and we expect the company to pay off a significant portion of the Pulitzer Notes before it has to refinance in December 2015. Although we were hoping for more activity with regards to selling off some of its newspaper publications, at least Lee has sold off two of its less profitable newspapers and received 17X TTM FCFs (North County Times) and 20 TTM FCFs (The Garden Island) for these papers.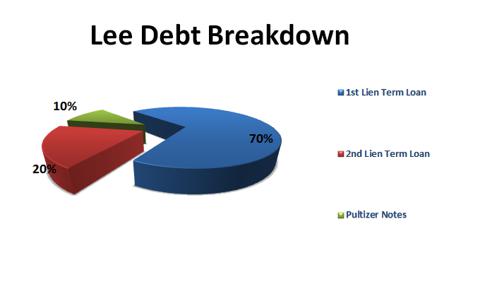 Source: Lee's Q1 2013 10-Q
In conclusion we're pleased to see Lee's share price and operating income stabilizing. Lee is most certainly not a blue-chip company and the glory days of the newspaper publishing business are most certainly over. However, we also believe that the worst for Lee is over and we don't expect it to buy any other newspaper chains at 25X TTM FCFs using debt like it did with Pulitzer in 2005. Lee has been able to keep its EBITDA stable since it bottomed out in 2009. Although Lee's revenue has been steadily sagging since 2006, it has been able to offset these headwinds with lower operating costs. Lee has also mitigated its print revenue declines with its revenue from its digital advertising and circulation programs. Lee also remains one year ahead of schedule with regards to reducing debt. Finally, we were pleased that Lee's mobile advertising revenue increased by 165% year-over-year in Q2 2013 and we expect it to reach $5.4M in revenue in FY 2013, up from $2.7M in FY2012.
Disclosure: I am long LEE. I wrote this article myself, and it expresses my own opinions. I am not receiving compensation for it (other than from Seeking Alpha). I have no business relationship with any company whose stock is mentioned in this article.
Additional disclosure: This article was written by an analyst at Saibus Research. Saibus Research has not received compensation directly or indirectly for expressing the recommendation in this article. We have no business relationship with any company whose stock is mentioned in this article. Under no circumstances must this report be considered an offer to buy, sell, subscribe for or trade securities or other instruments.