Just weeks ago, Titan Pharmaceuticals (NASDAQ:TTNP) was a company on the brink. The stock was trading for five cents, or below, and most corporate offices had been cleared out and were standing empty.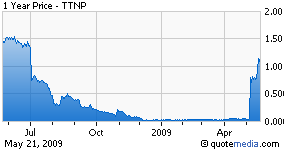 After the failures of Spheramine and the FDA non-approval of Ilperidone, Probuphine was the only hope that company officials and investors could cling to that would keep the company alive.
Then came the surprise FDA approval of Fanapt (Iloperidone), and all of a sudden the company had a pulse. Titan, which will receive 8% royalty of all Fanapt sales up to $200 million and 10% on sales above that number, had a future revenue stream and a drug candidate pipeline to boast.
Yesterday, with Titan risen from the ashes, the company announced that some familiar faces will be coming back to work, most notably former CEO Mark Rubin. Sunil Bhonsle and Kate Beebe have also been brought back on board. All will receive stock options with a value price of $.79 in agreements that minimize the use of cash until the Fanapt revenue stream starts rolling in early next year.
With the key players back in place, the company can concentrate on bringing Probuphine, which has already produced positive results in a Phase III trial, to market. Probuphine is currently being tested in an additional Phase III trial for the treatment of Opioid addiction and a Phase I trial for the treatment of chronic pain.
Titan is also developing the ProNeura drug delivery system, the same system used for Probuphine, and this technology could be developed to be used in conjunction with other drugs to treat various indications.
In the past, Titan was also developing DITPA, a treatment for congestive heart failure. Although there is nothing about this drug candidate on the Titan website, it is still currently being tested in Phase II trials. DITPA could be a dark horse for the company.
Titan, if for no other reason than Fanapt revenue, just may have a future as a vibrant drug company.
The stock has rallied to over one dollar and after it demonstrates the ability to hold that level, I expect the board to apply to trade on a major exchange, either the Nasdaq or American Stock Exchange.
There is also the possibility of a buyout. Nothing of that possibility was noted in today's press release, but if a buyout offer comes, the three former members of the Titan team that just reentered the picture are set for a hefty payday, as will be investors; especially those that loaded up at five cents.
I still see Titan as a decent buy at $1, but every day that goes by is chance that a Probuphine update or rumor of a buyout could launch the stock price to near $2.
Like the Phoenix, Titan has risen from the ashes.
Disclosure: VFC is long TTNP.