Investors are positioning for children's retailer Gymboree to move higher.
optionMONSTER's Heat Seeker monitoring system detected the sale of 1,100 August 45 calls for $1.25 and the purchase of 550 August 40 calls for $2.90.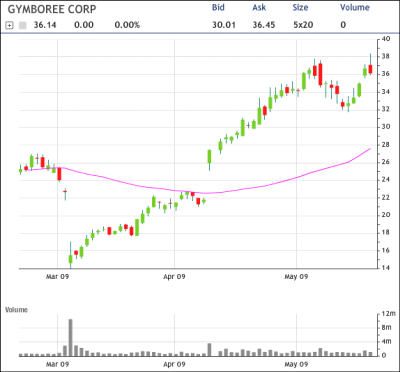 (Chart courtesy of tradeMONSTER)
This so-called ratio trade is designed to benefit from a modest rally in the shares and will earn its maximum profit if GYMB closes at $45 on expiration. It will lose money if the stock rallies past $50.
GYMB fell 1.53 percent to $36.14 yesterday but is still up 59 percent from its March low. After the closing bell, the company reported better-than-expected first-quarter earnings and predicted results within analyst forecasts for the second quarter.
In other large trades, investors sold 1,900 June 35 puts for $1.80 and $1.85 against open interest of 2,923. The positions will be profitable as long as GYMB closes above $33.20 and $33.15 by expiration.