In China the investment share of GDP stands at 48%, 12% higher than any other industrializing country in the past. While many point to such high numbers as proof that the commodity boom will last forever, the truth of the matter is that such growth is unsustainable. Below is a chart from Credit Suisse that shows us Japan and Korea when they went through a similar investment expansion boom.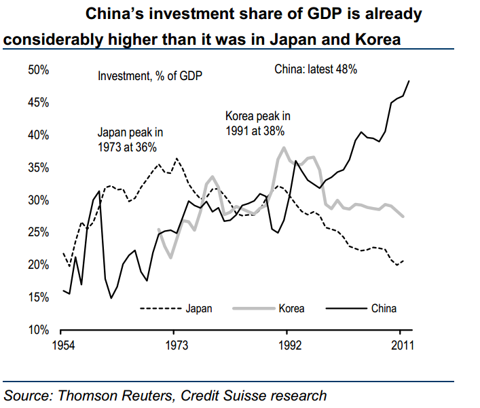 If history is any guide, what is clear from the above chart is that sooner or later (I think sooner), China's investment boom has only one way to go and that is down -- for many years to come. And while many might say China is a unique situation and things are different this time, my take is that there are limits to how long you can defy gravity.
A China slowdown will affect the commodities space across the board. Both commodities and commodity producing stocks will be affected.
Another interesting chart is Australia's capex to GDP. What this chart basically means is that many companies have purchased and or invested very large sums of money on capital expenditures.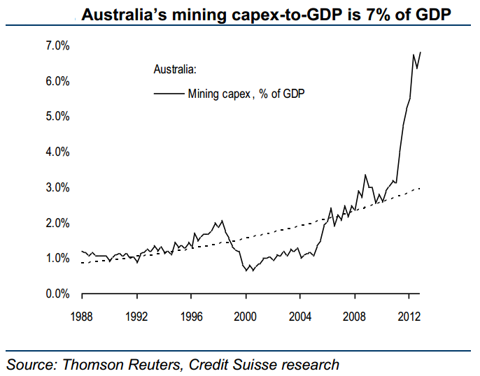 So what might this mean for many mining companies, if commodity prices were to correct substantially over the next several years?
The answer is that the money they spent on capital expenditures will not have the desired effect and most likely their stocks will lose in value or underperform. Remember markets are forward looking. Even if demand for many commodities is still strong today, stocks look forward and try to discount what demand and corporate profits will be in the future.
Two very big mining companies that come to mind are BHP Billiton (NYSE:BHP) and Rio Tinto (NYSE:RIO). And if one looks at their charts below, it is evident that they have been underperforming for two years now.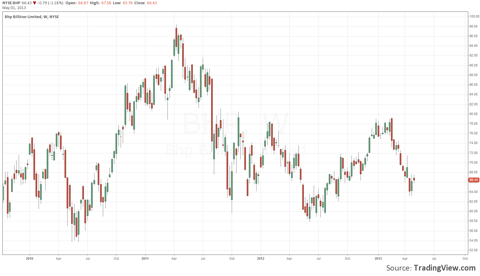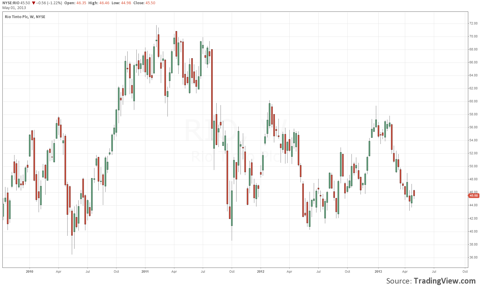 Another company that comes to mind is Caterpillar (NYSE:CAT). As fellow S.A. Contributor Sneha Shah recently pointed out, the company reported another bad quarter. While Caterpillar management initially gave guidance of $7-9 in earnings for 2013 during its Q412 earnings call, now management has revised down its guidance saying that it will only make $7 in earnings for 2013.
That's a very big downward revision if you ask me. She also points to the fact that the biggest hit to earnings so far is the mining sector, where orders have declined by almost 50% year on year. Given the over-spending in the mining sector over the last several years (as per the capex/GDP chart of Australia), I think mining orders for Caterpillar equipment will continue to fall for longer than most people imagine.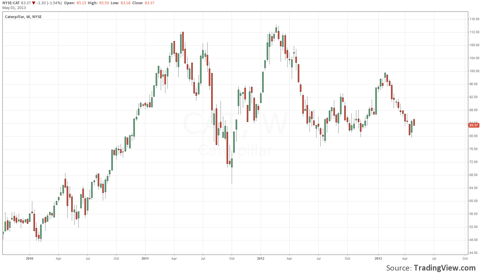 Both gold (NYSEARCA:GLD) and silver (NYSEARCA:SLV) are front-running the world commodities slowdown. The recent correction in the space is no accident and only points to lower precious metals prices ahead.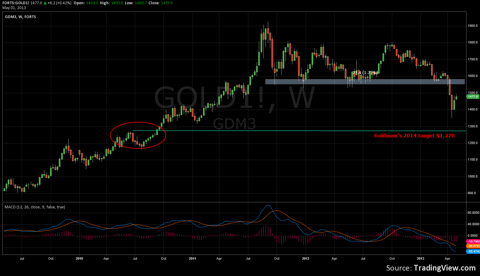 I do admit that many Gold mining stocks such as Barrick Gold (NYSE:ABX) and Newmont Mining (NYSE:NEM) have probably fully discounted Gold's future correction, however that does not mean higher prices ahead or a new commodities boom any time soon. I have talked about gold and silver many times before the current correction here, here and here.
In addition to precious metals, if Credit Suisse is correct, the supply growth for iron ore and copper will be higher than demand for several years to come.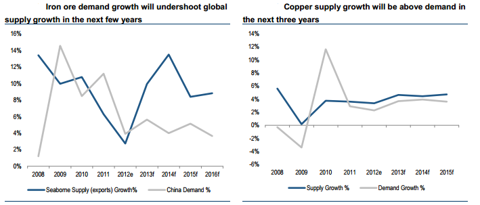 Bottom line
While China is still running on all cylinders, one has to keep in mind that if and when China does slow down, it will probably be the end of the commodities boom as we know it. China still accounts for about 50% of the world's industrial commodities demand. Any slowdown will have a dramatic effect on commodity prices and the stocks of commodity producers.
In the mean time, because stocks are smarter than the commodities themselves, they are already reacting and have either corrected or lagged the rest of the market for the past several years.
And if I am correct that the commodities boom is over, then they will continue to underperform and lag the broader market for the considerable future.
Disclosure: I have no positions in any stocks mentioned, and no plans to initiate any positions within the next 72 hours. I wrote this article myself, and it expresses my own opinions. I am not receiving compensation for it (other than from Seeking Alpha). I have no business relationship with any company whose stock is mentioned in this article.