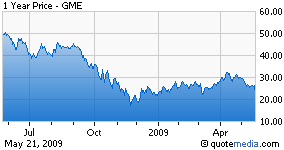 GameStop (NYSE:GME) shares are down sharply Thursday morning following an earnings report that reflected disappointing same store sales - and weaker than expected guidance for the fiscal second quarter.
For the fiscal first quarter ended May 2, the video game retailer posted revenue fo $1.98 billion and profits of 42 cents a share, about in line with the Stret at $2 billion and 42 cents. But the company also said comp store sales were down 1.5% in the quarter, worse than the forecast of flat to up 2%.
For the second quarter, the company sees profits of 28 to 33 cents a share, well below the Street at 40 cents, with same-store sales down 8%-11%. The company blamed the weak sales forecast on "an unfavorable comparison to the 20% increase in same-store sales in the prior year quarter, declining new console unit sales and the impact of government stimulus checks issued last year."
GameStop sees full year EPS of $2.83 to $2.93, in line with the Street at $2.87. But the company also said it now sees comp store sales for the full year to be flat to up 2%, down from its previous forecast of up 4%-6%.
In early trading Thursday, GME is down $3.17, or 12%, to $23.30.