Introduction
I've been covering Celsion (NASDAQ:CLSN) since the beginning of January 2012, where it was anticipating its Phase III results for ThermoDox with RFA (radio frequency ablation).
ThermoDox is a unique liposomal delivery method of getting doxorubicin to the site of cancer tumors being treated. Preliminary trials looked great and the idea behind ThermoDox was one that made sense: delivering a concentration of an often-used cancer drug to the site of the tumor by its Liposomal transport system, and using heat to activate it en masse.
Celsion is evaluating ThermoDox in a Phase III clinical trial for primary liver cancer, as well as Phase II clinical trial for colorectal liver metastasis and a Phase II clinical trial for recurrent chest wall breast cancer.
Today, Celsion released two PRs indicating upcoming insight into, and potential promise for the future. These two PR's announced two potential catalysts for Celsion stock, both occuring in May.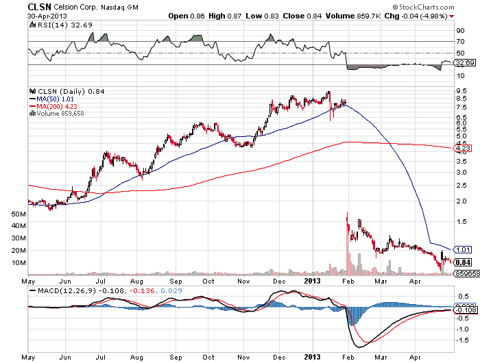 Click to enlarge
Going into phase III trials, Celsion was trading over $8. The morning after it was announced that their primary endpoint was not met, the share price moved like a magnet to $1.
Now, there are two potential upcoming events to keep a close eye on for clues as to how ThermoDox may ultimately fare.
1. Earnings - May 9th, 2013
Celsion announced today that they would be holding a conference call to release earnings on May 9th. I'm interested in this conference call for a couple of reasons:
I want to know exactly how much their cash burn has come down and what steps the company has taken subsequent to their last disclosure with regards to preserving capital.
I want to hear answers to analysts questions. Tardugno usually does as good of a job as he can with transparency on these calls, I'll be listening and looking for clues and insight as to subsequent events with the ThermoDox subsets being studied.
2. ThermoDox Review - May 16th, 2013
Celsion also announced today in another PR that the ThermoDox heat study findings are going to be reviewed at the 9th Annual World Conference on Interventional Oncoglogy (WICO) in New York City. Part of the press release states (underlines are mine):
The Company recently reported, based on the post hoc analysis, that ThermoDox® in combination with radiofrequency ablation (NYSEMKT:RFA) markedly improved progression free survival (NYSE:PFS) and overall survival (OS) in patients who had optimal RFA. Dr. Lencioni's presentation, titled "Advances in Image-Guided Ablation" will be held Thursday, May 16, 2013 at 11:00 a.m. EDT in Plenary Session: Multidisciplinary State-of-the Art: HCC and Professor Poon's presentation, titled "Thermally Sensitive Drug Carriers" will be held Thursday, May 16, 2013 at 4:30 p.m. EDT in Concurrent Session: New Drugs/New Carriers/New Devices.
The press release continues to allude to the fact that Celsion appears to be on the cusp of potentially discovering new and useful data from their Phase III studies:
Celsion has conducted a comprehensive analysis of the data from the Phase III HEAT Study of ThermoDox® in hepatocellular carcinoma (NYSE:HCC) with key principal investigators, data experts and liver cancer experts including Professors Lencioni and Poon. This analysis followed the announcement on January 31, 2013, that ThermoDox® in combination with RFA did not meet the Study's primary endpoint. Emerging data from the HEAT Study post hoc analysis demonstrates that ThermoDox® markedly improves progression free survival and overall survival (OS) in patients if their lesions undergo RFA for 45 minutes or more. These findings apply to HCC lesions from both size cohorts of the HEAT Study (3-5 cm and 5-7 cm) and represent a sizable subgroup of patients.
The PR concludes with what I think is significant reaffirmation of the potential of ThermoDox:
"The HEAT Study is the largest clinical trial ever conducted in the field of image-guided ablation of HCC; as such, there is a trove of important data emerging from this study regarding the use of ThermoDox® in conjunction with RFA to treat this serious, deadly cancer," said Professor Lencioni. "I am pleased to introduce this analysis of a large subgroup which may be indicating a meaningful clinical benefit in both PFS and overall survival at WCIO. The details of the data will be presented for peer review at upcoming scientific meetings. It is important to note that the duration of heat from the RFA procedure appears to be a key factor in a successful clinical outcome when combined with ThermoDox® as suggested by this analysis. These findings are consistent with our understanding of how RFA plus ThermoDox® can potentially offer an important new treatment for this underserved patient population."
What Else is New
On April 23rd, after all was thought to be lost, Celsion reported that after a thorough review of their HEAT study, there was clear evidence that ThermoDox can benefit patients when RFA is optimized. CEO Michael Tardugno commented:
Michael Tardugno, Celsion's Chief Executive Officer, added, "Based on the strength of these findings, the Company will request a meeting with regulatory authorities for guidance on moving forward with our HCC development program. We plan to disclose the details of the HEAT Study data at upcoming medical meetings and in a peer-reviewed publication. We will provide updates on these activities when appropriate."
After this, they also went on to speak about their corporate restructuring and strategic moves dealing with acquisitions they're making to make sure their cash is preserved for the near future. It was the strongest statement the company has made since Phase III trials for ThermoDox came back and disappointed.
I commented on this PR:
Just playing devil's advocate here for a minute, but say increasing the RFA to over 45 minutes in each patient turns out to be the only thing that ThermoDox is missing to hold it back from success. This company and its stock, even with the new dilution, could have massive live breathed back into it.

Read this one line from Celsion's press release today (emphasis is mine):

ThermoDox® markedly improves progression free survival and overall survival (OS) in patients who had optimal RFA.

That's a tough one to just turn your back on and ignore.

My friend mentioned that if it was big news, they would have had a conference call. I contend that they're waiting to get this news validated by the HEAT Study Steering Committee before really making a big deal about these "unaudited" findings.

Not only that, but Celsion's entire ThermoDox based pipeline (which has shown similar success in preliminary trials) may also have new life. I'm going to be watching Celsion closely from here on out.
Conclusion
While not a comprehensive or groundbreaking look at the company here, it is worth noting that there is going to be information coming down the pipeline at one point or another soon. As a former owner of both calls and puts (3:1 calls) before the Phase III results, I found myself eating a bit of crow when the Phase III results didn't come in as anyone planned.
However, with substantial cash in the bank, I feel the downside risk here is much less than the upside risk. At a small market cap of $44 million, Celsion could be undervalued here if they can find any value in ThermoDox. If the company can find any good news with regards to ThermoDox, $1 calls could triple in value easily, even with the company's most recent dilution.
I get the feeling that Celsion, written off by no shortage of former investors and writers like Adam Feuerstein (who contests this "data mining" is a scam), is still a fighter. I have purchased, and will continue to purchase, Celsion at these levels.
Through May, and going forward, I'm going to continue to keep my eyes on Celsion.
Disclosure: I am long CLSN. I wrote this article myself, and it expresses my own opinions. I am not receiving compensation for it (other than from Seeking Alpha). I have no business relationship with any company whose stock is mentioned in this article.
Additional disclosure: I own CLSN calls.