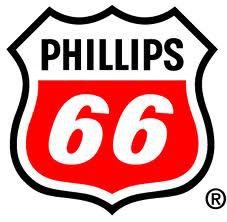 Phillips 66 (NYSE:PSX) announced another quarter of high-octane earnings. Q1 2013 earnings came in at $1.4 billion or $2.23 per share. This beat the average Street estimate of $1.89 by a whopping $0.30 and were up 120% from Q1 2012.
PSX sold off in April along with the rest of the refining group as the narrowing Brent/WTI spread caused investor concerns about future earnings. However, excellent domestic refining and chemical results from Exxon Mobil (NYSE:XOM) told me the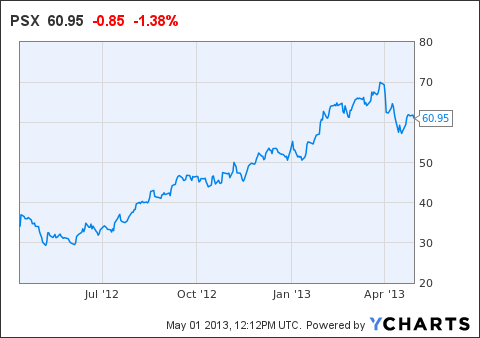 sell-off in Phillips 66 was overdone. Many investors aren't aware that 20% of PSX's 2012 earnings came from its chemicals segment, including "CPChem," the 50-50 chemical company joint venture with Chevron (NYSE:CVX). The chemicals business is benefiting from low cost natural gas liquids, "NGLs," and natural gas feedstock. Indeed, I was so confident of higher chemicals results I wrote Exxon's Q1 Results Bode Well for Phillips 66.
NOTE: all slides in this article came from the company's Q1 earnings presentation held this morning.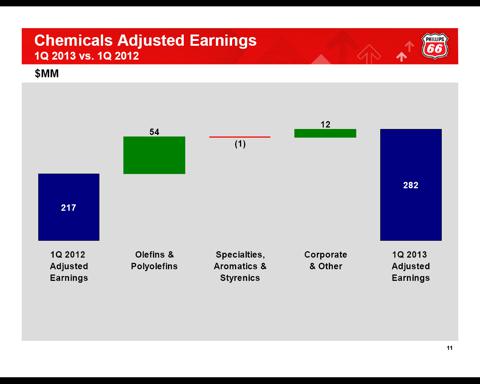 Click to enlarge
And that is exactly what happened. For the quarter, Chemicals earnings were $282 million, up 30% from the same period last year. The big jump was primarily due to higher margins and increased volumes. CPChem contributed $64 million to Phillips 66's pre-tax Chemicals earnings, $12 million more than the same period last year.
Refining Results
High-octane earnings were also reported in PSX's large refining business. Refining recorded first quarter adjusted earnings of $909 million, up $455 million from a year ago (+100%). The higher earnings were primarily a result of higher gasoline and distillate market crack spreads. Phillips 66 also improved its feedstock advantage by capturing wider Canadian crude differentials and running lower-cost crude slates. As the chart below clearly shows, this was very apparent at the company's central corridor refineries.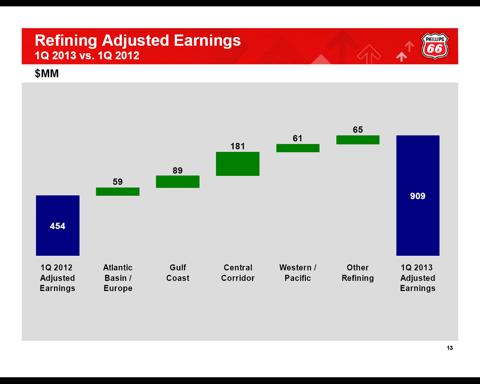 Click to enlarge
During the quarter, 68% of PSX's domestic crude slate feedstock was advantaged compared with 60% in the same period last year. For Q1, PSX processed 563,000 barrels per day of heavy crude oil, including 190,000 barrels per day of Canadian heavy crude. The company ran 311,000 barrels per day of West Texas Intermediate ("WTI") based crudes, including light Canadian crude. Also, Phillips 66 processed 221,000 barrels per day of Eagle Ford, Bakken and Mississippian Lime crudes, representing a 120,000 barrel-per-day increase over the first quarter of 2012.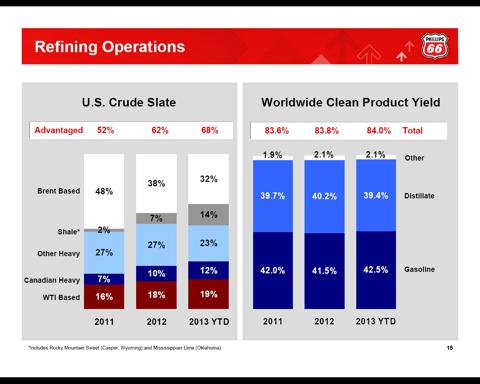 Click to enlarge
The excellent refining results came despite some unplanned refinery downtime in the quarter leading to a relatively low worldwide utilization rate of 90%. On the conference call, management said they expected a 2013 refinery utilization rate in the high 90's.
Financials
The company's financials continue to improve. Equity increased to $21.4 billion, up $600 million sequentially. Debt was $7 billion, down $1 billion Y/Y. Debt to capital was 25%, down from 30% in the prior year period. Cash increased by $1.3 billion (37%) from the prior quarter to $4.8 billion.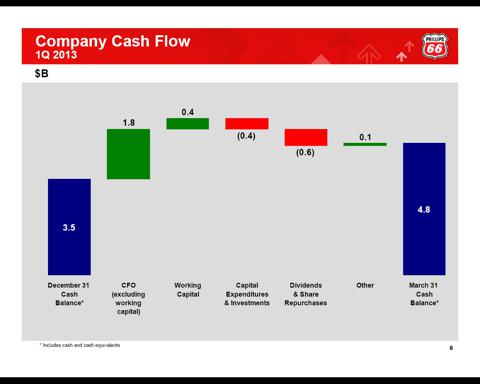 Click to enlarge
Outlook
The April sell-off in PSX was overdone. Low cost "advantaged" crude, NGLs, and natural gas feedstock is a fundamental long-term story, which will enable PSX to grow refining and chemical earnings into the foreseeable future. An experienced management continues to execute at a very high level. The company's financials are superb. The company has three refineries geographically located on both the West and Gulf Coasts, and one refinery on the East Coast. PSX is therefore poised to significantly grow high margin refined product exports (which were 150,000 boe/day in Q1). The dividend yield is currently 2% and I would expect significant dividend increases in the near future. I rate PSX a BUY.
Disclosure: I am long CVX, PSX, XOM. I wrote this article myself, and it expresses my own opinions. I am not receiving compensation for it (other than from Seeking Alpha). I have no business relationship with any company whose stock is mentioned in this article.
Additional disclosure: I am an engineer, not a CFA. The information and data presented in this article was obtained from company documents and/or sources believed to be reliable, but has not been independently verified. Therefore, the author cannot guarantee its accuracy. Please do your own research and contact a qualified investment advisor. I am not responsible for investment decisions you make. Thanks for reading and good luck!