In 2012, Americans filled more than 4 billion prescriptions at 62,000 retail, mail, and specialty pharmacies. The largest U.S. pharmacies ranked by total prescription you will find in the table below, some of these companies offer also specialty pharmacy services (CVS Caremark and Express Scripts). We think the specialty pharmacies sector offers a great opportunity for investors that want to stay ahead of the curve.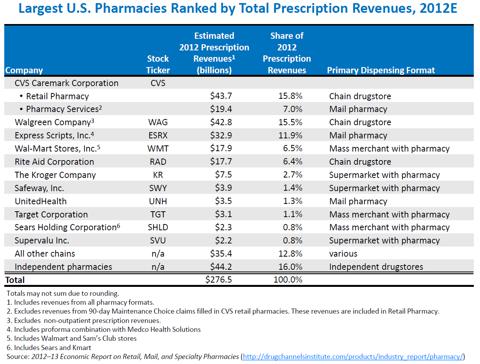 Specialty drugs have seen an enormous boost within the pharmaceutical marketplace over the past several years. According to future-trending reports specialty drugs will account for the majority of new drug approvals in coming years and they will consume approximately 40% of health plan's drug spending by 2020.
This rapid expansion has set the key stakeholders in the specialty arena -- health plans, manufacturers, pharmacies, and other parties like employers -- into a state of evolution. Stakeholders are reconsidering and redesigning their channels of delivery and access. Presently there are multiple access channels available for end users, ranging from physician providers, facility providers, ancillary providers like home infusion companies, and the wide swath of pharmacy providers, which includes retail, mail services and specialty pharmacy.
The rise of chronic illness, coupled with the increasing sophistication of the pharmaceutical sector to pinpoint more efficacious and personalized drugs, has created a dynamic environment for the growth of the specialty sector on the whole. When it comes to modern specialty pharmacy, like many other movements in healthcare, the trend is toward patient-centered care and patient management. In this report we will give some investment opportunities investors have in the specialty pharmacies sector.
The following five specialty pharmacies could be interesting investments going forward. The reasons you will find in the industry view and final note of this article.
Specialty Pharmacies

Market

EV/

Forward

Current

Gross

Perf.

Company

Ticker

Price

Cap

EBITDA

Sales

P/E

Ratio

P/S

ROE

Margin

YTD

Rec.

Omnicare

OCR

41.32

4.3B

8.56

6.16B

10.76

4.33

0.7

5.34%

24.08%

14.26%

Buy

PharMerica Corp

PMC

12.77

382.25M

6.79

1.83B

8.35

4.04

0.21

5.35%

16.38%

7.92%

Buy

BioScrip

BIOS

13.07

707.87M

27.28

662.64M

28.2

2.17

1.07

-3.28%

33.95%

33.95%

Buy

Express Scripts

ESRX

55.35

45.61B

11.22

93.86B

11.33

0.82

0.49

10.37%

7.81%

3.02%

Buy

Assured Pharmacy

APHY

0.90

5.06M

-3.12

14.15M

N/A

0.17

0.36

N/A

-28.32%

143.24%

Spec. Buy

Diversified Pharmacies

CVS Caremark

CVS

58

72.02B

8.85

123.13B

13.15

1.44

0.58

10.25%

18.28%

20.48%

Buy

source: Finviz, Yahoo Finance
Omnicare
Omnicare Inc (NYSE:OCR) is a healthcare services company that provides complex pharmaceutical care in the United States and Canada. It operates through two business segments Long-Term Care Group and Specialty Care Group. It provides pharmaceuticals, and related pharmacy and ancillary services to long-term care facilities, as well as chronic care facilities and other settings. The company also operates institutional pharmacy business serving skilled nursing facilities, assisted living facilities, independent living communities, hospitals, correctional facilities, and other healthcare service providers and offers pharmacy consulting services, including monthly patient drug therapy evaluations, assistance in compliance with state and federal regulations, and provision of proprietary clinical and health management programs.
The company is the largest player in the long-term care institutional pharmacy industry with about 110 million scripts. Over the last couple of years, Omnicare has been much more focused on returning value to shareholders. In 2010, they paid $0.09 a share. Today, they pay $0.56 a share. So there has been basically a seven-fold increase over 4 distinct increases in the dividend rate.
PharMerica
PharMerica Corporation (NYSE:PMC) is an institutional pharmacy services company that services healthcare facilities and provides management pharmacy services to hospitals. The company operates 91 institutional pharmacies and 12 specialty infusion centers in 45 states. The company has a market capitalization of $382 million, and had revenues in 2012 of $1.83 billion.
PharMerica is among the companies in the specialty pharmacies sector with the lowest EV/EBITDA ratio of 6.79. The company's P/E of 8.35 also indicates that it is undervalued compared to similar stocks in the specialty pharmacies sector. The company has potential upside of 31% based on a current price of $12.77 and analysts' consensus price target of $16.83
BioScrip
BioScrip, Inc. (NASDAQ:BIOS) is a provider of pharmacy and home health services that partners with patients, physicians, hospitals, healthcare payors and pharmaceutical manufacturers.
BioScrip's revenue guidance for 2013 of $830-$865 million reflects growth in the range of 25% to 30% which outpaced many analysts' estimates. The robust expectations are based on the solid ongoing growth momentum. The company is confident about witnessing stronger business momentum going forward on the back of strategic acquisitions.
On a segment basis, BioScrip has been recording persistent growth in the Infusion Services segment over the past few quarters. Further, the company surpassed its forecast of annual revenues of $100-$105 million from the PBM franchise.
Express Scripts
Express Scripts (NASDAQ:ESRX) offers healthcare management & administration services such as managed care organizations, health insurers, workers' compensation plans & government health programs. Its reportable segments are: PBM & Other Business Operations.
This well-run company has a history of successfully integrating acquisitions. Express Scripts now has more than 100 million members and controls around a third of U.S. pharmaceutical spending. Morningstar estimates the company's fair value at $73 per share. As a result of the Medco's purchase revenue is projected to approach $118 billion by 2016. Thanks to a combination of merger synergies, increased generic penetration, and other cost-saving initiatives 20% annual adjusted earnings growth per year is expected.
Assured Pharmacy
Assured Pharmacy, Inc. (APHY.OB) operates pharmacies that provide prescription pain medications for chronic pain management to patients and physicians in the United States. The company is planning an aggressive new store opening campaign for 2013, which has to lead to a national foot print over the next 3 years. The company is still a small loss-making specialty pharmacy that will face the hurdles that belongs to expansion. Despite that it can take a piece of the cake and become a serious nationwide player.
The company's business model targets physicians specializing in pain management - orthopedics, neurology, oncology, psychiatry, physical rehabilitation and industrial medicine. The focus is on treating patients with long-term, acute, chronic pain conditions. Assured Pharmacy generates its revenue principally from the sale of Schedule II and III prescription pain relievers.
Assured Pharmacy market cap is around $5 million and float is practically non-existent, when considering the preferred shares outstanding the real market capitalization of the company is closer to 23 million. This stock would I would recommend for risk-seeking investors looking to hold shares for at least several years.
Industry overview
Specialty pharmacies offer access to and support for most pharmaceutical and biological products that have high acquisition costs, are difficult to manage, and present reimbursement challenges.
In addition to filling prescriptions, specialty pharmacies offer other value services including compliance monitoring, support services, reimbursement processing, and drug utilization reviews for patients with rare conditions that require special care.
Specialty pharmacies focus on serving narrow patient populations with chronic conditions that require high levels of support and the use of higher-than-average prescription prices as opposed to the retail drugstore model of selling high volumes of lower margin drugs.
Three-fourths of health plans currently use specialty pharmacies in a further push to manage costs and increase access outsourcing.
Following the implementation of the Medicare Prescription Drug Improvement and Modernization Act of 2003, there has been an increase in the number and scope of products that specialty pharmacies handle.
Specialty pharmacies also help streamline the delivery process of drugs that often require strict inventory control, while helping make other services more efficient, such as carrying out prescription drug billing and expediting reimbursement.
The usage of technology has become an integral part and differentiating factor for specialty pharmacies when compared to traditional competitors by assisting and improving the coordination of the following processes:
Data collection
Outcome measurement
Therapeutic regimen monitoring
Prescription information delivery
Patient-adherence tracking
Healthcare claims creation, adjudication, and payment support are executed by a growing
number of specialty pharmacies as well
As shown below, specialty pharmacies offer a platform of services that other distribution channels are unable to effectively provide.
These services include offering high-touch pharmaceuticals, access to knowledgeable pharmacist staff, compliance monitoring, nursing services, clinical management of disease specific programs, coordination of home care, medical benefit management, and billing/reimbursement expertise.

Specialty pharmacies offer patients, physicians, payers, and manufacturers significant benefits to traditional retail pharmacies that can be measured by the indicators in the table below.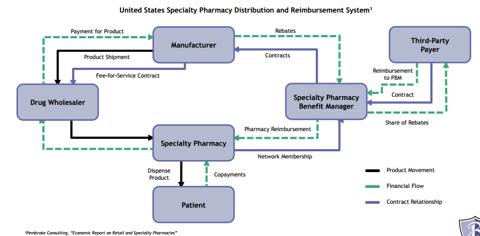 These services not only make specialty pharmacies more competitive than their retail counterparts, but they realign the traditional configuration of the broader pharmacy value chain, shifting focus of ancillary services from partner businesses to the pharmacy point of contact.
Final Note
Specialty pharmacies offer patients, physicians, payers, and manufacturers significant benefits to traditional retail pharmacies that can be measured by the indicators in the table below.

The services mentioned above not only make specialty pharmacies more competitive than their retail counterparts, but they realign the traditional configuration of the broader pharmacy value chain, shifting focus of ancillary services from partner businesses to the pharmacy point of contact.
While non-specialty drugs maintain year-to-year spending increases of between roughly 2% and 6%, specialty drug costs are increasing more rapidly, contributing to specialty pharmacy sales growth. As a result of higher utilization owing to expanded indications and a strong pipeline, specialty pharmacy expenditures are expected to grow from $87 million in 2011 to over $1 trillion by 2030.
As the specialty pharmacy market continues to grow at an annual rate of over 20%, driven by both the number and cost of new specialty product introductions, it has attracted the attention of managed care organizations and become a critical component of many health plans. Further examination of specialty products by health plans and other healthcare intermediaries, such as distributors, pharmacy benefit managers, and retail pharmacies, has contributed to several recent and notable trends, including market consolidation.
M&A interest
This rise in M&A interest may result in elevated exit multiples as specialty pharmacies are acquired by industry conglomerates or private equity. In total, $21 billion worth of private equity capital was invested in healthcare companies in 2012. Interest in the healthcare provider and services sector outstripped other sectors in 2012. Healthcare private equity buyout activity in North America is dominated by the US, where both cost pressures and incentives to contain costs are robust. US-based employers, especially the larger employers that typically subsidize healthcare insurance for employees, have long been trying to contain their costs for pragmatic reasons. Legislative reforms-namely the Patient Protection and Affordable Care Act (PPACA)-are expected to accelerate the trend by creating more incentives for healthcare organizations and insurance companies to reduce costs themselves while improving outcomes.
For the most part, private equity investors in the US are looking to ride the trends that have been set in motion or accelerated by healthcare reform, such as cost containment, payment reform, new care-delivery models and hospital-physician alignment, without getting ensnared in the uncertainty about future reimbursement levels.
That theme has led to meaningful increases in the number of deals within the provider and services categories with more limited or indirect reimbursement risk, such as retail health, healthcare-related IT and outsourced services; however, an influx of new entrants in these "healthcare light" sectors is leading to increased valuations and trickier return equations.
Looking ahead, there is no question that healthcare investing remains attractive, thanks to the unique combination of stability and innovation it offers. Fortunately, some of the major drivers of the market are trending in investors' favor. Debt is cheap, making it easier to finance deals, and the hunting ground is large. At the same time, the stock market is rebounding and the appetite of strategic buyers remains strong, portending more and bigger exits. Within the provider and services sector that was so popular in 2012, consolidation opportunities should remain plentiful going forward. Specialty pharmacies could be next trend.
We think Omnicare, PharMerica, BioScrip and even Assured Pharmacy could be acquisition targets going forward.
Disclosure: I am long PMC, BIOS, APHY.OB. I wrote this article myself, and it expresses my own opinions. I am not receiving compensation for it. I have no business relationship with any company whose stock is mentioned in this article.