Prospect Capital Corporation (NASDAQ:PSEC) is a business development company that specializes in providing financing for small businesses. The management team has been working together for over a decade and has a consistent and stable track record.
PSEC's investment portfolio is extremely diversified, spanning over 100 small businesses located primarily throughout the U.S. In terms of industry diversity, PSEC's portfolio is even more impressively diversified, covering a wide spectrum of industries including but not limited to aerospace, automobile, construction, engineering, finance, healthcare, insurance, manufacturing, media, oil and gas, real estate, software, and transportation.
The stock is priced fairly with a Price/Book ratio of 1.00 and the stock price remains relatively stable (with a beta of .86). Meanwhile investors are handsomely rewarded with an impressive 12.2% dividend yield.
Unlike some of my other dividend investments [Credit Suisse Asset Management Income Fund (NYSEMKT:CIK)] where I am more less reserved, my opinion toward PSEC is that of cautious optimism. So while I am personally long the stock, and believe that it has a place in a diversified portfolio, I make this recommendation with an admitted degree of caution.
Positives
Stable stock price: Since its IPO in 2004 it has managed to remain within a relatively controlled and stable trading range, reaching a peak of about 18 during the market run up in 2007, and a low of roughly 7 during the market crash in 2009. Moreover, over the last two years the trading range has remained within the range of 8-12. See the chart below.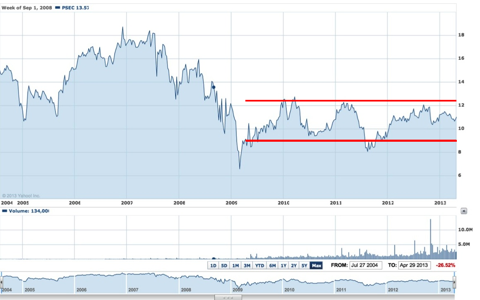 Dependable dividends: Since June 2010, when monthly dividends were initiated (previously from its IPO until March 2009 dividends were paid quarterly), the monthly dividend has slowly and consistently increased. Most recently in December 2012, the dividend payment increased by roughly 10%.
Insider Activity: Over the last two years there have been 24 insider transactions, 23 of which were purchases. In fact, the one sale that was on July 26, 2011, by the CEO, was an indirect sale immediately following a same day direct purchase of the same amount of shares.
Caution
I have two significant (and seemingly related) cautions regarding PSEC. The first, is that the company's debt/capital ratio is a staggering 32%. Although, this debt/capital ratio actually compares well with Apollo Investment's AINV and Ares Capital's ARCC's ratio of 35% and 38%, respectively.
My second caution is that of managements incentives. Specifically, the base component of management compensation is taken from the fund in the amount of 2% of gross assets. In other words, simply by increasing borrowing and using the borrowed money to make additional investments, management increases its compensation by 2% of the amount of money invested without any consideration of the actual investment. This kind of payment arrangement can give management an incentive to become overly leveraged and to make larger and riskier investments. In practice, however this does not seem to be the case. Moreover, this compensation system while flawed, is common. In fact, AINV adopts essentially the same 2% on gross assets, while ARCC uses 1.5% of gross assets.
Disclosure: I am long PSEC, CIK. I wrote this article myself, and it expresses my own opinions. I am not receiving compensation for it (other than from Seeking Alpha). I have no business relationship with any company whose stock is mentioned in this article.