Purpose
This is a real-time comparison between a small stock portfolio (mostly based on dividend-growth investing, or DGI) and an S&P 500 index fund. The purpose is to compare 1-year results on the basis of total return and income received, and to serve as a teaching tool. $10,000 is the starting amount for each portfolio. Securities will assume to have been purchased at the closing of February 28, 2013. March 1st, 2014 will be the final comparison date. Reminder, this is not an actual portfolio, but we shall pretend that it is. In addition, I own several of the individual stocks listed, so I do have some actual skin in the game.
This article presents the results from April. To see the rules and assumptions used in this exercise, please see my first article here (and part 2 here).
April Results
Without further ado, the total return results are shown below.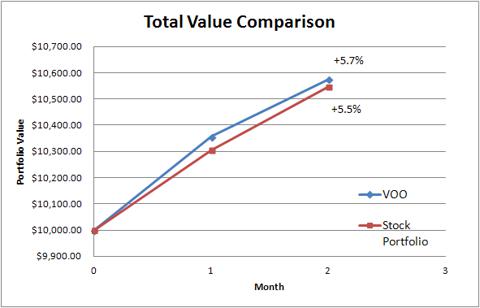 Both portfolios are doing great: up over 5% after 2 months. I'm not sure this will be sustainable for a full year, but time will tell. It's always enjoyable to watch your portfolio increase. I usually don't have much to say regarding portfolio performance, since I can't control it. It is what it is. I'd rather focus on more important things, like company fundamentals.
Since income is distributed quarterly in each portfolio, the first income comparison will be at the end of May.
Notable Events
During April, I noticed the following notable events for our portfolios:
Apple (NASDAQ:AAPL): On April 23rd, they declared a 15% increase to their dividend and added $50 billion to their share repurchase program.
Aflac (NYSE:AFL): Nothing to update.
Linn Energy (LNCO): On April 23rd, they declared a 2% increase to their dividend. It will be payable May 16th. Starting in July, Linn will switch to a monthly payment schedule.
IBM: On April 30th, they declared a 12% increase to their dividend. It will be payable June 10th. Also, in my taxable and Roth IRA accounts, I recently purchased shares of IBM.
Deere and Co (NYSE:DE): Nothing to update.
CSX: On April 16th, they declared a 7% increase to their dividend. It will be payable June 14th.
General Dynamics (NYSE:GD): Nothing to update.
VOO: The S&P500 currently has a P/E = 18.47 with a FWD P/E = 14.25. Compared to a long-term average P/E = 15.5, the market seems to be mildly overvalued. It's nothing excessive, so keep making those monthly investments, especially into undervalued companies where you can find them.
Why are we doing this again?
I feel like I've gotten ahead of myself in my first articles and feel the need to backtrack a bit. Here in my household, we strive not to be "normal." What's normal? Let me give a little picture of normal here in America:
57% of U.S. workers have less than $25,000 in savings and investments
The average household student loan debt is $33,005 (even if you didn't graduate)
The average household credit card debt is $15,204
The average mortgage debt is $148,818
The average personal savings rate is 2.6%
The average person will watch 9 full years of TV during their lifetime (what!!)
Over 50% of first marriages end in divorce
Only 20% of households eat dinner more than 3 meals a week together (eating around the TV doesn't count)
80% of high school teenagers have a cell phone, while only 25% have a job
Who wants to be average? Call me old-fashioned, but I grew up thinking that taking care of your family's needs (moral, physical, mental, emotional, etc) is one of the great gifts we as dads can command. I must admit that I never even felt to be a useful person until I became a husband and father. Earning a paycheck is only useful if it has a purpose. And having purpose of family is indeed a good thing.
Get Personal
Whatever you decide your purpose in life is, realize that personal finance will always be a means to foster that purpose. Know that the journey to reach your financial goals can sometimes be more rewarding than the goals themselves. Buying your son a toy can be pleasing, but teaching him to save his money so he can buy it himself will bring joy to both your lives.
Therefore, practice good personal finance. Two of the great virtues that apply to personal finance are patience and diligence. Have the patience to sit down with your spouse and do a monthly budget. Have the patience to stick with it. Diligently get yourself out of all the debt you can by realizing the time-value of money. Realize that you're not just losing $14,400 by paying $300/month for 4 years on car payments (but it's at 0 %!). Investing that money with an 8% return would give you $52,000 after 10 years and $164,000 after 20 years! You've lost some serious money!
Save, give, and spend wisely: that's what goes into a budget. Always do all three no matter what your income is.
Dream Big
Our investing comparison is only meant to show that investing in carefully-chosen stocks can be just as or even more fruitful than investing in mutual funds or index funds. But none of this matters if you aren't diligent with monthly saving and getting rid of your debt. It's a simple formula: the less debt payments you have, the more you can invest (or give or spend).
What happens when you're able to invest? Well, if you invest in dividend-growth stocks like I do, then you get dividends to be able to use as extra income. One of the things I like about dividends is that you don't have to sell anything to get money into your bank account. You can also get a nice raise every year. Although my last raise at work was 3%, my last raise on my dividends was 9%. What shall we do with all this passive income? Here's my plan showing a few ideas I have over the next 27 years. The income dollars shown are for illustration purposes only.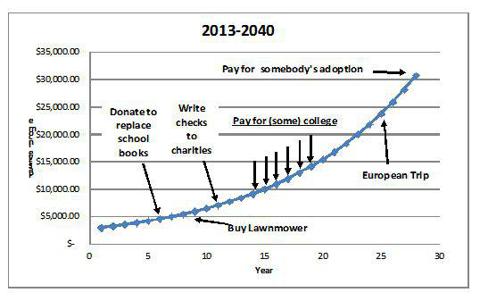 What happens after year 28? Maybe I retire early so I can spend more time volunteering at my church, school, and/or charity. After I'm long gone, maybe my kids can enact positive societal change. Am I a dreamer? Yes. But it's okay; I'm only 26.
Is he crazy?
Below is a small list of companies that have paid increasing dividends for a long time. I've listed the number of years that the dividend has increased along with its past 10-year compounded annual growth rate (OTCPK:CAGR), courtesy of the CCC list by Mr. Fish. This is not a buy list; I'm only trying to show how dividends are a powerful force of investing.
Those companies are just a starting point for you to research. But just imagine getting a 10% raise on your income for the rest of your life. Although prices of stocks have their ups and downs, long periods of dividend increases are somewhat common. All it takes is a basket of carefully chosen stocks for diversification purposes. And as always, watch the basket.
Build for your future
Dividend-growth investing is not a get rich quick scheme. It's a REAL way to invest long term. It starts by socking away that $50/month into 1 or 2 particular companies. You're thinking, "This will never work in my lifetime."
Then you look up in a few years and you're receiving over $100 in quarterly dividends. You keep adding bit by bit. Then you look up a few years later, and you're getting $1000 in quarterly dividends. You start thinking: "maybe I can help pay for some of my kids' tuition."
Then you start to dream even bigger. You start saying things like: "I'm going to conservatively ignore social security in my retirement planning" or "when my dividends are greater than my household expenses, I can quit my day job!" or "when I get my first $20,000 in dividends, I'll buy large quantities of steak for my local food pantry." Seriously, this investing stuff works.
So get on with it. Save and invest. Be a giver. Spend wisely. Write down your plan. Take control of your life. Don't be normal.
Disclosure: I am long AAPL, AFL, LNCO, IBM, DE, GD. I wrote this article myself, and it expresses my own opinions. I am not receiving compensation for it (other than from Seeking Alpha). I have no business relationship with any company whose stock is mentioned in this article.