By Todd McDonald, Analyst
LinkedIn (NYSE:LNKD) is set to report Q1 2013 earnings on Thursday, May 2. Results are typically released at 4:15 p.m. ET, followed by a conference call at 5:00 p.m. LinkedIn is the premier social network for professionals around the globe.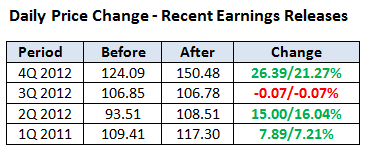 Outliers and Strategy
Non-GAAP Earnings Per Share: LinkedIn typically reports a non-GAAP earnings per share, which is comparable to estimates. Analysts' consensus is for $0.31, with a range of $0.21 to $0.41. Results have beat estimates every quarter since the IPO.
Revenues: Revenues are seen coming in at $317.08 million, with a range of $295 million to $336.79 million. Last quarter, the company issued a revenues guidance range for the Q1 2013 period of $305 million to $310 million -- well below the current consensus.
Revenue Guidance
Q2 2013: Analysts currently expect Q2 2013 revenues of $359.24 million, with a range of $338 million to $384.2 million.
FY 2013: The consensus estimate for LinkedIn's FY 2013 is $1.49 billion. Last quarter, the company issued guidance for the FY 2013 period of $1.41 billion to $1.44 billion. Any change in this guidance could impact the ensuing price action.
Implied Volatility: A day after earnings are released, on average LinkedIn has an absolute move of 10.37%, which is about in line with what options premiums are pricing in. It is also worth noting that LinkedIn has a high forward P/E ratio of 142.46 and a relatively small float of about 100 million shares, which is indicative of a volatile high flyer.
Analyst Ratings: The analyst community maintains 14 buy, 15 hold, and zero sell ratings, with an average target price of $181.38.
Recent News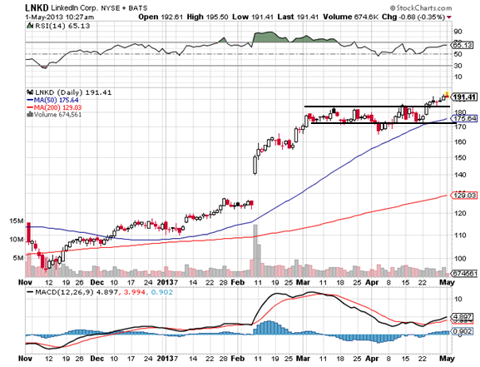 Technical Review
LinkedIn has had an incredible 2013, rising almost 70% year to date with solid momentum. The RSI is approaching the 70 level, and maintained an overbought reading for the first half of this quarter. Since the shares are trading right near an all-time high, resistance is tough to find. Options premiums imply a move to approximately $213, which corresponds to the high end of the range of analyst estimates. Should earnings disappoint, look for initial support near $185, followed by $175 near the 50-day SMA.
Summary
LinkedIn has been one of the top stocks of 2013, thanks in part to rapid user growth, increased content, emerging market opportunities, well-received strategic acquisitions, and an improving job market. However, there are zero sell ratings on the Street, the valuation is extreme, and the trade may be crowded at these levels. In order to push shares higher, earnings, revenues, and revenue guidance all need to be near the high end of the range. Anything in line or below consensus could have severe consequences to LinkedIn's share price.
Disclosure: I have no positions in any stocks mentioned, and no plans to initiate any positions within the next 72 hours. I wrote this article myself, and it expresses my own opinions. I am not receiving compensation for it (other than from Seeking Alpha). I have no business relationship with any company whose stock is mentioned in this article.
Disclaimer: By using this report, you acknowledge that Selerity, Inc. is in no way liable for losses or gains arising out of commentary, analysis, and or data in this report. Your investment decisions and recommendations are made entirely at your discretion. Selerity does not own securities in companies that they write about, is not an investment adviser, and the content contained herein is not an endorsement to buy or sell any securities. No content published as part of this report constitutes a recommendation that any particular investment, security, portfolio of securities, transaction or investment strategy is suitable for any specific person.