Phillips 66 (NYSE:PSX) has to be one of the more exciting stocks out there. It has benefited greatly from the increased production of oil in North America and the resulting increase in crack spreads. Since it was spun-off from ConocoPhillips (NYSE:COP), Phillips 66 stock has increased over 90%, raised its dividend twice, and initiated a large buyback program. Phillips 66 currently offers a $0.3125 quarterly dividend and at current prices yields about 2.0%.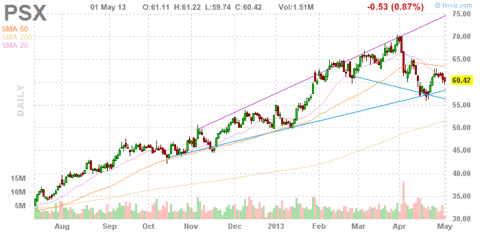 On May 1, Phillips 66 reported its Q1 2013 results. The company reported an impressive quarter, with earnings increasing to $1.41B, up 127% from the $617M reported for Q1 2012. Adjusted earnings came in at $1.38B, up 80% from the $764M reported for Q1 2012. For the quarter, EPS came in at $2.23 and adjusted EPS at $2.19.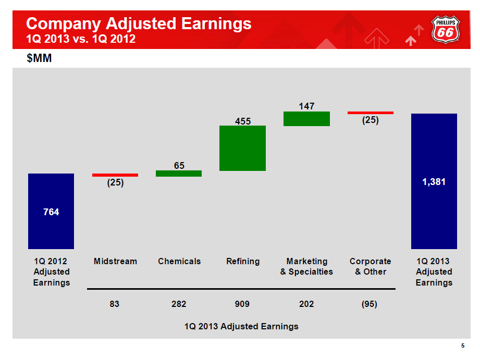 By far the best performing segment for Phillips 66 was refining, which saw its adjusted earnings surge 100% to $909M, from the $454M last year. Phillips 66 was able to achieve these results primarily from higher crack spreads from price advantaged feedstocks. Phillips 66 has been capturing the wide Canadian and Bakken crude differentials in its Central Corridor and East Coast refineries.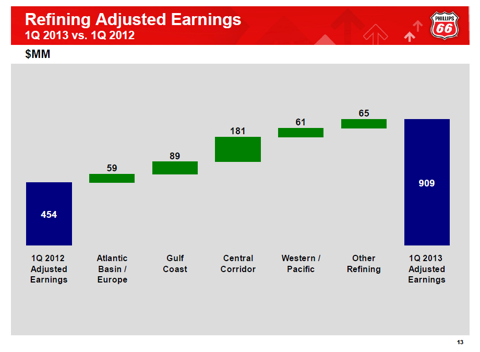 When looking at the Central Corridor refineries, we can easily see the effect that lower feedstock prices is having. The lower prices added nearly $14 per BBL to the spread. The realized spread in this sector is a massive $27.29 per BBL. Phillips 66 is running at near full capacity in this sector, with a 96% utilization rate this quarter.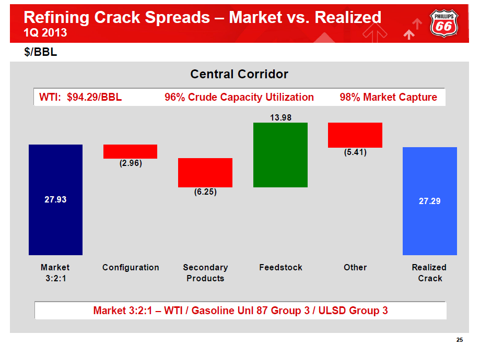 68% of Phillips 66's US crude was advantaged, compared with only 60% last year. During the quarter, Phillips 66 processed about 563,000 of heavy crude, including 190,000 barrels per day of Canadian heavy crude, or about 12% of the total. Shale oil is now 14% of Phillips 66's feedstock, up from 2% last year. The pricier Brent-base crude fell to 32% of the feedstock, down from 48% last year.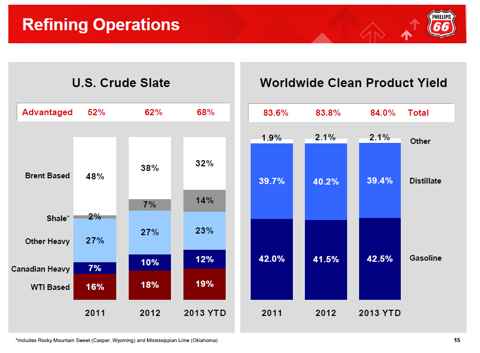 During the quarter, Phillips 66 generated over $2.2B in operating cash flow. Excluding working capital adjustments, this drops to $1.8B. Capital spending was about $387M. The company was able to increase its cash and cash equivalents 37% to $4.8B. Phillips 66 returned $576M to its shareholders in the quarter via $194M in dividends and $382M share repurchases. Since its spinoff, Phillips 66 has already raised its quarterly dividend twice, from an initial $0.20 per share to the current $0.3125 per share. Phillips 66 has in place a $2B share repurchase program, of which about $1.37B is remaining.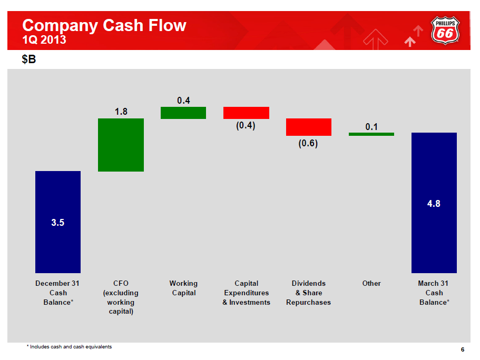 Conclusion
If one were to annualized Phillips 66's Q1 EPS, the PE ratio for the company would be a modest 7.0. Phillips 66 stock is hardly expensive at current prices. While crack spreads have weakened recently, they are still near historic levels.
In its short history, Phillips 66 has shown itself to be an extremely shareholder friendly company, with large share buybacks and dividend increases. It has also shown impressive EPS growth. This combination makes Phillips 66 a solid pick for any portfolio.
Disclaimer: The opinions in this article are for informational purposes only and should not be construed as a recommendation to buy or sell the stocks mentioned. Please do your own due diligence before making any investment decision.
Disclosure: I am long COP, PSX, NTI. I wrote this article myself, and it expresses my own opinions. I am not receiving compensation for it (other than from Seeking Alpha). I have no business relationship with any company whose stock is mentioned in this article.