The Dividend Champions spreadsheet and PDF have been updated through 4/30/13 and are available at http://dripinvesting.org/Tools/Tools.asp Note that all references to Champions mean companies that have paid higher dividends for at least 25 straight years; Contenders have streaks of 10-24 years; Challengers have streaks of 5-9 years. "CCC" refers to the universe of Champions, Contenders, and Challengers.
The Beat Goes On
The month of April might well serve as a microcosm for 2013, in general. While there were a generous amount of dividend increases - in conjunction with annual shareholder meetings - the addition of new companies seemed to alternate with deletions throughout the month and the CCC population ended up right about where it was at the start of the month. I anticipate that being the case for the rest of the year, but 2014 should bring a new wave of Challengers. The list of "Near-Challengers" - companies with four straight years of higher dividends - in Appendix B on the Notes tab includes about two dozen firms that might join the Challengers list by the end of 2013, but that group will be offset by deletions coming from close to 30 companies with "overdue" increases, as well as the occasional takeover target. But there are about 70 companies that started paying higher dividends in 2010 (and more are being added constantly) and they should declare a fifth straight year of increases in 2014, so I expect the CCC population to expand from 460-480 at the end of this year, to well over 500 next year.
There were a handful (each) of additions and deletions last month - see the chart below - including a widely anticipated dividend cut by Pitney Bowes and a reinstatement of a thinly traded Contender. One trend that has shown up (and may continue) is the deletion of some seemingly solid foreign dividend payers that are falling victim to unfavorable currency translation. Novartis is a good case in point. When it declared its annual dividend this year, it appeared to be an increase (even in U.S. dollars) from what the company paid in 2012. But what was the case on the Record Date changed by the time of the Payment Date and the amount received by ADR (American Depository Receipts) represented a decrease, leading to the deletion from the CCC listings. As mentioned previously, this trend has prompted me to adopt a more conservative approach by keying on the last dividend of the year (rather than the first) to determine increases for foreign companies. So, for example, a few Canadian firms have already declared increases this year (in their home currency) but I will wait to be sure that the totals paid in 2013 will be more than in 2012.
The month ended on a good note, as Costco became the second company of the month to graduate from Challenger to Contender. Due to the strong rally in the market, the average prices of each group reached new highs (and the yield new lows), but the (percentage) strength of the dividend increases continued to be strong, as companies passed along a healthy portion of their increasing eanrings to shareholders. I anticipate a continuation of dividend increases in May, in conjunction with Annual Shareholder meetings. As always, please feel free to leave any suggestions in the Comment area below.
Quick Summary
The Summary tab includes a table comparing the composite numbers from the latest update to those from the previous month and the end of the previous year. Below that is a summary of the latest month's activity, in terms of companies added, deleted, or promoted. That is reflected below:
Quick Summary:

 
 
 
 

4/30/13

Champions

Contenders

Challengers

Total

No. of Companies

104

203

164

471

Ave. No. of Years

39.5

14.2

7.2

17.3

Average Price

60.57

58.79

50.36

56.25

Average % Yield

2.58

2.81

3.24

2.91

Ave. MR % Increase

8.29

8.86

10.27

9.19

3/28/13

Champions

Contenders

Challengers

Total

No. of Companies

105

201

164

470

Ave. No. of Years

39.4

14.2

7.1

17.4

Average Price

59.16

58.42

49.49

55.47

Average % Yield

2.67

2.84

3.22

2.93

Ave. MR % Increase

8.36

8.62

10.51

9.16

12/31/12

Champions

Contenders

Challengers

Total

No. of Companies

105

183

170

458

Ave. No. of Years

39.0

14.3

7.2

17.3

Average Price

53.48

50.89

45.25

49.39

Average % Yield

2.93

3.02

3.62

3.22

Ave. MR % Increase

7.75

8.58

10.43

9.06

MR = Most Recent

 
 
 
 

Additions:

 
 
 
 

Coach Inc. (NYSE:COH) to Challengers

 
 

Lyons Bancorp (OTCPK:LYBC) to Contenders (Reinstated)

 

Oritani Financial Corp. (NASDAQ:ORIT) to Challengers

 

Pardee Resources Co. (OTCPK:PDER) to Challengers

 

Rock-Tenn Company (RKT) to Challengers

 

Stewart Eneterprises Inc. (NASDAQ:STEI) to Challengers

 

Deletions:

 
 
 
 

Coca-Cola FEMSA S.A.B. de C.N. (NYSE:KOF) from Challengers

Epoch Holding Co. (NASDAQ:EPHC) from Challengers

 

Northfield Bancorp Inc. (NASDAQ:NFBK) from Challengers

 

Novartis AG (NYSE:NVS) from Contenders

 
 

Pitney Bowes Inc. (NYSE:PBI) from Champions

 
 

Promotions:

 
 
 
 

Costco Wholesale (NASDAQ:COST) from Challenger to Contender

Molex Inc. (NASDAQ:MOLX) from Challenger to Contender

 
(Table from author; may include underlying data from FinViz.com)
Every Picture Tells a Story
As a bonus, I'm inserting one of Chuck Carnevale's F.A.S.T. Graphs below, highlighting one of the companies listed above. When the stock's price line has moved into the green area, it indicates that the stock is undervalued in relation to its earnings. I'm attaching the chart below.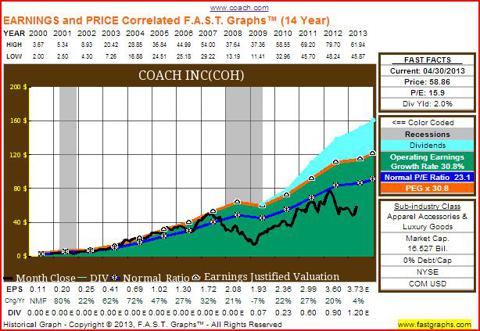 Disclosure: I am long COST. I wrote this article myself, and it expresses my own opinions. I am not receiving compensation for it (other than from Seeking Alpha). I have no business relationship with any company whose stock is mentioned in this article.