By Cagdas Ozcan
Shares of ARM Holdings (NASDAQ:ARMH) soared on April 30, after the company released its first-quarter earnings report. Investors reacted with great optimism to the overwhelming results that beat estimates. Thanks to the earnings beat, the shares jumped toward a new all-time high.
Prior to the release of the quarterly report, ARMH has been upbeat since the start of the year. In fact, shares have been trading in upward trend since the third quarter of 2012. But on April 23, ARM Holdings saw the biggest single-day triumph for this year. Shares leaped by 15% from $40.24 towards the record 52-week high at $46.32, posting 18.5% year-to-date growth. Let's take a look at the recent earnings report.
Main Highlights of the First-Quarter Report
According to ARM's incoming CEO, Simon Segars, the company saw strong performance in all lines of the business. He particularly noted the solid growth of its V8 architecture. This was driven by the increased usage of its 64-bit architecture by more clients.
One of the major highlights of the report is the 26% year-over-year growth in quarterly revenue. ARMH's revenue for the first quarter of 2013 is $263.9 million. This is a remarkable increase from the $209.4 million total revenue during the same period in 2012. This was partly driven by the significant increase in license revenue that also grows 24% year over year. For Q1 2013, ARMH posted $94.9 million in license revenue, a figure comprising about 36% of the total group revenue.
Another main highlight of the financial report is the year-over-year increase in royalty revenue. The company saw 32% growth in total royalties from $106 million to $140 million. This makes up around 53% of the total revenue. Sales of development system also increased to $16.6 million. This segment contributes to approximately 6% of ARMH's total group revenue.
ARM right now is in the process of change, particularly at the executive level. Its outgoing CEO, Warren East, is retiring. Replacing East is Simon Segars, the incoming CEO. According to Warren East, the strong performance of the company was driven, in part, by its next-generation processors. The firm's Mali graphics designs made significant contribution to its success, as well.
Warren East further stated that many tech companies started using its technology in their devices. Chips like these are carrying a higher number of royalty-bearing cores that help contribute to the company's rising revenue.
One popular company that uses ARM's "big.LITTLE" technology is Samsung (OTC:SSNLF). This technology is reportedly used in Samsung's Galaxy S4. Other versions of Samsung's Galaxy S4 use Snapdragons, powered by Qualcomm (NASDAQ:QCOM). This technology is also based on the instruction sets of ARM.
The big.LITTLE technology is a breakthrough innovation of ARM Holdings. It is a combination of ARM's highly efficient CPU and high-performing CPU all in one. The result is a processor subsystem that delivers utmost performance at low power. This makes the big.LITTLE technology able to conserve energy consumption by as much as 70% on light workload. Under moderately intense workload, the energy conservation is likewise remarkable at 50% without compromising performance.
Chip and Licensing Segments
In the first quarter, ARM Holdings shipped approximately 2.6 billion chips. This is an increase by 35% compared to the same period in 2012 shipment. ARMH earns royalty fee from every chip, ranging from $0.48 to $0.49 per chip. Its Mali designs also penetrated the market deeper as shown by the increase in shipments over last year.
For processor licensing, the company was able to sign in about 22 licenses during the first quarter. Nine of these licenses were Cortex-A50, and they are used primarily for smartphone and tablet applications. During the same quarter, ARMH further increased its V8 architecture licenses to nine. It was able to sign in three more licenses for its Mali graphics processors, as well. To date, ARM Holdings has already signed in 16 Cortex-A50 licenses. It is projected that the numbers will continue to grow in the coming months.
Future Outlook
ARM shares started the year 2013 with a closing price of $39.07 on January 2. On April 29, ARM closed at $45.74, gaining 17% year to date. The nine-month uptick run of ARM has led many investors to be extra cautious when investing on this stock. Many expect a looming correction. But despite the fears, ARMH continued with its winning streak on the trading floor. Its rise was further accelerated when it released the latest quarter results that beat estimates, and that show remarkable growth.
While a correction is probable, the optimistic market outlook of ARMH is duly supported by solid financials. The company has great potential to further support its rally given the increasing demand for its architecture and technology. Samsung already integrated the big.LITTLE technology of ARMH in Samsung Galaxy S4. If Samsung will integrate the same technology in all models of its smartphone lines then ARM Holdings will see further growth. This will apparently support the rally of ARM Holdings, giving investors higher potential to make profits.
Other than Samsung, ARMH continues to expand its market to other brands. Soo, it may probably convince Apple (NASDAQ:AAPL) to use its technology and architecture in its iPhone lines. If this possibility materializes, it will probably ignite another episode of the rally.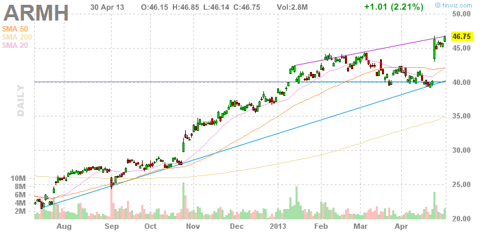 Final Notes
I think, there is still sufficient room for growth for ARMH shares. This is further reinforced by its relatively stable market capitalization of $21.7 billion. Its future outlook remains optimistic given the potential expanded usage in the smartphone market. Demand for smartphones continues to rise at a faster pace. ARMH will more probably rise alongside the smartphone market in the future.
Because of the great potential for future growth of ARMH shares, many analysts in Nasdaq recommended a strong buy tied with hold. However, one analyst firm is probably still overwhelmed with fear of a forthcoming correction and advised a sell. Nonetheless, the consensus is strong buy and hold. These are good signs that foretell the rally may still linger on for a while. However, I would recommend waiting for a correction as the stock returned almost 85% in the last year.
Disclosure: I have no positions in any stocks mentioned, and no plans to initiate any positions within the next 72 hours.
Business relationship disclosure: Efsinvestment is a team of analysts. This article was written by one of our equity analysts. We did not receive compensation for this article (other than from Seeking Alpha), and we have no business relationship with any company whose stock is mentioned in this article.