The Perspective from which I write
I am an individual investor in the accumulation phase of investment. I am not a professional analyst. I am most interested in dividend growth stocks and currently reinvest all dividends into the stock that generates them. To find most of my stock ideas, I use David Fish's Dividend Champions Spreadsheet (link here) as a starting point to find stocks with a history of increasing their dividend. I then project future dividend income five and 10 years into the future based upon the current yield, a yield at which dividends will be reinvested, and a dividend growth rate. I take a closer look at stocks that achieve higher potential future dividend income streams. I write these articles to share my ideas, to receive feedback from the Seeking Alpha community, and to help myself maintain the discipline to examine potential portfolio additions closely. I hope that others will share their thoughts in the comments below.
I break my analysis into three components. First, I look for a commitment from management to maintain and grow the dividend at a high rate. Second, I look for evidence that the company's fundamentals are moving in a direction that will enable management to deliver future dividend growth. Finally, I try to value the company. Depending upon my view of the company fundamentals and future prospects, I adjust the margin of safety necessary for me to invest.
Meredith Corporation
Meredith Corporation (NYSE:MDP) is a media and marketing corporation serving women in the United States. Meredith offers a number of products including Better Homes and Gardens, Parents, Family Circle, and Allrecipes.com. Meredith delivers content through print, TV, and online venues. Recently, Meredith has been aggressively moving into the online world and has developed apps for smartphones and tablets as one way to diversify and evolve from print publishing. Meredith acquired Allrecipes.com in 2012.
At present, MDP yields 4.28%. MDP has increased its dividend every year for the last 20 years. The latest increase was 6.54%, which was declared on February 3, 2013. Over the last five years, the compound average growth rate of the dividend was about 15%. If MDP sustains a 6% dividend growth rate over the next 10 years, and if dividend reinvestment happens at a yield of 3.33% (90% of the five-year average dividend yield), then MDP will be returning about 6.7% of an initial investment in dividends after five years and 10.7% after 10 years. A more aggressive assumption for dividend growth or yield at time of reinvestment will lead to higher future dividend income streams.
Meredith Corporation's management has given an explicit commitment to shareholder returns. Supported by strong free cash flow, it supports the dividend and share repurchases and discusses this commitment regularly.
Business Fundamentals
Below is the Earnings per share [EPS] and Dividends per share [DPS] over the past 10 years. On top is a linear regression for EPS, which shows a positive trend over this time period.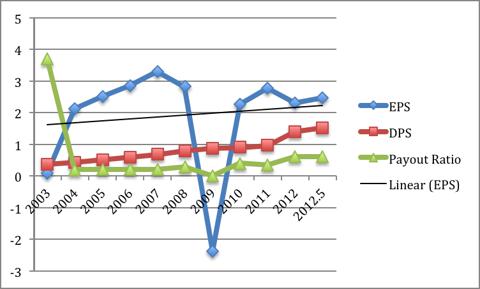 Next, I take a look at three metrics and how they have evolved over time: profit margin, asset turnover, and the current ratio. The profit margin and asset turnover are both key measures that drive returns on assets and ultimately equity. I look at the profit margin and the asset turnover ratio to get a sense for whether MDP will be compounding my money at a stable or increasing rate over the future.
Ideally, we will see profit margins and asset turnovers that are trending up over time. I look at the current ratio over time as a gauge for how the financial condition has been developing. To meet my goals, I want to see an increasing current ratio, suggesting a strengthening financial condition, which I believe will enable an appropriately shareholder friendly management to continue to deliver the dividend. Below is a graphical look at each of these three measures over the last seven years with linear regressions over the top.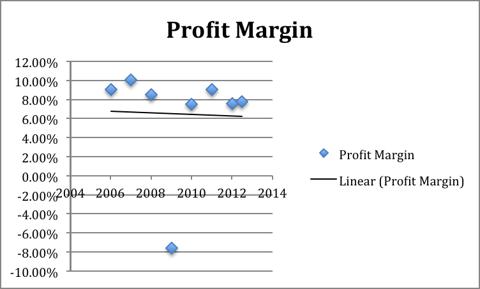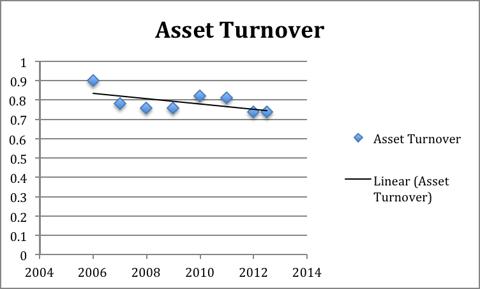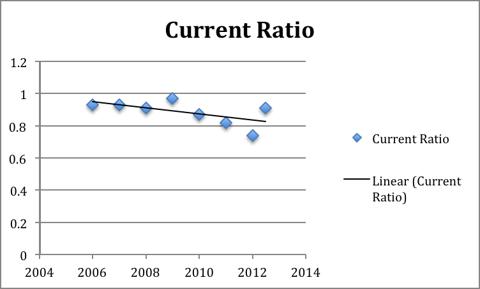 I am not particularly happy about the trends in any of these measures. The current ratio has increased recently, but the long-term trend has been negative. Based on these metrics, I will demand a significant margin of safety before considering an investment.
Debt, Equity, and the Dividend
Here, I take a look at earnings per share, the dividend paid, the corresponding payout ratio, the amount of debt on the books, and the number of shares outstanding. I'm checking to make sure the dividend payout looks like it is being handled responsibly and sustainably. The relevant numbers for the past five years are:
| | | | | | |
| --- | --- | --- | --- | --- | --- |
| Year | Earnings per share | Dividends per share | Payout Ratio | Long-Term Debt | Shares |
| 2008 | 2.83 | 0.8 | 28.3% | 410 | 48 |
| 2009 | -2.38 | 0.88 | -37.0% | 380 | 45 |
| 2010 | 2.28 | 0.91 | 39.9% | 259 | 46 |
| 2011 | 2.78 | 0.97 | 34.9% | 145 | 46 |
| 2012 | 2.48 | 1.4 | 56.5% | 275 | 45 |
In addition, I look at three debt ratios: Long-Term Debt to Equity, Total Debt (Long-Term Debt + Current Liabilities) to Equity, and Times Interest Earned (Operating Income to Interest). For the past five years, these numbers are:
| | | | |
| --- | --- | --- | --- |
| Year | Long-Term Debt to Equity | Total Debt to Equity | Times Interest Earned |
| 2008 | 0.5 | 1.1 | 10.9 |
| 2009 | 0.6 | 1.2 | -6.4 |
| 2010 | 0.4 | 1.0 | 9.7 |
| 2011 | 0.2 | 0.7 | 17.3 |
| 2012 | 0.3 | 1.0 | 14.3 |
There don't appear to be any danger signs here. Indeed, over time, we see that share count is decreasing, and long-term debt has not exploded out of control. The dividend appears as if it is being responsibly handled. The current payout ratio is higher than the historical trend, reflecting management's commitment to returning cash to shareholders but also suggesting future above-average dividend growth will have to come from strong earnings and not excess capacity.
Valuation
To value MDP, I worked through a two-stage dividend discount model. I allowed earnings to grow at 12% a year for the next seven years and then at 3% a year for perpetuity. I maintained the payout ratio at its current level and then adjusted it to 70% in perpetuity. Discounting projected dividends by 10.6% gives a fair value estimate of $36.96. For comparison purposes, the current market price is near $38.
I chose the 12% earnings growth rate as a more conservative figure than the 15% that Fidelity reports analysts are projecting over the next five years. Even so, the assumptions I have used feel generous.
Conclusion
Meredith is a company that I want to like, but I don't see it for myself at this point in time. Analyst projections for the next five years (at 15% EPS growth) seem very aggressive. This suggests a view that the future will diverge very positively from the past. I plan to keep MDP actively on my watch list. If Meredith meets analyst expectations, I suspect there will be opportunity to see the fundamental performance and still get on board.
Disclosure: I have no positions in any stocks mentioned, and no plans to initiate any positions within the next 72 hours. I wrote this article myself, and it expresses my own opinions. I am not receiving compensation for it (other than from Seeking Alpha). I have no business relationship with any company whose stock is mentioned in this article.
Additional disclosure: All data is sourced from Morningstar. Analyst earnings per share projections are from Fidelity.